When it comes to picnics I have no luck. Don't get me wrong, the thought of picnicking is fantastic. And picnicking in the winelands, in particular, seems hedonistic on a completely different plain. But, alas, I may well be the unluckiest picnicker alive. I once ate a cracker with some cheese on it in the Atacama desert – a place so dry some areas have never had recorded rain … ever – and it started to drizzle on me. Another time I was about to bite into my chicken mayo sarmie in the Ngorogoro Crater in Kenya (also an eyewateringly-good place to eat alfresco) only to have a yellow-billed kite swoop out the sky and steal my lunch … and nearly my hand to go with it. And, of course, many of you know my story of being mugged by baboons at Cape Point … which cost me my bottle of Springfield's finest.
I may well be the unluckiest picnicker alive
Suffice to say, when I picnic, shit happens. And so in order to guide you to this summers' picnicking hot spots, I opted to call on my friends … who altogether are not a bad bunch, really. From their suggestions plus a few visits of my own, I've created my Fab Five list for 2018/2019.
Hartenburg lies on the slopes of the Bottelaray Hills on the fringes of Stellenbosch and was the most recommended of all farms suggested to me by my friends. It's a no-nonsense place and you can't go wrong relaxing on the lawns munching on their pre-prepared basket of goodies. There's a waiter service to your … blanket (blankets and cushions are provided if you need).
Menu includes: baguettes and mini farm loaf; smoked snoek pâté, fresh pea and mint mousse; hummus; locally produced cheeses; spring rolls; salami and Parma ham; scotch egg; pasta salad; and a cupcake.
Kids menu includes: crumbed free range chicken strips, sweet potato fries, honey & mustard mayo, baby vegetable crudités, fresh pea and mint mousse, sweet corn, cupcake and a juice box.
Open: Tuesday to Sunday 12:00 to 15:00
Cost: R250 a person (kids R95)
To book, click here.
This is the spot for a slightly more intimate picnic. Numbers are kept low which means you tend not to be overrun by hoards of kids. There's a drinks service to your blanket/table from the fully licensed bar (one blanket and two pillows are provided).
Menu includes: bobotie wraps; curried chicken & grape salad; sweet potato & corn salad;freshly baked ciabatta and crackers; charcuterie selection & salami; pickle potpourri; potted chicken liver & bacon pâté; roasted aubergine with hummus & cashew nuts; local cheeses and caramelized onions; seasonal fruit and a chocolate brownie.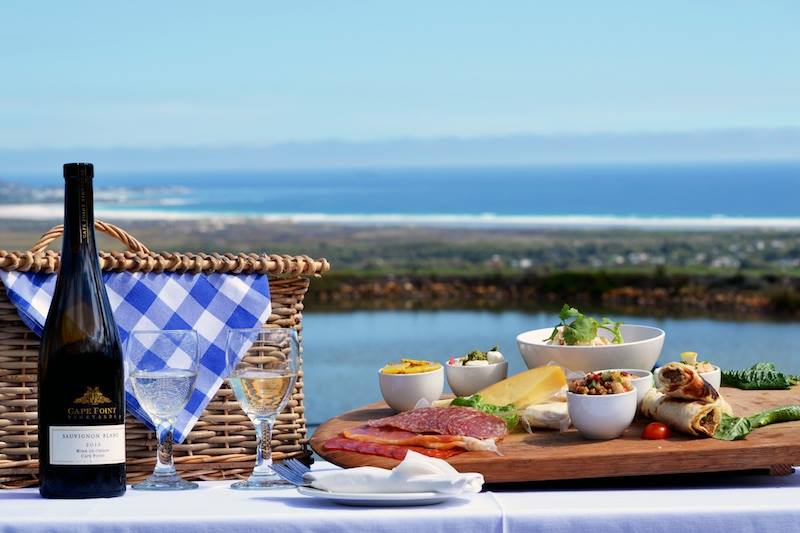 Kids menu includes: chicken strips; vegetable fingers; homemade popcorn; brownie; and juice.
A vegetarian option is available.
Open: Seven days a week
Cost: R400 for two (kids R70 each)
To book, email bookings@capepoint.com
I've heard it said that Spier is too commercial – don't believe a word of it when it comes to picnics. The lawns are superb, there's space aplenty for postprandial perambulations. The food is fantastic. And a bottle of Spier wine from the signature range is included.
Menu includes: selection of Farmer Angus charcuterie, olives and pickled baby gherkins, Coronation chicken with dried apricots and almonds; Dalewood Camembert with crackers, preserves and humus; Vadas Bakery sourdough bread and butter; broccoli, Gruyere and mushroom frittata; smoked corn, green pepper and olive salad with a coriander, chili and lime dressing; chickpea, tomato and feta salad with parsley, almonds and lemon vinaigrette; chocolate brownies with summer berry compote.
Kids menu includes: Farmer Angus ham and cheese sandwich on fresh Vadas Bakery sourdough, root stock crisps, nut butter snack pack with dried fruit, Soga organic orange juice.
Vegetarian option available.
Open: Seven days a week, collect between 12:00 & 14:00
Cost: R580 for basket for two (kids R1500 each). Bring your own cushions and blankets or hire from the farm
To book, click here.
My family has a soft spot for Grande Provence as all of us have at one time or other had memorable experiences there. It was fantastic therefore to see so many of my friends recommending their picnics too. And it's easy to understand why – considering the Zen-like atmosphere of the estate. There are limited places available so bookings (48-hours before) are highly recommended.
Menu includes: Dalewood camembert and preserves; tender roasted vegetables & chimichurri; smoked snoek pâté; estate-made hummus; freshly-baked bread and salted butter; olives; a crisp heirloom garden salad, and decadent Rocky Road Valrhona bar along with a bottle of the estate's Angel Tears wine and water.
Vegetarian options are available on request.
Open: Seven days a week, collect between 12:00 & 14:00
Cost: R650 for a basket for two
To book email, events@grandeprovence.co.za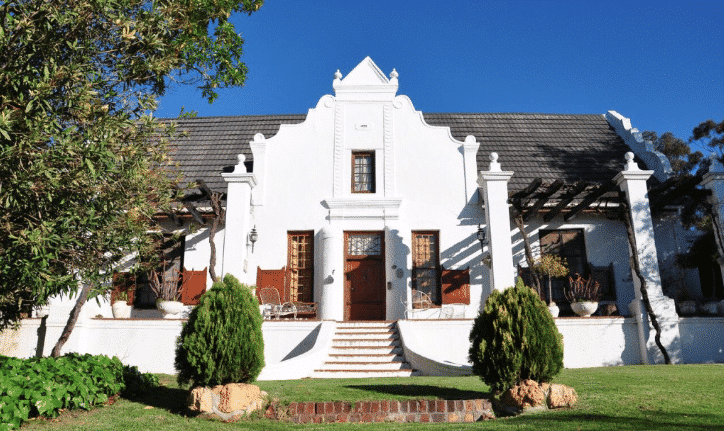 The Mooiplaas wine estate and nature reserve is situated on the Bottelaray Hills outside Stellenbosch. Picnics here make the perfect finale to the short 5-odd kilometre trail through the reserve. The surroundings are spectacular and you'll go far before you find anything to beat the simple pleasures of lying back with a glass of the estate vino in your hand to accompany your cheese laden baguette.
Menu includes: Fresh baguette; cheese (both brie and mature cheddar); potato salad; the salad of the day; biltong, pâté /pesto and berry preserve; and something sweet (often brownies)
Open: Seven days a week, bookings essential
Cost: R300 for a basket for two
To book, email info@mooiplaas.co.za
Cameron Ewart-Smith is a freelance film and television producer/director, writer and photographer and describes himself as "platform agnostic". A conservationist, he is a former editor of Getaway magazine. He loves good food and wine that doesn't cost the earth.