Cape Bordeaux Red Blend Report 2019
4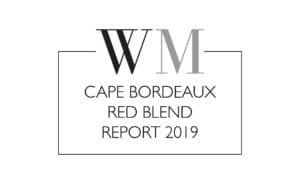 The fifth annual Cape Bordeaux Red Blend Report is now out.
65 entries were received from 53 producers for this year's competition and these were tasted blind (labels out of sight) by the three-person panel, scoring done according to the 100-point quality scale.
The top 10 wines (with rating alongside) are as follows:
Babylonstoren Nebukadnesar 2017 – 92
Botanica Arboretum 2017 – 94
Eikendal Classique 2017 – 92
Leipzig Grand Master 2017 – 93
Morgenster Estate Reserve 2014 – 93
Morgenster Lourens River Valley 2014 – 92
MR de Compostella 2016 – 92
Raats Family Wines Jasper Red Blend 2017 – 93
Remhoogte Sir Thomas Cullinan 2015 – 93
Vrede en Lust Boet Erasmus 2016 – 92
Botanica, as the producer of the wine judged best overall, won a new 300-litre Selection barrel worth €903 (equivalent to R14 330 at the time of writing) from Tonnellerie Sylvain.
To read the report in full, including key findings, tasting notes for the top 10 and scores on the 100-point quality scale for all wines entered, download the following: Cape Bordeaux Red Blend Report 2019
To view a photo album from yesterday's announcement function, click here.