Book review: Wine Girl: The Obstacles, Humiliations, and Triumphs of America's Youngest Sommelier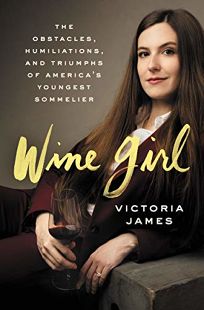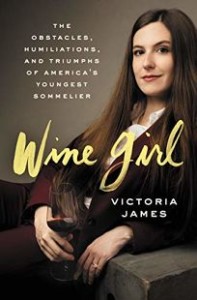 'Who did you sleep with to get on this trip?' It seems unlikely that an award-winning male sommelier would be asked such a question at a vineyard. And yet, Victoria James's book Wine Girl is laden with such stuff. Sexist sniping is the least of the author's problems; welcome to the wine industry's #MeToo memoir.
For those unfamiliar with James' stellar career, she became America's youngest certified sommelier in 2013 at the age of 21 and has since gone on to appear in both Forbes' and Zagat's '30 under 30' lists. She is the only American woman ever to win the prestigious Sud de France Sommelier competition. Her CV reveals significant stints at several Michelin-starred, US eateries. She is currently corporate beverage director and co-owner of New York City's Michelin-starred Piora and Cote restaurants.
In Wine Girl, James charts her journey from economically and emotionally deprived child to fine dining sommelier success story. She describes how the hospitality industry gave her purpose, pleasure and a sense of belonging. She also reveals a darker, more dangerous side to being a woman working in restaurants. Even more depressing than her terrifying account of being raped as teenage diner waitress are the many, many memories of offensive interactions with guests in fine dining establishments ('Shake your t***ies for us again, wine girl') and fellow sommeliers ('Who invited Barbie?' is the nicest thing they say).
As a wine lover, this book left me feeling frustrated that such a resilient and gifted person has been so let down by her colleagues and customers. She has achieved so much that one can only lament for what else might have been accomplished if she hadn't been hamstrung by sexism (both petty and criminal) at every turn. All forms of discrimination broadly work in similar ways. The iconic African-American novelist Toni Morrison wrote that 'the very serious function of racism is distraction. It keeps you from doing your work. It keeps you explaining, over and over again, your reason for being.' Imagine how much more this talented, hardworking, tenacious and innately optimistic sommelier could have achieved if she hadn't been fighting for the right to be?
Having read Wine Girl, I spoke to many South African women working with wine in various ways. Almost all of them had stories of gender-based abusive behaviour. Some were small but irritating encounters while others were dangerous and deeply distressing. Worryingly, they all felt that to describe their experiences on the record would be career limiting. Many said that the politics of race and gender often intersect in a South African restaurant context. James does briefly engage with race as an additional discriminatory factor but, as a white woman, it was not directly part of her experience. Several of the black male sommeliers I spoke to described variations of the same sort of stories in which no amount of knowledge or hard work eliminates the underestimating assumptions of others.
I expect that having got thus far into the review, many winemag.co.za readers will be thinking that this book is important but too depressing to read right now. Isn't there enough doom and gloom out there already? Aren't we too sad about the dire straits that restaurants find themselves in under COVID-19 lockdowns to read such stuff? And anyway, getting to a book shop and knowing what we are and aren't allowed to buy right now is so complicated. To do so would be a mistake because Wine Girl is wonderful. While the worst horrors are described, so is the beauty of the best. James offers a detailed account of the craft of restaurant wine service. She writes superbly about the additive essence of food and wine pairings. Her descriptions of how to achieve true hospitality can and should be read as an instruction manual by all those in the fine dining field. They are also ideal armchair travel for anyone who loves and misses being in elegant restaurants. Plus, you can buy and download the audiobook (read by the author) on Audible.com.
Besides, Wine Girl is ultimately inspirational rather than demoralizing. After putting up with an impressively tenacious decade of humiliation working in New York's haute cuisine hot spots, Victoria James became disillusioned and escaped to the French vineyards. There, she reconnected with epicurean authenticity, found a true sense of purpose and returned to the US feeling 'empowered to make a change.' She launched and now co-owns the Michelin-starred restaurants' Cote and Piora where she has established a zero-tolerance policy for harassment and assault. She has also created a nonprofit organization that provides free tuition for women and minorities in the hospitality industry. She hopes that her book will 'give women all over the world courage to share their stories, take charge of their lives, and empower others.' Let's hope that it does…
Wine Girl: The Obstacles, Humiliations, and Triumphs of America's Youngest Sommelier by Victoria James. (Little Brown; 2020)
Dr Anna Trapido was trained as an anthropologist at King's College Cambridge and a chef at the Prue Leith College of Food and Wine. She has twice won the World Gourmand Cookbook Award. She has made a birthday cake for Will Smith, a Christmas cake for Nelson Mandela and cranberry scones for Michelle Obama. She is in favour of Champagne socialism and once swallowed a digital watch by mistake.
Attention: Reviews like this take time and effort to create. We need your support to make our work possible. To make a financial contribution, click here. Invoice available upon request – contact info@winemag.co.za
Like our content?
Show your support.
Subscribe