SA wine history: Was Simonsig Kaapse Vonkel really our first bottle-fermented bubbly?
4
Corks are popping this year as South Africa celebrates half a century of bottle-fermented sparkling wine, with Cap Classique producers universally embracing the story that Simonsig's first vintage of Kaapse Vonkel (1971) marks the birth of this very effervescent category.
According to a Simonsig press release: 'Frans Malan made the first bottle-fermented méthode champenoise wine in South Africa, at a time when sparkling wine comprised carbonated and mainly sweet products. He'd just started bottling Simonsig wines under his own label in 1968 when a visit to France piqued his interest in Champagne. Once home, he set to work and that first, locally made, bottle-fermented sparkling wine came in 1971. It was made with Chenin Blanc because these [sic] were all he had at his disposal.'
However, wine consultant and journalist Emile Joubert told me that when he wrote about this milestone in Die Burger recently, the editor received letters from readers who insisted that Simonsig was not the first; that in fact Monis Wineries in Paarl was already making bottle-fermented sparkling wine in the 1950s. 'Has your research thrown up anything?' asked Joubert.
Having never heard anything about this, I contacted Andrea Freeborough, head winemaker at Distell, which owns Monis – today a name virtually synonymous with fortified wines. She put me in touch with Monis cellarmaster Michael Bucholz, who not only sent me a very tantalising photograph of some old 'champagne' bottles he had found, labelled Monis Regina, but also set up a meeting with his two Monis predecessors, Dirkie Christowitz and Hans Losch.
'Hans was transferred to Monis in 1961, and he became the cellar manager here until his retirement in about 2000,' said Bucholz. 'He will have the most comprehensive knowledge of production processes in the old days.'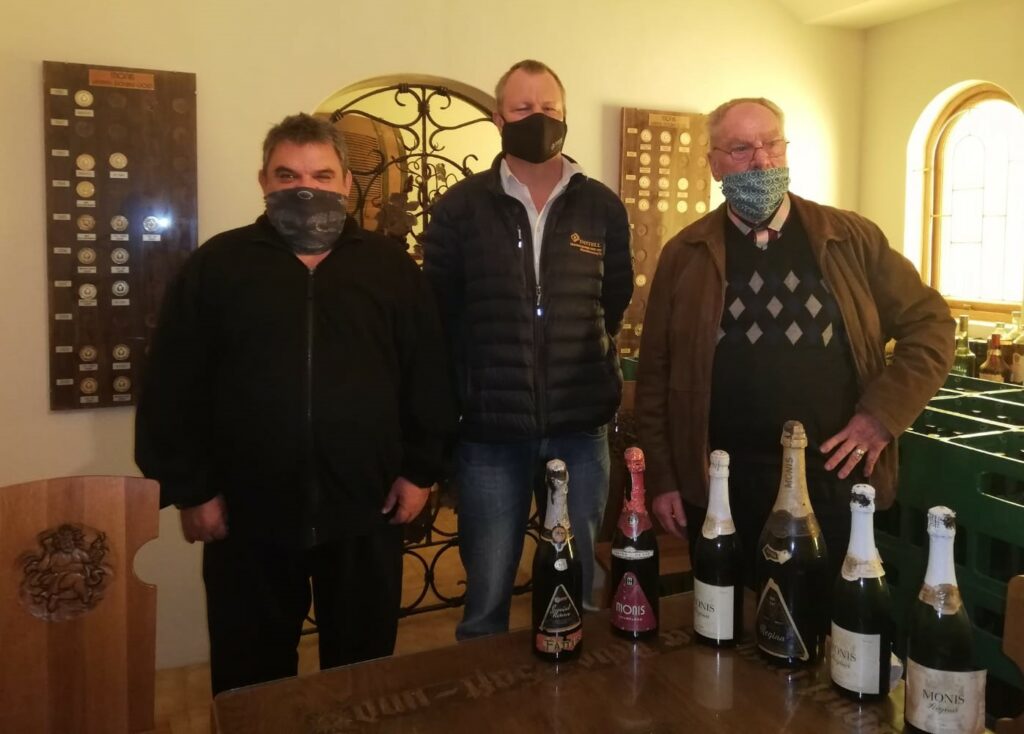 To set the scene, Monis owes its name to Roberto Moni, who immigrated to South Africa in 1906 and started an import business called the Italian Warehouse, trading in olive oil, cheese and wine. In 1921 he purchased a cellar in Paarl where he made his own range of natural and fortified wines, changing the name of his business to Monis Wineries Enterprise Ltd in 1928. He pioneered cold fermentation in South Africa in 1939, when he installed a compressor with a cooling facility of 24 tons of ice per day, and in 1956 he opened a much larger production facility, with its own private railway siding (he also acquired a 50% share in Nederburg that year). In 1966, he sold Monis to Stellenbosch Farmers Winery, which later merged with Distillers Corporation to form Distell.
At Monis in the 1960s, of course, Losch worked under cellarmaster George Spies, the man whose initials grace the now-iconic GS Cabernet 1966 and 1968: wines never commercially released that today continue to astound international critics and reach stratospheric auction prices. 'He fired me at least once a week,' says Losch of his temperamental boss. 'He was still popping in once a week until he died [in 1997],' says Christowitz.
Losch seems to have fonder memories of Dr Nino Costa, who was the director of Monis' oenological laboratory. 'He was the most brilliant guy I ever met, a real technical and chemical fundi. He built our lab on his own.'
Suffice it to say that Monis had world-class facilities and expertise when Losch went to work there. But what sparkling wine was being produced?
Originally conceived in the late 1930s to compete against Grand Mousseux, the sparkling sweet wine produced by Stellenbosch Farmers Winery, the Monis Regina brand expanded rapidly into a range to cater for all tastes. It included the Grand Spumante (Medium Sweet), Moneries (Medium Dry), Extra Dry, Vintage (Goût Americain) and Burgundy (Rosé Cabernet). In a series of advertisements placed in Wine & Spirit magazine during the war years, Regina was described as 'the Monis Masterpiece', 'equal to the best imported Champagne' and 'duur maar baie lekker' (expensive but very nice). One advertisement proudly stated: 'Original French Style Champagne Process.'
Needless to say, it's with some excitement that I inspect the back labels of the old bottles that have been dusted off ahead of my meeting with Losch, Christowitz and Bucholz. Bearing Roberto Moni's signature, one label states: 'The full delight of sparkling wine can only be enjoyed if it has been produced naturally. We were the first to introduce natural sparkling wine at the Cape and we guarantee that this bottle of Monis Regina was produced by the natural French Charmat process.'
In other words, alas, the base wines underwent their second fermentation not in bottles but in stainless steel pressure tanks, with Losch confirming that Monis had several 2,500-litre tanks which gave the wines up to five bars of pressure (two bars for the semi-sparkling perlé wines that were introduced in 1967). 'But we racked, fined, filtered and bottled the wines by hand,' says Losch, adding that the bottles were only labelled when orders came in. Prior to this, they were locked in Customs and Excise bins: 'We had up to 10,000 bottles at a time in those bins,' says Losch. 'Most of our sparkling wines went to what was then South West Africa (Namibia). Regina was extremely popular there, especially during the Karneval which took place in Windhoek every year.'
It's all fascinating, but I can't help feeling disappointed that these sparkling wines weren't bottle-fermented. 'But they did do bottle-fermentation before my time,' insists Losch. 'I saw the old riddling racks they used!'
Christowitz then shows me a Monis book written by Dr Romi Boom in which she claims: 'In addition to the above-mentioned Regina sparkling wines made according to the charmat method, Monis Wineries also made the first bottle-fermented champagne ever in this country. For this historic event, twenty members of the Wine Tasters Guild visited the winery on 7 December 1956, by which time the new South African champagne had been fermenting in bottles for five years and was considered ready for consumption. The members of the Guild remarked on its high quality and the complete absence of "gas", unlike some South African sparkling wines in which the sparkle was introduced artificially.'
I manage to track down Dr Boom, now a travel writer and photographer, and when I ask for her opinion on those old 'Original French Style Champagne Process' claims, she says: 'No reference to the bottle-fermented process was likely intended, for even though riddling racks and a freezer unit for the bottle necks were installed, bottle fermentation was only undertaken on an experimental basis.'
So there we have it. Simonsig Kaapse Vonkel was South Africa's first successful commercial bottling of Cap Classique, after all, but Frans Malan was by no means the first South African winemaker to dabble in bottle-fermentation. Whether he knew it or not, he was following in the footsteps of Roberto Moni and his trailblazing team. Clearly Cap Classique has origins dating back much further than the 50 years being celebrated this year, and that – surely – is reason to pop another cork.
Joanne Gibson has been a journalist, specialising in wine, for over two decades. She holds a Level 4 Diploma from the Wine & Spirit Education Trust and has won both the Du Toitskloof and Franschhoek Literary Festival Wine Writer of the Year awards, not to mention being shortlisted four times in the Louis Roederer International Wine Writers' Awards. As a sought-after freelance writer and copy editor, her passion is digging up nuggets of SA wine history.
Help us out. If you'd like to show a little love for independent media, we'd greatly appreciate it. To make a financial contribution, click here. Invoice available upon request – contact info@winemag.co.za
Like our content?
Show your support.
Subscribe