Tim James: Chenin blanc in the revolution and the Ahrens range
Chenin blanc famously served the mid-latter 20th century Cape wine industry as its workhorse in the KWV's strategy of striving for quantity rather than quality. It's nicely ironic that it's Chenin that, above all other varieties, has been the poster child of the post-1994 wine revolution here – and Chenin that has given so many ambitious young winemakers fine grapes to do something (lots of different things!) with.
Viticulturist Rosa Kruger made the point to me recently that it's the low prices charged for good quality grapes in South Africa that have enabled so many new entrants (and more established producers) to afford to play the game at the top level. And it's Chenin blanc – because of its widespread plantings, with plenty dating back a few decades at least – that has been at the forefront. How many of the bright young or youngish things in the Cape wine industry do not have at least one Chenin and/or Chenin-based blend starring in their portfolio? It would be true, I'm sure and as others have observed too, that by most measures (number of Platter five-stars, high ratings in other sighted and unsighted tastings) Chenin is the genial winner at present. It's also worth noting that of the 168 wines currently listed on the Old Vine Project website, a remarkable 92 are Chenins (my search actually turned up 94, but one of them seems to be a cinsault and one a pinotage!).
I can't but recall how, something more than a decade ago, as the flow of fine new Chenins threatened to become a flood, I wondered how the market would cope. But it seems to have: Wine Cellar in Cape Town, for example, stocks some 100 local examples, with only three of them at (just) under R100, a lot at more than double that, and many of the priciest sold out – like Alheits at R720.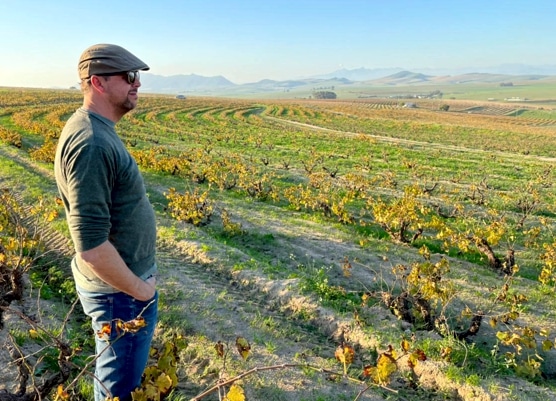 Four of those Old Vine Project Heritage Vineyard Chenins (OVC in the name reflecting that status) come from Ahrens Family wines – one each from Stellenbosch, Paarl, Swartland and (the latest addition) Wellington. This points to another advantage for terroir-oriented winemakers without their own domaines: the wide range of suitable areas for producing fine Chenin, allowing ample ground (literally) for teasing out the differences offered by soil and slope. And, in fact, Albert Ahrens recently told me that he'd just "acquired" another old Swartland Chenin vineyard for the 2022 harvest, meaning he can work with grapes off Paardeberg granite soils as well as the iron-rich gravel crop that go into the current Region X OVC (as I explained last year, the depressing fact that a co-op has trademarked the regional name means it can't be used as part of the name of any other producer's wine; same with Bottelary). Five Chenins is a lot of Chenins – few wineries can claim Albert's degree of enthusiastic specialism.
The Ahrens Family Wines 2019s have recently been released – with those Chenins at a RRP of R265 per bottle. They're all good and recommendable, with a generally ripe, rich but sufficiently fresh profile. The most intensely flavoured of them when I tasted in leisurely fashion (over a few days) through the range was Stellenbosch OVC (from a 1982 Bottelary vineyard), though still rather elegant, with a fine succulent acidity and a fynbos edge. Region X OVC (Swartland, 1984 vines) is also immensely pleasing, speaking of its origin with peach, thatch and earthy-stony notes – a bit more alcohol, yet lighter-feeling: complete and satisfying.
Hometown OVC is the new wine in the line-up, from a 1979 Wellington vineyard – charming and approachable, but worth adding to the portfolio for its rather more savoury distinction and a particularly juicy acidity – a touch less intense than the first two, however. Paarl OVC also has an easy, well-balanced charm, less forthcoming aromatically, but combining ripe fruit sweetness and a slightly greener note (no less welcome). Less mineral than Stellenbosch and Swartland.
The only non-chenin white is the admirable WhiteBlack, a Voor-Paardeberg blend of Marsanne, Roussanne and grenache blanc – perhaps the lightest and tightest, most focused and mineral of the lot, though I don't want to underestimate the good balance between the ripe richness and lovely natural acidity of the Chenins.
There are also four reds in the Ahrens range – also new wave-ish in their orientation to Cape tradition, their varietal makeup, the purity of fruit untrammelled by oak flavours, the hands-offness of the winemaking, and the youthful likeability, but perhaps with a touch of obvious ripe sweetness in some cases instead of a note of mineral austerity. I admire the whites a little more (though the reds are more expensive at R325 – such is the way of things), but these reds are more than drinkable.
New to the line-up is a typical Swartland blend from Voor-Paardeberg – perfumed, ripe, sweet-fruited grenache with carignan and syrah; quite big at 14.5% alcohol, but balanced as well as flavourful. (The reds are also all 2019s; all R325.) There are two wines with cinsault. Seventy, from Bottelary, blends it into cabernet, which gives the cassis fruit and a moderately firm grip. Not exactly restrained, but the subtlest of the reds, at 13.5% alcohol. Paarl Rooiwijn adds syrah to cinsault, adding to its easygoing perfumed charm. Lighter and drier-feeling than most of these. It's smooth though decently structured, bright, pure and fresh, and already drinking particularly well. More youthful, with dry firm tannins is Black, another version of the warm-country varieties, with syrah complemented by carignan. Spicy and cleanly fragrant, with a lot of oomph to its ripe richness (again 14.5% alcohol declared).
Albert makes his beautifully packaged wines in a recent winery in a lovely part of Paarl, as I described last year. From here he travels out – mostly northwards – seeking grapes. Whether he'll be able to resist yet another block of good old Chenin vines if he finds one available, I have my doubts.
Tim James is one of South Africa's leading wine commentators, contributing to various local and international wine publications. He is a taster (and associate editor) for Platter's. His book Wines of South Africa – Tradition and Revolution appeared in 2013
Help us out. If you'd like to show a little love for independent media, we'd greatly appreciate it. To make a financial contribution, click here. Invoice available upon request – contact info@winemag.co.za
Like our content?
Show your support.
Subscribe