Tim James: Rebuilding fire-razed Lismore Estate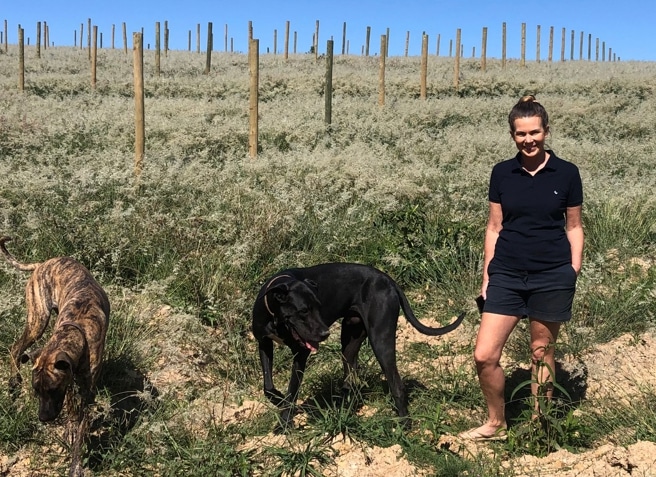 On Sunday morning half the sky that I could see was covered by brown smoke, driven by winds from a veld fire on Devil's Peak (the mountain to the left of Table Mountain in the classic view). Winds both strong and hot – the Western Cape, including the Winelands, has been suffering an unusual autumn heatwave this past week. Later the wind shifted direction and the smoke I could see lay thickly above the horizon. But the fire grew ever more terrible, though I could see less and less evidence of it from where I was. It seems it severely damaged the library and other buildings of the University of Cape Town, where I spent, one way or another, a lot of my adult life.
They are elementally terrifying, these huge fires, even distant. In late 2019, when half of Australia seemed to be on fire (incidentally devouring wineries and large tracts of vineyard), I would read of them each morning with something like the pity and terror that classical tragedy was supposed to arouse in its spectators, but with little prospect of Aristotelian catharsis, or purgation. And then, although the Cape winelands had been largely spared fire that year, one morning there was a report that a fire that had been burning for a week near Greyton in the Overberg – a few hours drive from Cape Town – had suddenly come over the mountain and turned on the beautiful Lismore wine estate, which I knew well. With what apparently seemed like a tsunami wave of fire it destroyed nearly everything, though fortunately owner-winemaker Samantha O'Keefe and her two teenage sons and staff had escaped (and most of the beloved pets; and one dog and a cat were subsequently found safely tucked in the cellar under the burned-out house).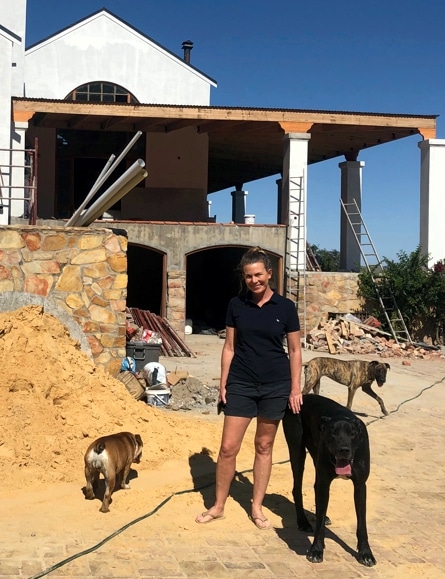 Last week I visited Samantha and Lismore for the first time since then. The chaotic horror of that fire-day clearly still lives within her, and the days of distraught disbelief that followed as it became clear just how much had gone: the recently built cellar with all of the 2019 vintage (amongst the apocalyptic photographs she showed me was a crazy one of the barrel cellar, where all that remained of the wine-filled barrels was a scattered pile of the metal hoops that had bound them); her lovely house was destroyed, and much of the vineyard burnt. There had been a moment when Sam thought that she "owned nothing in the world except a burnt piece of land". And this after her long struggle to become viable – she'd faced bankruptcy only seven or so years earlier, but everything was now coming right, and the reputation of Lismore wines, both local and internationally, had grown remarkably high. (I wrote briefly about all that a year before the fire – see here.) With a new cellar and placated bank manager, all seemed, at last, to be going well.
Samantha's team was amongst the vineyards the day after the fire to see what might be helped to regrow (smoke taint was the least of the problems): 60% of the vines looked to be possible survivors, though some of these very uncertainly so; but around 40% were entirely burnt, even down to the rootstock (partly thanks to some recently applied straw mulch). Much of the chardonnay was OK, and the small Viognier Reserve vineyard; syrah took the brunt of the swathe of flames, including the 2003 vineyard making the Estate Reserve Syrah, which had been gathering particular acclaim.
It was hard for her to continue, to decide to perhaps attempt to rebuild. She had to start confronting the question of what she would be making all the effort for – it became clear that, although she says she's grown more pragmatic, it's simply "because I love what I do".
Fortunately, Samantha's main wine stock was held in Stellenbosch, so she had something to keep her business afloat, though there would be no Lismore 2019 estate wines on the market (just a bought-in Age of Grace Viognier and a Chardonnay). There would be something from insurance – though of course nowhere near enough. The wine industry started rallying around immediately, however, and this, she says effectively thrust her forward. The 2020 harvest was imminent. There were offers of grapes, of barrels, of space in which to work – "so many stories of help, even from people I scarcely knew". A few online funds were established and drew donations – including from around the world – which helped her keep going, and for which Samantha remains entirely grateful.
So Samantha made 2020 wine from grapes from all over (as well as her own estate chardonnay) – primarily in the Radford Dale cellar, but also substantially at Gabriëlskloof, and also at Almenkerk and Bottelary. The Age of Grace Viognier is out now, and the other 2020s should be on the market over the next six months or so. This includes Sam's first Chenin blanc – from organically farmed Paarl grapes, offered her by a complete stranger (though she had to organise the picking!). Just slightly embarrassed, she shows me the label, featuring a rather charming phoenix perched on a hand. "I swore", she says, laughing, "that I wouldn't have a wine called The Phoenix, as lots of people suggested to me…." This, she promises, is to be the only allusion to the mythical bird that emerges triumphant from the flames of destruction.
As to that emergence from the flames: with the cellar (only just) rebuilt, Samantha made the 2021 harvest, including viognier, chardonnay, and a much-reduced crop of syrah from her own vineyards. It was emotionally very hard, she says, being back at the farm, living fairly roughly above the cellar alone with her dogs (the two boys being back at boarding school), without her house, surrounded by so much that was dead or destroyed. There's still anger and incomprehension about what happened. But – not to the surprise of anyone who knew her at all and didn't expect her to give up – she's moving ahead, even if sometimes, it seems, through darkness.
Ironically, perhaps, there's been plenty of rain since the fire, and the indomitable fynbos is greening the mountains, and thriving vineyard cover-crops also hide the burnt earth. There is again loveliness here. True, gaunt black tree-skeletons are still ugly reminders of the fire – but they are of invasive black wattle, and Samantha is already taking advantage of their burning ("a once in a lifetime opportunity"), and working to keep them from returning.
On a gentle rise in front of the cellar, trellis poles are in place for new vines to be planted in June: mostly syrah, with some chardonnay and viognier. What finer symbol of resurgent life than a budding young vineyard, promising wine.
Tim James is one of South Africa's leading wine commentators, contributing to various local and international wine publications. He is a taster (and associate editor) for Platter's. His book Wines of South Africa – Tradition and Revolution appeared in 2013
Help us out. If you'd like to show a little love for independent media, we'd greatly appreciate it. To make a financial contribution, click here. Invoice available upon request – contact info@winemag.co.za
Like our content?
Show your support.
Subscribe