Tim James: Some thoughts on Cabernet Franc
2
In one of those nice coincidences, the evening before the winners of the Cabernet Franc Challenge were posted I had been drinking an older vintage of one of the least known of the gold-medal winners. Talking of which, there do seem to have been an awful lot of medals awarded. There were a "top six" wines as well as 19 golds for the monovarietal cab francs (see here). Unfortunately – and surely it's a problem? – there's no publicly available info that I can find about the ranking protocol, nor about how many entries there were; but putting 25 wines into your top category surely implies somewhat over-generous judging of a small category like cab franc. That impression of over-generosity is for me made more acute when I look at many of the winners, but still.
I say "top category", but in fact, the gold medal winners are the only names I can find. The competition seems to be run/owned by a marketing person (Cobie van Oort) and it's a clever move to only list high winners, if somewhat disingenuous: wineries don't like seeing their wines listed as low-scorers, and judges are also frequently embarrassed when complete lists are published, allowing for people to make comparisons.
Oh, and there were also four triumphant wines in the vintage category: a winner and three golds. Of these four, one was reasonably enough from 2011, the other three from 2014 – which, as someone commented on this website, "Five years is not nearly enough time to test a wine's proper longevity and ability to mature with benefit".
Anyway, in the usual run of events I doubt if I would have bothered to find this all out (or even read the report on this website), as this usually seems to me one of the more suspect of the rash of wine competitions – though it does attract a number of respectable cab franc producers. But, as I say, I'd been drinking a mature local cab franc, and been in two minds about it, so I looked to see if it featured. And there it was among the golds: Rebus Cabernet Franc 2015 from Romond Vineyards, a later edition of the 2010 I'd had the night before (and which should have done quite well in the Vintage class if it had been entered – I've no idea if it was). I rather think, in fact, that the 2015 was the first released since the 2010. The winery website offers 2010 as the current release, and it was the one I tasted for the Platter's Guide prior to the 2015 I tasted last year – both of them rating 3.5 stars, incidentally.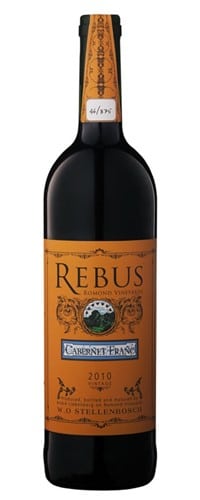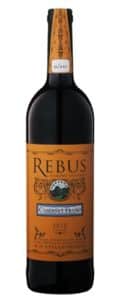 Last year, winemaker-owner André Liebenberg also sent me a bottle of the 2010 to try again, but I confess that in the welter of Platter bottles it got put aside and I only recently rediscovered it. I was quite impressed by the wine and its development over nine years, and wondered if I had slightly underrated it previously. Not really the style of wine I most enjoy, being big, ripe and bold, with plenty of oaky power, and some alcoholic/oak sweetness and heat on the finish. But the years had harmonised all those components somehow. I also didn't notice as much as I had previously done the strongly herbaceous element – something that had also disturbed me in the 2015, a wine of generally similar character.
Romond Vineyards is a small property, growing Bordeaux red varieties and pinotage on the lower slopes of the Helderberg in Stellenbosch – not far from where Chris Keet made some excellent cab franc-based wines for Cordoba (in a rather different style). So it's not surprising that the fruit quality of the Rebus wines is impressive, as evidenced by the development of the 2010, which still has plenty of life in it. If you enjoy wines like this, you could do much worse – though the asking price of over R1100 is a trifle steep. The Fanfaronne blend with cab sauvignon and merlot seems to me the better wine and is a quarter of the price. It also won a gold medal on the Cab Franc Challenge, by the way. The label, as you can see is striking and attractive – though I suspect that if Veuve Cliquot noticed, they'd protest, as they tend to believe they own that colour.
Tim James is one of South Africa's leading wine commentators, contributing to various local and international wine publications. He is a taster (and associate editor) for Platter's. His book Wines of South Africa – Tradition and Revolution appeared in 2013.
Like our content?
Show your support.
Subscribe