Tim James: Still looking for value in cheap Italian imports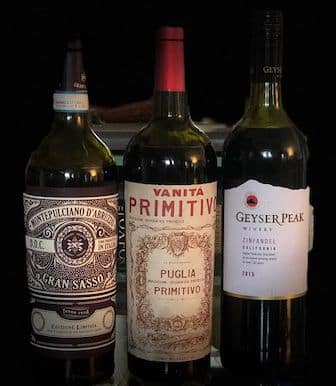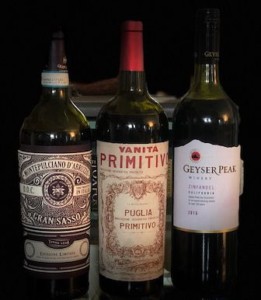 Having been pleasantly surprised with some low-priced Italian sangioveses last week, I thought I'd find a few more imports from that delightful land – while thinking of such a large swathe of it locked down under a Covid19 quarantine. I didn't notice anything more that looked promising at my local branch of Woolworths (a litre of sangiovese-merlot for R80 somehow didn't suggest much class), and only a few at Checkers. So I supplemented an Italian Primitivo with a Californian Zinfandel – the same variety, to perhaps provide an interesting contrast.
Gran Sasso last week provided a pretty good Sangiovese from the Abruzzo, and the 2018 Montepulciano d'Abruzzo at R90 was the mildly bright star of this trio. This varietally named wine is not to be confused with the much grander Vino Nobile di Montepulciano, which in fact is made from at least mostly sangiovese. The Abruzzo wine is quite the opposite of grand: designed for easy drinking in its youth, with plenty of aromatic, soft-tannined charm; a simple wine, with restrained berry fruit and a bit of spice, altogether tasty and unpretentious. And genuinely Italian in its character, dry and with a hint of sour cherry, even a smidgen of austerity on the finish. Recommendable on the understanding that it's not a fine wine by any means. But there are worse at higher prices – see below.
Zinfandel we think of as essentially a Californian wine, which is fair enough – though the variety has famously been shown to be not only identical to Italian Primitivo but to have its origins in Croatia (with names there that are too much of a challenge to me and my keyboard to transcribe). There's little grown in South Africa – less and less, in fact, with (as far as I know) Blaauwklippen and Idiom the only wineries persisting in making varietal wines from it.
My modestly-priced Italian example comes from southerly Puglia, Vanitá Primitivo 2018 (the accent on the second a indicating that that is where the spoken stress should fall). Like the Montepulciano, it has an attractive, retro but stylish label – another thing the Italians tend to do better than most, even at this price-level. Some of that typical Italianness too on the aroma and palate (along with a varietal metallic note), but this is riper and more thickly textured – with a declared alcohol of 14% which I reckon is probably rounded down a bit, given the warmth of the finish. Very gentle, smooth tannins and soft acidity, but altogether lack of concentration and structure that makes it pretty insipid, really. We can do uninteresting, high yield stuff like this for less than R90. And occasionally quite a bit better. Other than as experiment, not really recommended.
Unless, of course, the choice is the Geyser Peak Zinfandel (2015 vintage let it be noted: has Checkers had trouble selling it? I hope so). This old winery name is now that of a large brand owned by Accolade Wines (which is apparently now seeking to sell it, I see). This wine travelled a long way to get to the Checkers shelf in Plumstead. It was made, says the back label "with grapes from the North Coast which is home to some of the most historic Zinfandel plantings" (good PR formulation and true – but none of those plantings, you can be sure, provided grapes for this wine); the wine was shipped in bulk to the UK and bottled there, before being shipped here. All that bother, for this! At R110! It's sweetish and soft, with a syrupy texture and an acid bite at the back of the throat. I won't even save it for cooking with.
Tim James is one of South Africa's leading wine commentators, contributing to various local and international wine publications. He is a taster (and associate editor) for Platter's. His book Wines of South Africa – Tradition and Revolution appeared in 2013
Attention: Articles like this take time and effort to create. We need your support to make our work possible. To make a financial contribution, click here. Invoice available upon request – contact info@winemag.co.za
Like our content?
Show your support.
Subscribe