Tim James: The fascination of flor
The wines of Jerez – Sherry – are most associated with flor, the yeast which, under certain conditions, grows to more or less thickly coat the wine in its barrel. The flor lasts for as long as there are nutrients (including residual sugar) to feed it, and the wine ages "biologically" beneath the coating, protected from oxidation.
The earliest attempts to make "sherry" in South Africa, however – at a time when it was a hugely fashionable drink in the colonial power, England – rather hilariously aimed to make flor-style wines without flor. State-owned Groot Constantia was conducting various experiments in the late 19th century, many of them useful (with inocculated yeasts, with must-cooling systems, etc). The sherry experiment proved less conducive to qualitative breakthrough. A Spaniard, ambitiously named Señor de Castro-Palomino, was hawking a pungent liquid mixture called "mutagina", which could do the trick when added to wine. Results seemed promising over a few vintages, but the discovery that the "antiseptic" it contained was formaldehyde soon put an end to that line of enquiry.
In the 1930s, with the KWV, the national co-op, desperate to extend its range of fortified exports, Dr Charles Niehaus conducted more orthodox research into sherry-making. Crucially, he managed to acquire some genuine sherry flor yeasts from Spain (although there is something of a myth that he discovered a suitable local flor yeast), and a substantial local "sherry" industry was born. Exports boomed for a while.
One of my favourite bits of upper-class British wine connoisseurship and snobbery comes from Julian Jeffs in his excellent book Sherry (first published in 1961). He describes his initial acquaintance with the South African version, when he was offered a glassful of what his host called sherry but Jeffs knew "certainly" was not. Later, it seems, he found that the category had improved somewhat, to the point where "the astonishing thing nowadays is how closely the flavour of South African sherry approximates to that of the poorer Spanish wines; in fact many members of the wine trade have identified them wrongly in blind tastings." Not Julian, of course, but still, this was rather a compliment he was making, however backhanded.
Anyway, the export trade was shattered in 1967 when a London court ruled that only the Spanish appellation could produce something with "sherry" on the label. It was the beginning of the end for the local stuff. (After a couple of sporadic attempts at revival, something serious is starting to be done about it by the ever-ambitious Adi Badenhorst, who's also sourced the right sort of yeast – but that's another story.)
Wines made under flor are not confined to Jerez-Xérès-Sherry, and there seem to be many yeast strains that can produce some kind of flor film on the surface of wine. The best known of the other wines is the fascinating vin jaune (yellow wine) of the Jura. As with the flor yeasts produced indigenously in South Africa, the Jura one can also survive on a wine with a lower alcohol level than the sherry strain (wines intended for making flor sherry are fortified to between 14.5% and 16% alcohol).
This is significant, as it means that the currently fashionable low alcohols are compatible with a touch or more of flor character, and there have been bits of flor-experimentation from local avant-garde winemakers. The delicious Smiley Chenin Blanc, for example, has long included a flor-aged component (but I haven't seen Smiley for a while, just heard some discouraging rumours); Fledge & Co's Skn 'n Bnz Chenin Blanc spent a year in barrels under flor; and there was a one-off 2017 chenin from Nativo called Flora, which is a rather good wine with a marked flor character.
But the winemaker who now seems most determined to work with flor on table wines is John Bouwer of Gedeelte Wines (previously called Brakkuil), in Swartland's St Helena Bay ward – with limestone-based vineyards just kilometres from the cold Atlantic. The vineyard for Sadie Skerpioen and Badenhorst Sout van die Aarde Palomino is nearby, and in fact John's adventures with flor began with the delicious sherry-style wine made from his grapes and marketed by Adi Badenhorst under a name which even managed to outdo Duncan Savage's baroque naming practices: John Strikes Again from Under a Veil of Misfortune.
John Bouwer has struck yet again with two new bottlings I've just sampled. Gedeelte 6 Sauvignon Blanc 2021 is a unique and deliciously successful wine. In being a sauvigon for non-sauvignon lovers and with a savoury complexity it recalls Thorne & Daughters Snakes and Ladders – also made from West Coast grapes, in that case Citrusdal Mountains (home of Skurfberg). Gedeelte 6 seems more lightly elegant than its 13.5% alcohol would suggest, thanks to its fresh and lively balance, and both floral-fragrant and savoury. The wine spent 3-6 months under its flor veil, but that character doesn't come forward as more than a subtle nuttiness – and there's even a suggestion of appley oxidativeness, along with a salty tang on the finish. The flor has also ensured that the wine is bone-dry, with just 1.1 g/L of sugar. Despite the light and airy feel, texture is silky-velvet. A rather fascinating and thoughtful experience, and thoroughly rewarding. Worth looking out for, though pricey at R295. Gedeelte wines are becoming a little more widely available locally, though much is exported, and can also be sourced via the Gedeelte website (out of date with regard to wines at the time of writing, but John tells me that's about to be sorted out).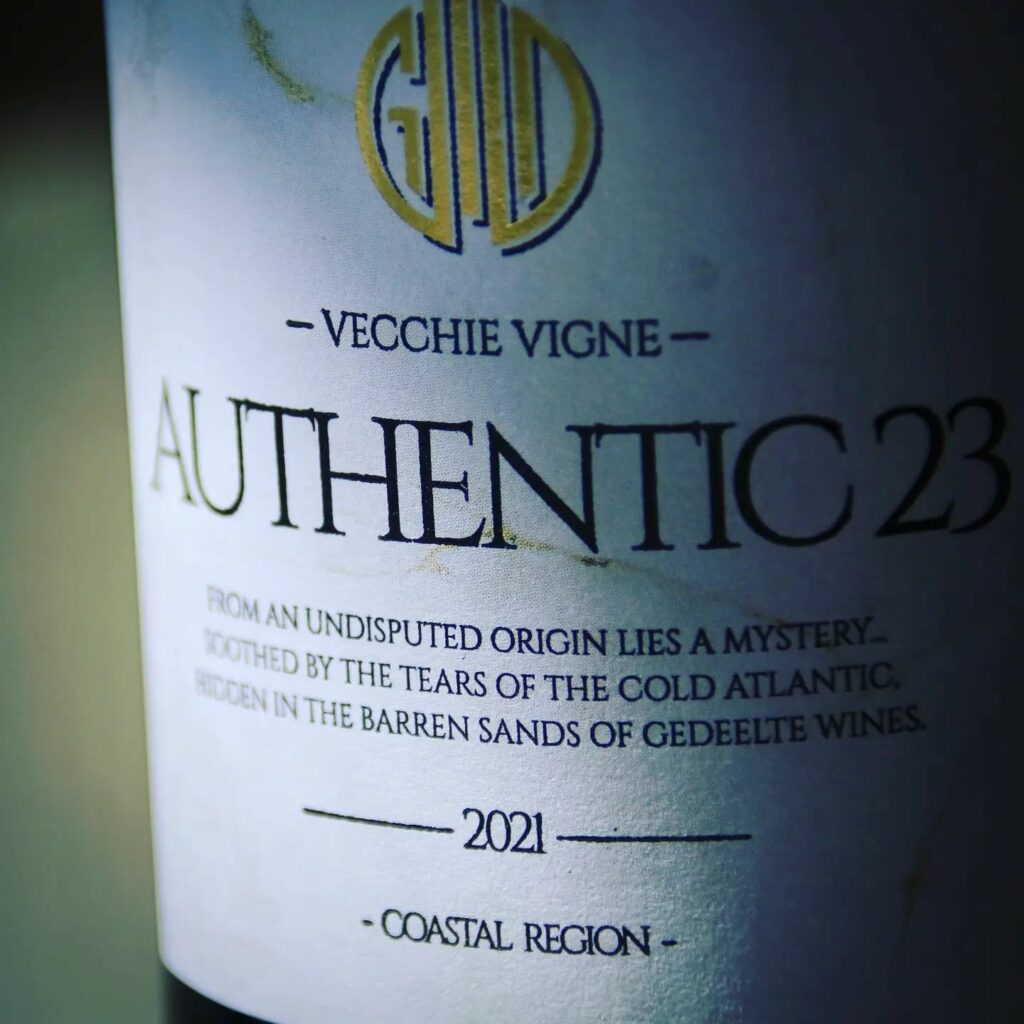 The other Gedeelte wine I've just tasted is called Authentic 23, the latest version of John's wines made from the grape called barbarossa that I have written about previously on this website, along with some more background to the farm. Barbarossa is actually a French table grape called Danugue (aka Gros Guillaume), and this is apparently it's only Cape wine incarnation. Not entirely surprisingly, I must say. After a venture working in the guise of Amarone, John has made the 2021 in a notably light style, with just 12% alcohol, which does suit the grape's inherent limitations. It's very pretty, with a charming, albeit modest, fragrance (it somehow tastes perfumey too). It was under flor for less than a month, and I'm not sure what contribution that sojourn made to the wine. There's a balanced firmness of structure from acid and tannin, but to me it is rather like a slightly insipid cinsaut, with no real depth to its vague fruity charm. I think some people who wouldn't recoil at a price of R345 might enjoy it very much drunk cool, however, especially in circumstances where a pretty but light, bone-dry rosé is called for but a deeper colour than pink is OK. And if you collect curiosities and back-stories, this qualifies hands down.
Tim James is one of South Africa's leading wine commentators, contributing to various local and international wine publications. He is a taster (and associate editor) for Platter's. His book Wines of South Africa – Tradition and Revolution appeared in 2013.