Tim James: The pleasures of some older La Mottes
By Tim James, 6 September 2019
An evening spent at dinner with some mature La Motte wines was all the more pleasurable as I was at the time plunged into Platter Guide tasting – and wearied by the tide of young wines, generally too-young, often ridiculously raw and unready (however promising).
Apparently the Pierneef restaurant at the Franschhoek estate occasionally does dinners like this: a series of courses (in this case five of them, including three of venison – if pigeon counts as venison) accompanied by older La Motte wines selected from the estate's cellar by Edmund Terblanche, who's been winemaker here since the turn of the century. I happily accepted the invitation, the more so as the chef is Eric Bulpitt. He's most recently been at a few Winelands restaurants – Faber (Avondale), Newton Johnson, but I look back with longing at his reign in the latter years of Jardine in Bree Street – probably my favourite Cape Town restaurant ever (apart from Graham Shapiro's equally lamented The Restaurant). Pierneef à La Motte is normally open only for lunch; I don't know how one finds out about dinners like these if one's not an invited guest, but I believe this one was about R695 per person, which would be remarkable value, given the quality of wine and food.
The food was indeed very good (thought fairly simple, certainly unpretentious), but it's the wines I should mention here. After a very decent single-site bubbly, the first dinner wine was a 2013 Chardonnay (with gemsbok pastrami). Balanced and fresh, moderately rich, I suspect at its peak now, and most enjoyable. We plunged quite far back for the first red, accompanying the Pigeon Wellington with spinach and truffles: Millennium 2001 (paradoxically there was no 2000!), a blend of cab and merlot with a smaller proportion of cab franc. Very much alive and going strong. Nearly 15% alcohol, which showed mostly in the sweet richness. Edmund was a bit dismissive of this older style (now abandoned by him) of very ripe and rich La Motte reds. He feels they are not ageing well, but in fact, this was certainly more than surviving, though the main benefit of the years was less on flavour development than the softening effect on the structure.
Edmund's first vintage after taking over as cellarmaster from Jacques Borman (who'd left to do his own thing at Boschkloof) was 2004, and with the springbok we had his Cabernet Sauvignon from that year. I was impressed. It was, in fact, also a touch sweet on the finish, but lighter and fresher than the Millennium 2001, with beautifully resolved tannins. (I see that Cathy van Zyl in Platter 2007 thought of them then as "almost too soft and accessible for cab"; it was awarded only 3.5 stars, but 15 years on – obviously perfectly stored – it has proved its class and is showing better than many more starry reds from that vintage.)
The fourth course, a sort of fondue made with that excellent Huguenot cheese, was accompanied by the 2007 Pierneef Shiraz-Grenache, a wine whose identity was apparently too difficult for La Motte's consumers and the label was soon dropped. It was fine – still drinking well, but neither here nor there really. Much more memorable, surprisingly so, was a 1989 Noble Late Harvest – the first they'd tried, apparently, infecting the grapes with spores from the Nietvoorbij research station. Local botrytised wines don't often age all that well, in my experience, but this – though dark tawny in colour – was delicious and good.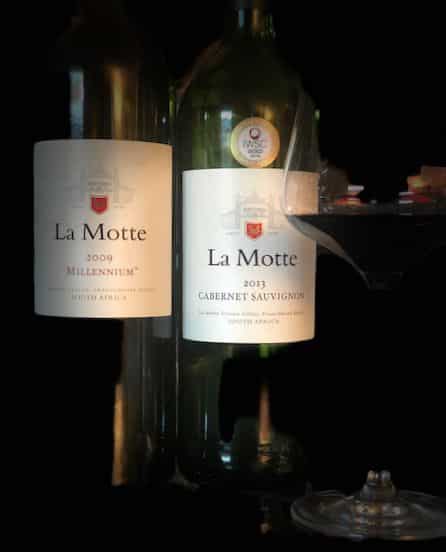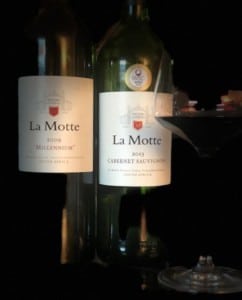 Altogether, a really good meal, with wines that accompanied the food well, not insisting too much on their own virtues. That's a quality – a kind of modesty – that I found even more in the two wines that rather excessively they gave us as we left, and I drank a week or two later: Cabernet Sauvignon 2013 and Millennium 2009. I particularly enjoyed the Millennium (I have the last glassful at my side as I write this). From Bot River grapes, it's dry but juicy, restrained but expressive, really well balanced; good and serious enough, but unpretentious and delicious. If the current 2017 maintains this tradition, it must be truly excellent value at R90 ex-farm. I intend to find out, but if anyone has the relevant experience, please share it.
Tim James is one of South Africa's leading wine commentators, contributing to various local and international wine publications. He is a taster (and associate editor) for Platter's. His book Wines of South Africa – Tradition and Revolution appeared in 2013.
Like our content?
Show your support.
Subscribe