Tim James: The Sadie new releases
1
Bad news about today's set of new releases from Sadie Family Wines. The most frustrating of which is that the 2019 Ouwingdreeks and 2018 Signature wines for local distribution are piled high in the fermentation cellar on the Paardeberg, waiting for the end of the ban on alcohol sales. Further bad news is that quantities are, as always and particularly in the drought years, low, and there'll be the usual scramble to get hold of the wines.
But the good news is overwhelmingly there too. It's in those tantalisingly unavailable bottles. Best of all, if you can afford the wine (and Eben Sadie, to the chagrin and irritation of many opportunist and greedy producers and others, keeps his prices comparatively modest, and certainly much lower than he could get away with), and if you can find even just a bottle or two – then it doesn't really matter which of them you manage to get hold of: you'll love it. As usual, there's not anything remotely like a dud among them. Moreover, it seems to me that the 2019 Old Vineyard Series (sadly without any 'T Voedpad as the vineyard gave nothing that year) are on the whole at least as fine as any vintage yet released. Each one is capable of giving the wine lover serious and exuberant pleasure. And if you are obliged to wait before getting to drink it, so much the better. Once you have your little or large stack of the stuff, put it away somewhere cool and dark and pretend that the alcohol ban is still on. Every six months – and in some cases a decade or more – is only going to add to the wine's profundity.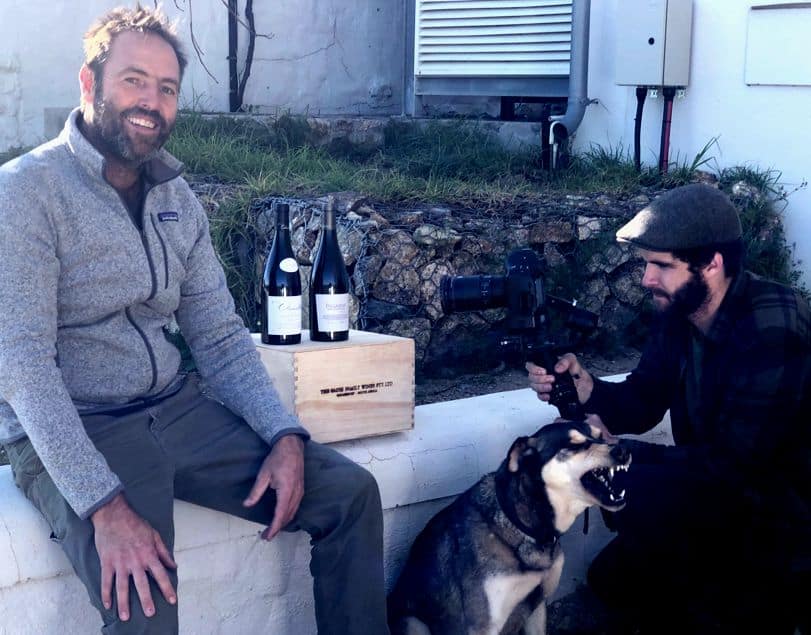 These are, indeed, profound as well as joyful, delicious wines. For what it's worth, here are the notes I made last Friday, tasting them (with due deference to Covid-19 protocols) at the winery, with Eben's winemaker Paul Jordaan – Eben had to rush off to the Mev Kirsten vineyard to complete the film being made about the wines and the vineyards to accompany the release; happily that film is finished, well worth watching if your interest in wine is other than the most superficial, and available here.
Another appreciative generalisation first, about the Ouwingeredreeks wines. Each year, it seems they get more distinctive, more expressive (we must suppose) of their vineyard origins, responsive to the increased attention they are getting, as well as to decade of work in the cellar by Eben, and latterly Paul.
Notes made in order of tasting.
Soldaat 2019 A tiny, drought-ridden crop of grenache from high Piekenierskloof vineyards. Gorgeous perfumed aromas of strawberry and the kirsch that is characteristic of the site. Tight, slim-muscled, with melting tannins of near perfection (!), integrated bright acidity giving elegant poise, and echoing length of fruit. I'm not sure if I think this is the finest of the wines, but I confess it was my favourite at the tasting. Plenty of room to grow, but you'd have to tear the bottle from my hands now. Sadie notes it requires time in bottle.
Pofadder 2019 Riper, darker than the last few vintages (though red fruit still dominates), and more fragrant and complex, and altogether quite approachable. Richness combined with quite a forceful acidity; nice understated tannic tug. As always, one of the Cape's most serious and eloquent cinsaults.
Treinspoor 2019 As I say each year (and always believe it), this Swartland Tinta Barocca continually improves, notably in terms of the integration of its (ever less extreme) tannin structure with the freshness and the fruit. (But I'm also frequently told how splendidly the very tannic earlier vintages matured; this one should do at lest as well, I reckon.) This year the balance seems to me very good, though it still needs more time than the other reds in the range. It's full of subtle, deep and suggestive character, with restrained charm.
Columella 2018 Syrah continues to decline as a percentage of the increasingly populous blend, designed to express the whole Swartland rather than, as with the Ouwingerdreeks wines, an individual vineyard. There's a mix of bright red fruit and darker, with the aromas as yet less forthcoming than broad and suggestive. In some ways it seems "bigger" and more imposing than its 13.5% alcohol would indicate, but that's partly because the chalky tannic structure is more powerful than it has been in recent years, and the acidity is high but still needing to integrate. Plenty of fruit lingering on the long finish. The wine needs many years to harmonise and fulfil its promise.
Skerpioen 2019 A good acidic scorpion bite on this chenin/palomino blend from Swartland's West Coast. But that succulent acid is beautifully melded with perhaps a great degree of rather gorgeous appley-earthy richness this year, when there's also a greater fragrance at the beginning and a salty conclusion. Again, 2019 proves a particularly good vintage.
Skurfberg 2019 Very reduced yields from this area of the Citrusdal Mountain ward. Rather understated yet emphatically characterful chenin presence, for a really lovely wine – pure-fruited and vibrantly elegant yet with a perfectly poised richness. Plenty of dried peach fruit, but a stony/mineral/saline infusion that guides the flavours to a long finish.
Kokerboom 2019 Semillon (red and white) from the Skurfberg area, the yields also radically affected by drought, but compensating by a subtle intensity that isn't incompatible with refined restraint. It offers its varietal aroma and sweet-fruited flavour as delicately forceful, with a softness of texture and fine acidity. Depth of fruit gives length, revealing the concentration that will allow it to grow for many years.
Mev. Kirsten 2019 A lot of work in this old Stellenbosch vineyard is making this, the forerunner of the Ouwingerdreeks, more reliably excellent (though I've always loved it), and this is a truly brilliant wine. A more refined, filigree expression of chenin than Skurfberg, but no less penetrating and intense. It is both delicate and powerful – that intricate filigree tracery is of steel (though stone is the other element). The most expensive of the Ouwingerdreeks and, to justify the cost, it is worth, as always, paying attention to Eben Sadie when he suggests that buyers also have responsibilities: "Buying this wine is but one aspect of the transaction. The greatest requirement here is patience." It will be well rewarded.
Palladius 2018 This multi-varietal wine, which regards the whole Swartland as the source for a kind of field blend, makes the biggest immediate impact of all the whites – perhaps of all the wines, in fact. Although the alcohol is just 13.5%, it seems to offer remarkable power and generosity (without coming at all close to being excessive). No overt fruitiness, though the flavours are dense and complex, with an earthy, stony brightness and succulent dryness that maturation in concrete and clay accentuates, as it disciplines the fruit. Brilliant acidity, gentle phenolic bite; all the components come together in this truly fine wine.
Tim James is one of South Africa's leading wine commentators, contributing to various local and international wine publications. He is a taster (and associate editor) for Platter's. His book Wines of South Africa – Tradition and Revolution appeared in 2013
Attention: Articles like this take time and effort to create. We need your support to make our work possible. To make a financial contribution, click here. Invoice available upon request – contact info@winemag.co.za
Like our content?
Show your support.
Subscribe