Tim James: Welcoming innovation and experiment at the CWG
By Tim James, 13 September 2019
2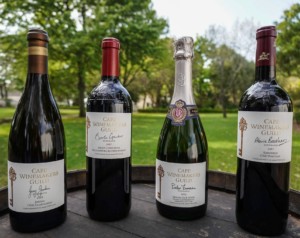 Things are looking good at the Cape Winemakers Guild. I suggested in my last column that there's a renewed spirit of camaraderie and wine-excitement in the organisation. Having recently tasted through the wines on offer on this year's CWG auction, I'd say that this somewhat belated catching up with the spirit of the South African wine revolution is becoming more apparent.
There have always been excellent wines on the Auction (and many falling short), but it is a long time since things have been as innovative or experimental as in the early days of the CWG – when discovery was more or less the basis of the organisation and its auction. But this year there are a number in that category – probably more than is readily obvious to me: Does, for example, Bruwer Raats's lovely chenin come from a vineyard only used (as an exclusive vinification) for this bottling? I suspect so – it would be good if the Auction booklet could make it clear. Rianie Strydom doesn't make a blend for her Strydom Family Wines label, so it would be good to know the significance of her Paradigm on the Auction.
In short, I think that it is time that the CWG brings this growing element of innovation into focus – makes a bit of a thing about it, playing to its strength. I suppose it'll be a long time before Kanonkop and a few others offer anything other than barrel selections of their standard estate wines (though wouldn't it be great if Abrie Beeslaar could give us something more distantly related – a varietal cab franc, perhaps?). But if an emphasis were to be explicitly put on the new and the exciting, it would, in my opinion, add lustre to the CWG and its Auction.
Let me highlight some of the innovative and interesting wines this year. I always score this annual blind tasting of the CWG wines, out of 100, so that's what the bracketed numbers below refer to; though I must put in my usual caveat that tasting 43 wines blind in the space of a few hours is hardly the best way to form a good judgement.
Pieter Ferreira (Graham Beck) is offering mixed cases of MCC – half fermented under the standard crown cap, half (agrafé) under cork. Both are good, and the differences interesting; I marginally preferred the latter (94). Two excellent wines from Andrea Mullineux: her Semillon Gris 2018 (95) seems a little more sensually rich this year, but its long, fantailing finish remains succulently dry. Andrea's Leeu Passant Radicales Libres 2014 (95), from Barrydale grapes, five years in barrel, recalls the similar white experiment from chenin: it hints at oxidative development (but Andrea is never going to get close to funkiness); rich, powerful, a quite forceful acidity, dry tannic grip. A totally successful experiment to the open-minded.
Niels Verburg (Luddite) has two reds: The Lone Stranger 2017 (94) is, I suppose, a variation of his Saboteur and also a big bold wine, but the Wonderland Avenue Grenache 2018 (95) is something new – and welcome. It was placed in the tasting after the shirazes, so it had to fight a bit, as it's rather lighter (13.1% alc), elegant and fresh. I do hope he also regards this as a successful experiment in restraint!
The chenins all showed well. Leo's Whole Bunch Chenin Blanc 2017 (93) wasn't my favourite of them, but is, apparently, the first time since 2011 that Sebastian Beaumont has bottled a wholebunch-fermented wine, after many experiments. Very light (just under 12% alc), but with sufficient vinosity – and a little too much toasty oak; but a nice grip, texture and length.
A surprise to me was Neil Ellis Wines The Designate 2013 (95) from Warren Ellis. I haven't always been convinced of his touch when moving away from the Bordeaux varieties, but this is great (and how nice to have a rather more mature wine): sweet fruit, quite rich, but a fairly dry palate; delicious and ready to drink, though room to grow. Also delicious is the dense, concentrated DeMorgenzon Gravitas 2017 (96): Lovely aromas, pure, aromatic, fresh. I'm not sure quite how this wine fits into my experimental theme, but Carl van der Merwe has certainly been doing more with grenache in recent years (this has 60% in the blend), and this seems to me the most successful wine yet.
The most unsuccessful experiment, in my opinion, but one that is original and thoughtful and a great idea, and I really applaud Bartho Eksteen for making, is his Professore 2017 (89). And I hope others enjoy it more! From locally developed crosses – pinotage, roobernet and nouvelle. I find a mix of sweetness and green, little in the way of finesse, but it's characterful enough.
So much for comments on the innovative (though I could have found more), but I wanted space to mention some favourites overall apart from those already mentioned. I scored all the following 95, unless otherwise specified.
Silverthorn Big Dog V Méthode Cap Classique 2014 showed beautifully – fresh, light and serious. The chardonnays were, unsurprisingly, fine. Apart from the Leeu Passant, I particularly enjoyed Ataraxia Under The Gavel Chardonnay 2018 and Newton Johnson Sandford Chardonnay 2018 (96). Spier Farm House Organic Chenin Blanc 2017 was another great example of the variety, as was the Raats Fountain Terroir (the supply seems almost endless…).
There are fewer reds to highlight, perhaps. But it is important to welcome both the increased percentage of whites in the lineup this year (I think) and the quality of the reds, which is, for the first time, generally on a par with that of the whites. It's getting harder to omit anything. So, apart from those I've already mentioned (and there were others scoring 94): Strydom Paradigm 2016; Miles Mossop Maximilian 2014; De Trafford Perspective 2017; I appreciated De Grendel Op Die Berg Pinot Noir 2017 more than I ever have before; Boschkloof Epilogue Syrah 2017; Kanonkop Pinotage 2017. And Boplaas's pair, the Cape Vintage Reserve 2016 and Daniel's Legacy 8 Year Potstill Brandy, both splendid.
Both Christian Eedes and Angela Lloyd singled out the superb Boekenhoutskloof Syrah 2017 (97), and I'm happy to join them in that. It was my top wine of the day. A very good day.
Tim James is one of South Africa's leading wine commentators, contributing to various local and international wine publications. He is a taster (and associate editor) for Platter's. His book Wines of South Africa – Tradition and Revolution appeared in 2013.
Like our content?
Show your support.
Subscribe