Christmas in the winelands 2019
If you really want to have yourself a merry little Christmas this year, without piles of washing up and leftovers for days, why not make a booking at a wine farm? From sumptuous set menus and lavish buffets to alfresco spit braais and picnics, here's our annual round-up of the festive feasts on offer – and with the likes of Delaire Graff and La Petite Ferme already fully booked, you'd better act fast!
Know of any others? Please feel free to provide details in the comments section below.
ALLÉE BLEUE, FRANSCHHOEK
Xmas buffet R495 per person, Xmas picnic R485 per couple (the latter including a bottle of wine)
For a very chilled Christmas, pick up a hamper packed with biltong bread rolls, smoked salmon paté, tomato, basil & mozzarella pasta salad, a farm-style platter of local cheese, roasted beef sirloin, honey mustard gammon, olives, olive tapenade, preserves and pesto served with fruited Melba toast and farm-baked bread, finishing off with strawberry brownie skewers and mini apple bites. Alternatively, ease into the buffet with local cheeses, cured meats and condiments followed by mains including chicken thighs in herb yoghurt marinade, slow-roasted gammon with honey mustard glaze, and pink peppercorn-crusted sirloin with red wine jus PLUS rosemary roast potatoes, summer vegetables, cheesy butternut, olive and spinach bake and salads. Make sure to leave space for dessert: carrot and pecan nut cake, brandy chocolate pudding and mini milk tarts.
BACKSBERG, KLAPMUTS
Christmas lunch R795 per person, R250 for children under 12, free for children under 5 (prices are inclusive of gratuities)
On arrival you'll be treated to a glass of Backsberg Sparkling Brut MCC or Backsberg Tread Lightly Rosé. At the bread table, you'll find assorted homemade breads, patés, basil pesto and hummus. The main event is lamb on the spit with gravy, mint sauce and cranberry jelly, but there's also glazed gammon, roast chicken, smoked salmon terrine, bacon and rosemary quiches, mini chicken and beef pies, bacon diablos, hake goujons, spring rolls and samosas, roast potatoes and salads galore. The dessert buffet includes Pavlova with seasonal berries, traditional trifle, Peppermint Crisp tart, Christmas cake and custard, blueberry ice cream and chocolate roulade served with seasonal fruits.
BENGUELA COVE, NEAR HERMANUS
Christmas Eve dinner and Christmas Day lunch R600 per person, R250 for children, including a welcome drink and crackers
At Moody Lagoon restaurant, executive chef Annie Badenhorst has curated a festive menu using locally sourced ingredients. The 'breaking bread' course will comprise a sharing platter of cold meats, cheeses, breads, patés and canapes, to be followed by the 'down in yon forest' course: a salad of dried pears, pickled apple, candy walnuts, Cremona blue and pancetta. 'Hog the herald angels' will be slow-braised pork belly with crispy squid, hammock pearl barley risotto, glazed baby carrots and charred cabbage, while 'layers of joy to the world' is the famous Benguela Christmas trifle: Cuvee jelly, panna cotta, red velvet cake and coconut. The kids menu (R250) starts with fish fingers, tartar sauce, fresh tomato and pea salad, followed by roast chicken, mash potato, mixed veg and chicken jus, with chocolate brownie, marshmallow fluff and strawberry sorbet for dessert.
CAVALLI ESTATE, STELLENBOSCH
Christmas Eve dinner and Christmas Day lunch R950 per person (R800 for the vegetarian menu)
On offer is a six-course set menu (eight courses if you include the bread and snacks to start and petit fours to finish). Expect gammon & Parma ham terrine with sauce gribiche and sticky pineapple; tomato gazpacho with basil sorbet, confit heirloom tomatoes and Kalamata olives; beetroot-cured salmon with avocado, nori, Caesar aioli and pickled cucumber; grilled line fish in an almond and cranberry crust with fresh peas and tarragon, braised fennel and battered white anchovy; grass-fed beef fillet with soubise sauce, roasted shallots, hasselback potato and crispy pickled tongue; and summer cherry and white chocolate bar with rum & cherry ice cream and an orange sable.
DE GRENDEL WINE ESTATE, DURBANVILLE
Christmas Day lunch R1850 per person, R450 for children under 13 (including service fee and gift)
Known for its contemporary Cape Town cuisine, De Grendel restaurant will serving a special seven-course food and wine pairing menu, but the menu will only be released later this month.
DE MEYE WINE ESTATE, MULDERSVLEI, STELLENBOSCH
Christmas Day lunch R495 per person, half price for children under 12
The Table at De Meye has recently been taken over by Leigh Williamson and Brendan Thorncroft (formerly of Restaurant Seven, Restaurant Jardine and Jordan Restaurant). The menu will only be confirmed a couple of days before Christmas (depending on what is in season and available) but it promises to be suitably celebratory.
GRAND PROVENCE HERITAGE WINE ESTATE, FRANSCHHOEK
Christmas Eve dinner and Christmas Day lunch R1850 per person, R950 for children under 10
A festive fine-dining feast is promised, featuring 'an exciting array of dishes to satisfy every culinary desire'. The lavish spread will include endive, cranberry granite, crispy turkey skins and blue cheese; polenta sweetcorn pudding, scallops, bacon jam and crispy brussel sprouts; turducken ('because three birds are better than one') with parsnip acorn puree, fire roasted beetroot and turkey jus; and pecan pie with curry and ginger gel, butternut ice cream and pumpkin pie powder.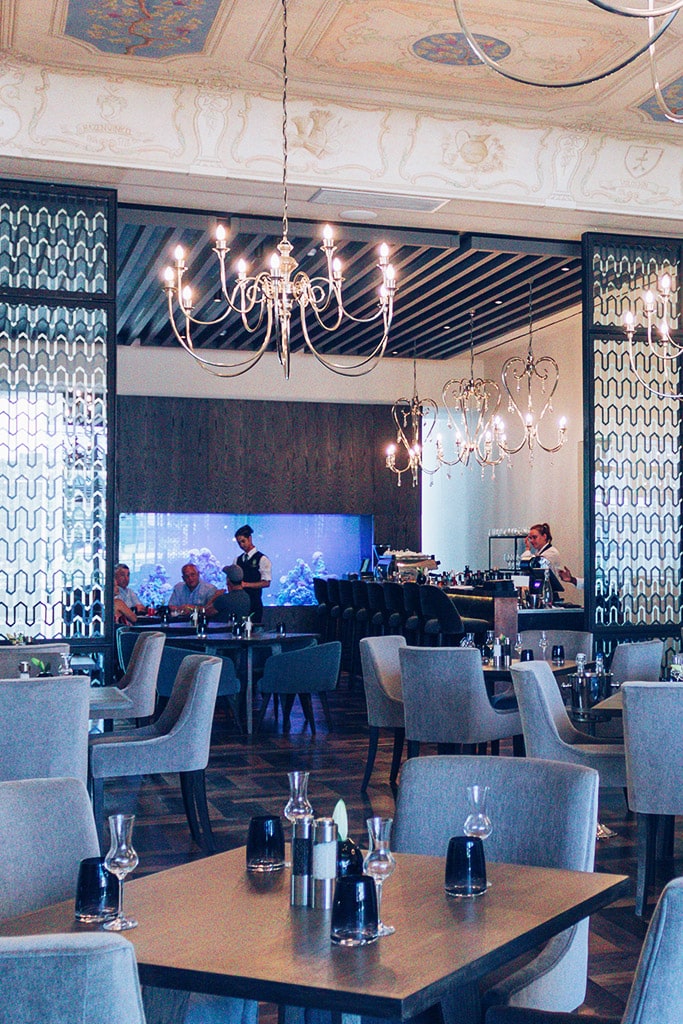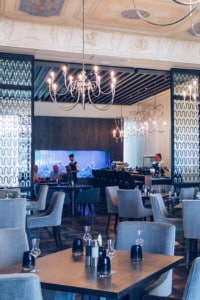 HAZENDAL, BOTTELARY ROAD, STELLENBOSCH
Christmas Day lunch at Avant-Garde restaurant R950 per person (including welcome drinks for sharing family-style at the table), R450 for children under 12 (plus optional R110 for arts and crafts); Babushka Deli picnic R650 per person, R250 for children under 12
Specialising in 'reimagined Russian and South African traditions', AVANTE-GARDE's Christmas menu includes such starters as beetroot and vodka cured salmon trout crêpe cake (sans salmon for vegetarians), venison (or sweet potato) carpaccio with rocket and parmesan, profiteroles with chicken liver paté (or pea pesto), pickled ox tongue with caper and raisin dressing, grilled aubergine and yoghurt with pomegranate and date salad, and rosemary and garlic marinated mushrooms with hummus. Mains include mustard glazed pork belly, roast duck with cranberry and apple, lamb with thyme and apricot stuffing, and (for vegetarians) pelmeni with pumpkin and mushrooms, tofu and chickpea butter curry, and black lentil and falafel bowl with boiled egg and salad. After the cheese course (Dalewood Boland custard, confit tomato and paprika scone), dessert is Russian honey cake with honeycomb whipped Russian cream and dulce de leche ice cream.
The BABUSHKA picnic comprises artisan breads with salted farm butter, chicken liver paté and mushroom ketchup; potted salmon and crème fraiche; a cold meat selection of pickled ox tongue, roast beef, festive poultry terrine and glazed ham; Russian Olivier potato salad; marinated calamari salad with Asian pesto, basil and sundried tomato; pickled cucumber and green bean salad; local cheese and preserves; and Christmas-inspired honey cake trifle as well as cherry and chocolate zephyr bites. The vegetarian menu sounds equally delicious, as do the children's menus (tailored for less sophisticated palates).
KUNJANI WINES, BOTTELARY, STELLENBOSCH
Christmas Day lunch R665 per person, R325 for children under 10
To start, smoked trout and prawn salad with mango, rocket, red onion, caper berry and lemon jelly; farm-fresh vegetable salad of baby spinach, cranberry, toasted almonds, broccoli, sundried tomato and olive dressing; and turkey and avocado salad with strawberry, baby leaves, red onion, feta and balsamic vinaigrette. For mains, a choice between roasted ribeye steak with shallots, mushrooms, baby carrots, fondant potato and red wine jus; line fish with panko-crumbed fishcake, pak choi, harissa, asparagus and coconut sauce; or dukkha-spiced lamb loin with asparagus spears, baby carrots, confit potatoes, pea purée and red wine jus. To finish, cranberry, almond and orange Christmas pudding topped with vanilla crème anglaise, and Oreo baked cheesecake with passion fruit jelly, fresh strawberries and lime zest.
Christmas Eve dinner and Christmas Day lunch R699 per person (including G&T, bubbly and sherry on arrival, a selection of red and white wine, cold drinks and water)
Chef Mynhardt Joubert will be hosting a long table for 80 people in KWV's iconic Cathedral Cellar. Breads will include brioche, baguette and charcoal ciabatta with almond and honey and green fig preserve. The Christmas charcuterie platter will include brandy and creamy chicken liver pâté, beef tongue with mustard sauce, gammon rillettes and Maraschino cherries, and then there'll be a table buffet of rolled and stuffed lamb rib, sun-dried tomato chicken, pork fillet stuffed with nuts and cherries, pampoenkoekies with caramel sauce, and Cape Malay spiced rice with real gravy. To end, Christmas fruit cake semifreddo, cinnamon meringue and vanilla bean custard. Email bookings@mynhardt.co.za or contact Frikkie at 078 800 5155.
LE POMMIER, HELSHOOGTE, STELLENBOSCH
Christmas Day lunch R550 per person, R280 for children under 12
For starters, farm bread served with patés, cold meats and cheeses, homemade preserves, hake cutlets and various salads. Mains include slow-roasted leg of lamb with mint jelly, crispy pork belly with honey and ginger, traditional chicken and mushroom pie, pumpkin fritters, roast potatoes, vegetables and sauces. And then for dessert: trifle, cheesecake, chocolate mousse, malva pudding, fresh fruit, vanilla ice cream and of course Christmas pudding.
NITIDA, DURBANVILLE
Tables at Nitida Christmas Day buffet R625 per person, R220 for children under 12, R150 for children under 6. Cassia five-course lunch R750 per person
The family-friendly TABLES buffet will kick off with bacon, brie and cranberry quiche; beetroot, feta and walnut tartlets; carpaccio with rocket, pecorino crackling and balsamic vinegar; various salads and a selection of breads with assorted dips. For mains, there's herb-rubbed sirloin of beef, roast turkey with apple, walnut and cranberry stuffing, and honey sriracha-glazed gammon, while desserts include summer Christmas trifle, Amarula malva pudding with rooibos custard, seasonal fruit, ice cream with chocolate sauce and 'brookies' (combining brownies and choc-chip cookies).
The more formal option at CASSIA starts with a glass of The Matriarch MCC followed by an amuse bouche of roasted tomato panna cotta with Parma ham, savoury pecan nut tuille and crispy fried basil leaf. For starters there's a choice between stout-braised beef cheek and tongue terrine, Dungeness crab tian, and asparagus and calamata tortellini. After a palate-cleansing beetroot sorbet with goat's cheese mousse, mains are a choice between Kingklip Kashkaval, spiced rum and maple glazed gammon, roast leg and grilled breast of turkey with roasted butternut and pine kernel stuffing, and wagyu beef brisket wellington. For dessert, choose between Bûche de Noël with pistachio butter cream and marbled berry curd ice cream; trifle with white chocolate blondie, dark chocolate mousse, roasted hazelnuts, Frangelico anglaise and berry lime jelly; and roasted fig and chocolate ganache bread and butter pudding served with citrus crème anglaise.
STEENBERG, TOKAI
Tryn Christmas Eve dinner and Christmas Day lunch R1100 per person (R1550 per person with wine pairing). Discretionary service charge will be added to bill
Fine-dining Catharina's has undergone a transformation to emerge as Tryn (as Steenberg's feisty 17th-century owner Catharina Ras was known). The Christmas menu starts with Chardonnay Brut MCC on arrival followed by an amuse bouche of ash-crusted chevin, maple pear and toasted brioche. Grilled prawns with avocado, ginger, kaffir lime, seaweed salad, cucumber ribbon and aioli will be paired with the Rattlesnake Sauvignon Blanc, followed by sustainable fish with green asparagus, pea, onion soil, vanilla and a glass of Sphynx Chardonnay. Steenberg's Syrah will be served alongside the grilled beef fillet with parsnip puree, beef croquette, porcini marmalade, tender greens and truffle jus, while the chocolate torte with rose gel, raspberry mousse, chocolate dentelle and pistachio & coco butter ice cream will be accompanied by Blaauwklippen's Zinfandel Noble Late Harvest. To end the feast, a selection of friandises with Origin coffee or Ronnefeldt tea.
Like our content?
Show your support.
Subscribe