100 Flavours Exhibition, V&A Waterfront
1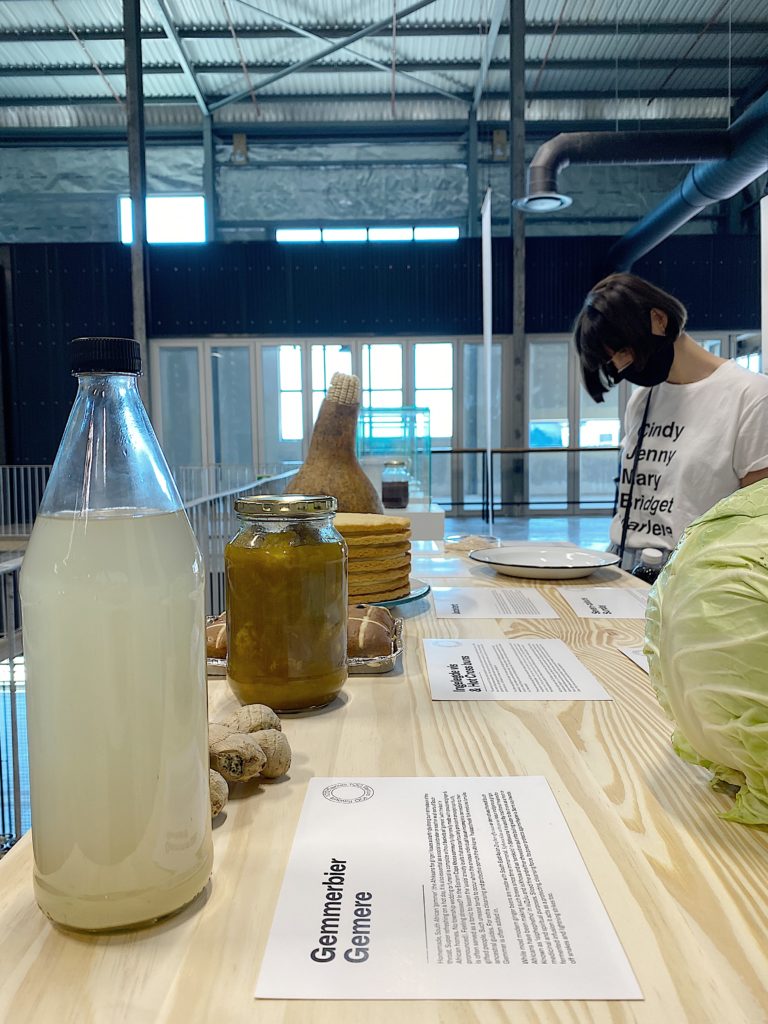 The 100 Flavours exhibition at Makers Landing, V & A Waterfront, is just that – a presentation of 100 South African flavours. There are flavours that reflect the country's past and its present. There are flavours that depict our regional and ethnic diversity. There are flavours derived from indigenous ingredients and there are others that originally came from somewhere else but have been made new in the South African space. There is posh nosh and poverty food. Healthy offerings and junk food. Our epicurean interactions with happiness, sadness, comfort and sex are all evaluated. The South African obsession with cooking over fire and the ways in which we dine with our deities are offered up in delicious detail. The exhibition opens on 10 December.
In the interests of full disclosure, I should mention that I was the person that the curators, Studio H, tasked with drawing up the list of 100 Flavours. I consulted widely but I am fully aware that there are no right or wrong answers in the quest to define a country's core tastes. At best a list like this can be a tool to stimulate debate and thereafter to add/ subtract suggestions. At the end of the exhibition there is space for visitors to propose additional items for inclusion.
The brief was absurdly over-ambitious. I was to consider everything ever consciously consumed by people living on the land that we currently call South Africa. Seeing as how the first catching and controlling of fire for making food may well have happened in Gauteng's Cradle of Humankind that meant a possible time frame of over a million years. Clearly 100 is an insufficient number for such a task. Space and time considerations resulted in a decision to predominantly focus on solid foods. While this helped lighten the load a little it wasn't all that effective as an elimination tool because in many Southern African culinary cultures the point at which a fermented porridge becomes a beer is blurred. So, umqombothi, mageu made the culinary cut. And there were other liquids I felt could not be left out. Some of the teas and tisanes snuck in as herbs. Brandy was included only in so far as it occurred in infused with buchu or as a preserving agent for apricots (boeremeisies). Pinotage was included because, well, it simply seemed absurd not to. There is clearly a case for adding more wines and other alcohols going forward.
The list is far too short to do justice to the topic but far too long to be described in its entirety here. Suffice it to say that there is something to suit every palate. Those seeking sweet tastes are invited to consider, amongst many others, entries on Afrikaner soetkoekies, Xhosa IQhilika, Tsonga xigugu, Cape Malay Tameletjies and Soweto-style 'skull sweet' (it's a kind of honeycomb). Seeking sour? There are amatungulu berries and baobabs and Rex Union orange marmalade but also Cape ingelegde vis (with hot cross buns), amasi and ting soured sorghum porridge. Salty sees mebos meet Baleni sacred salt but also bokkoms and biltong. Bitter is represented by items such as Pedi diya tea, Tswana lerotho (spider flower wild leaf) and voortrekker mugs of moerkoffie. Umami is in everything from jugo beans to droëwors, denningvleis and thongolifha (edible stink bugs). South Africans adoration of a little bit of sweet and spice in their savoury is well catered for with Durban's masala spice pineapples, ikhala aloe sap and a selection of sosaties. Snoek with apricot jam sits (literally) cheek by jowl with smileys and inhloko beef head stews with pelepele seasoning. Speaking of pelepele, mother-in-law-masalas, chakalaka and Mrs Balls are in there too. Obviously, there are mielies galore.
Food is a form of material culture which reflects the broader context from whence it comes. While the exhibition is full of joy it also engages with our painful past. Indigenous ingredients are recognized for the role they can play in restoring and empowering the ancestral memories of peoples and places too long dismissed and displaced. The ways in which South African food culture has been profoundly influenced by slavery, colonialism and apartheid are presented and the foods formed by such situations are celebrated as an indication of the survival and triumph of the human spirit over extremes of adversity. Most of all there is an acknowledgement that the physical space used by the exhibition is part of land that pre-colonial Khoi people called 'Camissa' – //ammi i ssa and that, from the late 15th century, there was a permanent Khoi trading station supplying food and fresh water to passing Dutch, British and Portuguese ships. There is a direct connection between past and present. Clearly, making that connection is only the first step.
In every bite of jaffel and every spread of suurvy konfyt South Africans are explaining their edible identity. It is there in every sip of cane juice and crunch of majenjhe edible termites. It is in each 7 colours Sunday lunch and every Mogodu Monday. From bunny chow and moatwana to jodetert, gemmerbier to ZCC tee ya thaba these are eloquent offerings. From umngqusho and umphokoqo to kifyaat kos and kip kip we are what we eat and drink.
100 Flavours Exhibition: Makers Landing, Cape Town Cruise Terminal, V&A Waterfront, Cape Town
Dr Anna Trapido was trained as an anthropologist at King's College Cambridge and a chef at the Prue Leith College of Food and Wine. She has twice won the World Gourmand Cookbook Award. She has made a birthday cake for Will Smith, a Christmas cake for Nelson Mandela and cranberry scones for Michelle Obama. She is in favour of Champagne socialism and once swallowed a digital watch by mistake.
Attention: Articles like this take time and effort to create. We need your support to make our work possible. To make a financial contribution, click here. Invoice available upon request – contact info@winemag.co.za
Like our content?
Show your support.
Subscribe