Restaurant review: Kobo Cuisine, Maboneng
4
Africa's fine flavours are deliciously diverse and epically ancient. Until recently, the gastronomic glories of our continent were almost entirely served either as home food or at simple street stalls. They were seldom seen in posh-nosh restaurant settings. Home/street food can be wonderful but it is a different kind of wonderful from restaurant haute cuisine. And the world needs both.
The good news is that chefs working within the New African Cuisine movement are increasingly introducing innovative interpretations of our continent's traditional tastes into their fine dining food. This trend fits within a broader international focus on heritage flavours reimagined to delight modern palates. It is as true in the New Nordic cuisine of René Redzepi, chef-patron of 2 Michelin Star Noma in Copenhagen, Denmark, as it is in the work of Pierre Thiam, executive chef of the contemporary African restaurant Nok by Alara in Lagos, Nigeria or Paris-based, Congo Brazaville-born chef Dieuveil Malonga who was recently ranked sixth by Forbes Magazine in their 30 under 30 and described as "the Congolese chef whose start-up is taking African cuisine to the world".
On the South African food front, Kobus van der Merwe at Wolfgat in Paternoster and Michelin-starred chef Jan-Hendrik van der Westhuizen Restaurant JAN in Nice, France fit within this food philosophy but until recently Johannesburg was lacking a South African New African Cuisine restaurant. And, of course, the elephant in the room was race. Where was our black, New South African Cuisine chef-patron? In recent years, some interesting cookbooks have been published but not an actual restaurant.
Enter chef Siyabulela Kobo and his restaurant Kobo Cuisine. A veteran member of the South African National Culinary Team, chef Kobo was born and raised in Caguba, just outside Port St Johns and his work takes the traditional tastes of the Eastern Cape region on exquisite epicurean adventures. He says that his ultimate aim is to "push South African food to the highest possible place – to win awards locally and internationally." The goal is "to say 'I am here. I am a South African. I am a chef. I work as a son of South Africa. A son of the soil and I have a story to tell on each and every one of my plates." And he does just that at his Maboneng restaurant.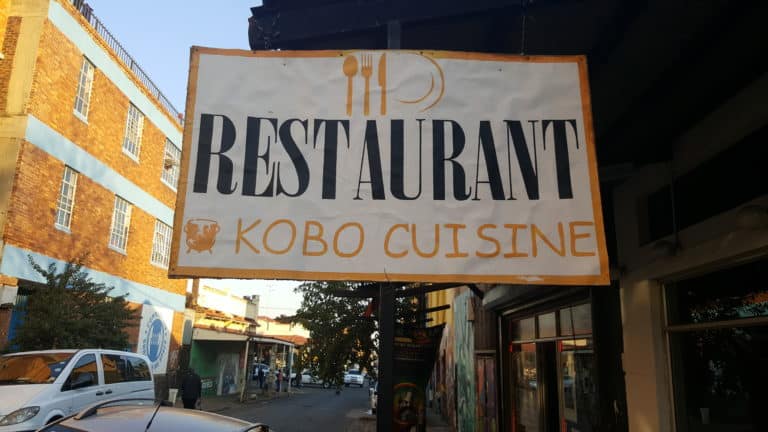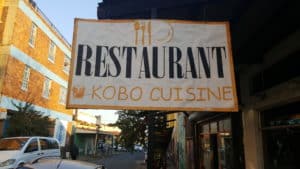 Some people are uneasy about Maboneng. The district itself is super-safe and almost absurdly gentrified but it is testimony to the, at best, partial success, of Johannesburg's inner-city regeneration project that one wrong turn is all it takes for an aspirant restaurant-goer to find themselves amidst scenes reminiscent of downtown Falooja. Move one block away from the hipster heaven that is Maboneng and burnt out buildings shelter shivering street children. Taxi drivers block roads seemingly at random. The CBD can be intimidating to those of us more used to suburbia. Especially at night, in a party dress and silly shoes, with eyes glued to a GPS that cannot find Kobo Cuisine. One of the reasons that the street children thought I wanted to buy their drugs was that I was driving slowly round and round their block. Over and over again – because in order to find Kobo Cuisine Restaurant you need to tell your GPS to go to Curiosity Backpackers. The tiny eatery is inside the backpacker's lodge. It is extremely difficult to stay in business making only avant-garde African tasting menus so during the day chef Kobo pays his bills by making pleasant but unexciting breakfasts and sandwiches for tourists. At night à la carte New African Cuisine reigns. Twice a month the chef hosts five-course tasting menus (R450). He will also make such menus on any evening if customers phone ahead. Kobo Cuisine is still awaiting its liquor licence so for now ask the chef about the menu when you book and BYO accordingly.  
Chef Kobo's modern, respectful reinterpretations of traditional tastes are really special. Be prepared for maize to appear in all its various forms – fresh, dried, whole, broken, ground, fermented. On European-style menus, multiple use of the same ingredient might be considered a fault but maize is to Pondoland what olive oil is to Tuscany – a core structural foundation upon which all other flavour is built.
Kobo says "I want explore the multi-layered cuisine that is my heritage and examine how it relates to the present and future. I like to combine my restaurant-style skills with those core tastes. For instance, my mother made an insonka sombona cornbread steamed in the maize leaves, it had such a vibrant, fresh flavour but even as a kid I didn't like the rough texture so now I have tweaked it for the restaurant. I blend the corn and then juice it and use that as the liquid in my baking so the texture is much smoother than the traditional version but there is still the vibrant essence of the first creation in the second."  The afore mentioned bread is served with quenelles of whipped, peppery imifino wild herb butter.   
He says "as a chef I always want past and present, modern and ancient to talk to each other in my cooking. Each taste should take diners on a journey of memory. I try to take people with me into a story. There was a time when I was a kid and I would go with my friends to herd cows and we would catch little birds with slingshots and cook them right away in a fire. Feathers and all. Those feathers burn off and the ash adds flavour. In the restaurant I recreate that ash taste and the feeling of freedom that it represents. I use a torch and an electric blitzer but I am aiming at refinement of the same sensation."  The ash rolled deboned seared quail are accompanied by umhluzi (reduced stock silken gravies) and what the menu calls 'root vegetable rocks' by which Kobo means they are slow baked until crackling crusted with sweet, intense interiors as if a herd boy had dug them up and cooked them directly on the coals of a fire.  
Umqa is reimagined as maize crusted pumpkin spheres with a smooth, pumpkin leaf-infused, velouté sauce. Rooibos smoked braised inhloko beef cheek is so soft that it could be eaten with a spoon. Chef Kobo's signature umphokoqo plate offers the traditional Xhosa tastes and textures of crumbly style maize meal and amasi fermented milk but also reimagines this classic comfort food as separated curds and whey in which the whey is set into little cubes of sour, clear jelly and the curds are taken to the texture of ricotta. The plate is garnished with ethereal wisps of wafer thin skokoko ribbons carefully peeled from the edge of the phutu pot. At Kobo Cuisine ultra-modern and ultra-traditional meet and match. The otherworldly and exquisite plating is so pretty that each course feels like an ancestral offering given as a gift to and from the past as it spirals through the present and on into the future.
Kobo Cuisine: 063 671 5402; cnr Fox and Auret Street, Curiosity Backpackers, Maboneng Precinct; kobos@rocketmail.com
Dr Anna Trapido was trained as an anthropologist at King's College Cambridge and a chef at the Prue Leith College of Food and Wine. She has twice won the World Gourmand Cookbook Award. She has made a birthday cake for Will Smith, a Christmas cake for Nelson Mandela and cranberry scones for Michelle Obama. She is in favour of Champagne socialism and once swallowed a digital watch by mistake.
Like our content?
Show your support.
Subscribe