The Olive Shed Bistro – restaurant review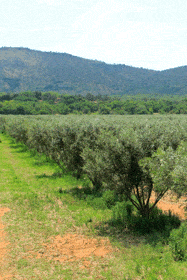 Mkholo is an organic olive farm and oil press on the outer edge of Hartbeespoort (about 40 minutes from Johannesburg). Rows and rows of silver-green Mission and Frantoio trees shelter against the majestic Magaliesberg mountains. There is a popular perception that South African olive growing is an entirely Cape concern but summer rainfall and semi-dolomite soils make the North West/Gauteng border an ideal environment for the production of light fruity oils that are distinctly different from the more assertive, peppery Cape product.
Well, most years it is an ideal environment. Mother Nature has been a total bitch recently. Last year saw hail (which knocked many, many baby olives off the trees) followed by excessive rain. This year there was almost no spring. One day it was winter, the next summer. Trees went into panic and didn't flower. The shock has left them in no mood to be productive members of society. In a good year Mkholo should produce 120 tons of olives (which translates into 20 000 litres of oil). In 2014 only 40 tons of olives came off the trees. The limited litres were delicious (and Olive SA certified) but stock is so scarce that it is currently only available in the farm shop and restaurant. Estimates for the 2015 harvest are similarly small.
Mkholo's Olive Shed Bistro opened at the end of August 2014. The bar/olive oil tasting room is followed by terrace tables looking out onto glorious groves. What little stock there is has been made abundantly available at the farm restaurant. From the first bite of tapenade spread thick on salt crusted ciabatta to the last moist mouthful of olive-oil infused chocolate cake, the farm's focus is everywhere.
The menu is short and simple but well balanced. Everything is made on site and many of the ingredients are home grown. Even when the ingredients are sourced from outside of the farm, there is a locavore, organic and sustainable sensibility to everything on offer. The organic salami topping perfect pizzas is made from pasture-reared local pigs. Charcuterie platters feature local pâtés, terrines, hams and superb smoked free-range chicken which fought and flapped in the district. The cheese platter is laden with ricotta (studded with olives) from Mkholo's own Jersey cows alongside mature Cheddar and ash-rolled goat's cheese from neighbouring farms. In winter there will be stews, Dijon crusted fillet, legs of lamb and roast potatoes all cooked in the wood fired pizza oven.
The small but thoughtful wine selection (with several by the glass options) is clearly produced out of province but beer has a local-is-lekker focus with Magalies brews taking pride of place. No fizzy drinks are available but there are charming cordials and old-school lemonades. A first time diner wouldn't know that the olive trees are being uncooperative because sitting on the stoep, glass in hand, lemon cake on order, the experience is lovely beyond any singing of it.
The Olive Shed Bistro 083 2751387, mkholo@iafrica.com; Mkholo Olive Farm, L60 Leeuwenkloof, Broederstroom, North West Province; Weekends only. Lunch 12h00 – 15h00.
Dr Anna Trapido was trained as an anthropologist at King's College Cambridge and a chef at the Prue Leith College of Food and Wine. She has twice won the World Gourmand Cookbook Award. She has made a birthday cake for Will Smith, a Christmas cake for Nelson Mandela and cranberry scones for Michelle Obama. She is in favour of Champagne socialism and once swallowed a digital watch by mistake.
Like our content?
Show your support.
Subscribe