2011 FNB Sauvignon Blanc Top 10 Competition finalists announced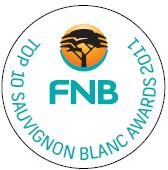 The Sauvignon Blanc Interest Group of South Africa (SBIG), organiser of the 2011 FNB Sauvignon Blanc Top 10 Competition, has just revealed the 20 finalists in the countdown to the announcement of the overall winners. The competition, already in its fifth year and previously presented by Wine magazine, is for the first time sponsored FNB (First National Bank).
There were 169 entries in total and these were blind-tasted (with no indication of vintage, cellar treatment or technical analysis) and scoring done according to the 20-point system. The judging panel was chaired by me and also included Sauvignon Blanc Interest Group secretary Pieter de Waal, independent wine writer Angela Lloyd, winemaker Louis Nel and restaurant beverage manager James Pietersen.
The 20 top-scoring wines for 2011 are:
Bergsig Woolworths [WHAT]? 2011
Boschendal Reserve Collection 2011
Clos Malverne 2011
David Nieuwoudt Ghost Corner 2011
Delaire Coastal Cuvée 2010
Delaire Coastal Cuvée 2011
Diemersdal 2011
Fleur du Cap Unfiltered Limited Release 2011
Franschhoek Cellar Statue de Femme 2011
Kleine Zalze Family Reserve  2010
KWV Cathedral Cellar 2011
Lutzville Cool Climate 2010
Neethlingshof 2011
Overhex Soulo 2011
Phizante Kraal 2011
Quoin Rock The Nicobar 2009
Rietvallei Classic 2011
Tokara Reserve Collection Elgin 2010
Vergelegen Reserve 2011
Wade Bales Thys Louw 2011
The wines which placed in the Top 10 will be made public on Friday 4 November at a luncheon to be held at the Cellars-Hohenhort hotel in Constantia. Jörg Pfützner of Fine Wine Events together with celebrated chef Peter Tempelhoff have crafted a menu to complement all the wines in the last 20. A limited number of tickets at R250 a head are available to attend the award function, and can be reserved by contacting Pieter de Waal of SBIG Tel:  083 357 3864 Email:  sbig@dw.co.za
Like our content?
Show your support.
Subscribe