12 ways restaurants can improve wine service
2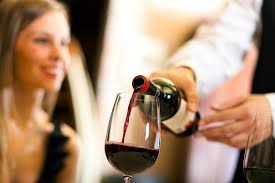 1. Include something to suit every taste AND every budget
Most punters are going to order that Chardonnay-Pinot Noir blend but there are those of us who'd like something more rewarding. In a similar vein, the undergraduate student out on a date is going to have different spending power to the investment banker who's just closed a deal.
2. Don't list a wine if you can't keep it stock
There's always one wine which offers great quality relative to price. It's always the wine that's sold out.
3. Do serve wine at the right temperature
Wine shouldn't be stored next to the pizza oven – lighter style red wines should be served at 10 to 14⁰C and full-bodied reds at 16 to 18⁰C.
4. Filling of the glasses
Don't over-fill. Five pours out of one bottle for a table of six is an obvious and crass way of bumping up the bill. We saw what you did there. Also, don't recharge the table's glasses too often – we're trying to have an elegant dining experience not play boat races.
5. Have a good selection wines available by the glass
If he's having the steak and she's having the salad, it's difficult to choose a bottle of wine to pair with both dishes. Sweet wines are particularly suited to by-the-glass – SA makes some great examples but it's difficult to finish a bottle in one sitting.
6. Don't use wine to subsidise the food
Reasonable mark-ups mean we'll be more inclined to order another bottle and in the age of Uber, there aren't any repercussions.
7. Don't list Chenin Blanc under "Other varieties"
If you have no wine knowledge, buy it in.
8. Invest in decent glassware
Thankfully the era of the Paris goblet is over but we're not sure about the rise of the stemless glass as preferred by hipsters. It doesn't have to be Riedel but a thin rim and big bowl would be appreciated.
9. Print your own wine list and keep it up to date
An item crossed out by hand does not a deluxe impression make.
10. Get the wine to the table slightly before the food arrives
Food and wine matching is what we geek out on. Bringing the wine just as plates are starting to be cleared: #Fail.
11. Don't make the us feel awkward about sending the wine back
The wine might or might not have cork taint. It's our prerogative to decline it and it's the producer's obligation to replace it.
12. Don't let a corporate buy your wine list
SA wine has never been so exciting and your wine list should reflect that.
Like our content?
Show your support.
Subscribe