20 years ago: Wine magagzine – May 2000
2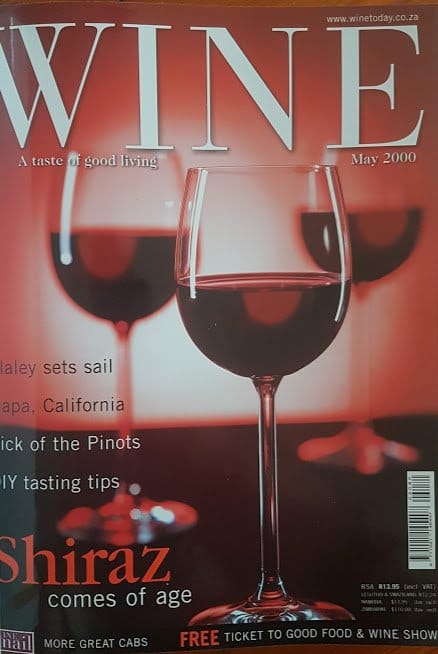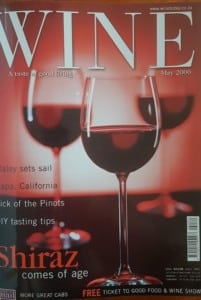 Some insight into SA wine's recent history – this from the May 2000 issue of Wine Magazine:
News
An update referred to concerns on the part of then Rustenberg winemaker Adi Badenhorst about smoke taint in the wines of the 2000 vintage after a fire had ravaged Simonsberg-Stellenbosch vineyards in January. Other winemakers were apparently sceptical but Badenhorst referenced the occurrence of wines with a smoky character following fires in Hunter Valley, Australia a few years earlier.
The late Tony Mossop released his second vintage of Axe Hill Cape Vintage Port from his farm on the outskirts of Calitzdorp, this being the 1998 selling for around R60 a bottle.
Bruwer Raats, who had joined Stellenbosch property Delaire in time for the 1997 harvest, released a flagship Merlot from that year selling for R105 a bottle, then considered to particularly pricey!
Category tasting: Shiraz
In a report entitled "Cape Shiraz comes of age", panel member Michael Fridjhon wrote, "Clearly most of the top wines come from a new generation of winemakers, people whose grasp of the varietal is as recent as the new-clone plantings".
Four and a Half Stars
Slaley 1998 – price: R45
Graham Beck The Ridge 1998 – price: R51
Boschendal 1997 – price: R53,69
De Trafford 1998 – price: R85
Four Stars
Vergenoegd 1997 – price: R36.50
Kanu Limited Release 1998 – price: R40
Lievland 1998 – price: R60
Gilga 1998: R70
Boekenhoutskloof Syrah 1997 – price: R75
Spice Route Flagship Syrah 1998 – price: R75
Simonsig Merindol Syrah 1997 – price: R109
Panel: Tony Mossop (chair), Michael Fridjhon, Allan Mullins, Clive Torr and Colin Frith
Category tasting: Pinot Noir
Commenting on a tasting that saw no wines breach the 4 Star threshold, Dave Johnson, panel member and founder of Newton Johnson Vineyards four years earlier, commented "The newer clones, replacing the BK5 stalwart, have made for better ripening, better colour and more complex flavours. The reasons why there is not an even more noticeable quality leap are all the usual ones – incorrect sites, wrong choice of oake, yields too high…"
Best wine overall out of 24 tasted was Whalehaven 1998 with a rating of Three and a Half Stars (price: R58 a bottle).
Panel: Tony Mossop (chair), Dave Johnson, Allan Mullins, Clive Torr, Irina von Holdt
Like our content?
Show your support.
Subscribe