A beginner's guide to South African wine
3
Part 2: What to expect in the glass
There are no stereotypes in South African wine, but there are certainly a few key factors to consider.
Climate
Virtually all the wine-producing areas of the world are located between 30 and 50 degrees latitude in both hemispheres, the so-called temperate zones. In South Africa, the well-known winelands town of Stellenbosch sits at a latitude of 33° 56' S, while many wine grape production areas are even closer to the equator. That South Africa manages such high wine quality is in a large part due to the influence of the Atlantic Ocean to the west and the Indian Ocean to the east. The traditional winegrowing areas in the coastal zone are seldom more than 50km inland and therefore experience cooling onshore breezes.
Even so, how producers deal with excessive heat is one of the key issues affecting overall wine quality and, ever since the abolition of the quota system in 1992, the search has been on for cooler vineyard sites. Some very exciting new wine areas are now coming to the fore as the benefits of locations either with a pronounced maritime influence (such as such the ward of Elim in the district of Cape Agulhas) or at altitude (Cederberg and Elgin) are realised.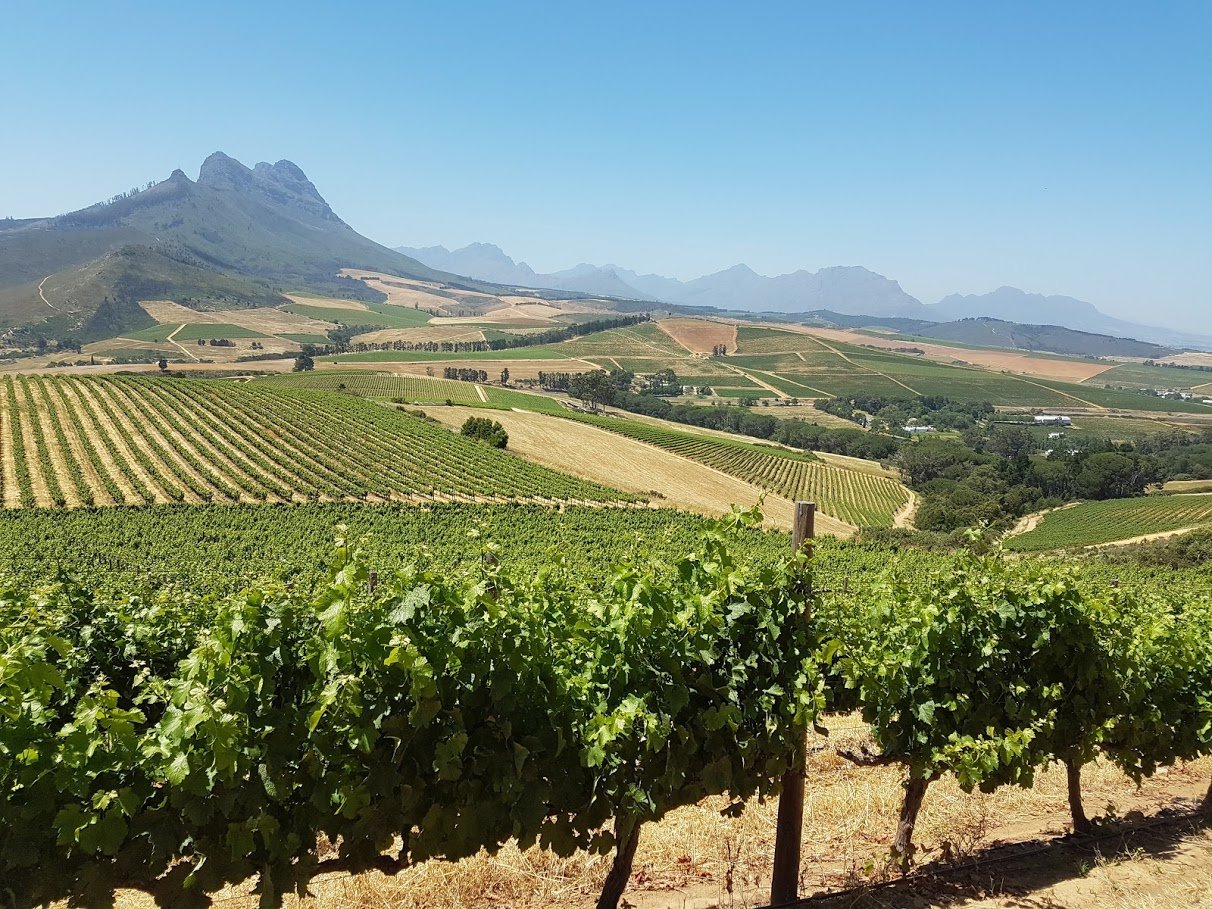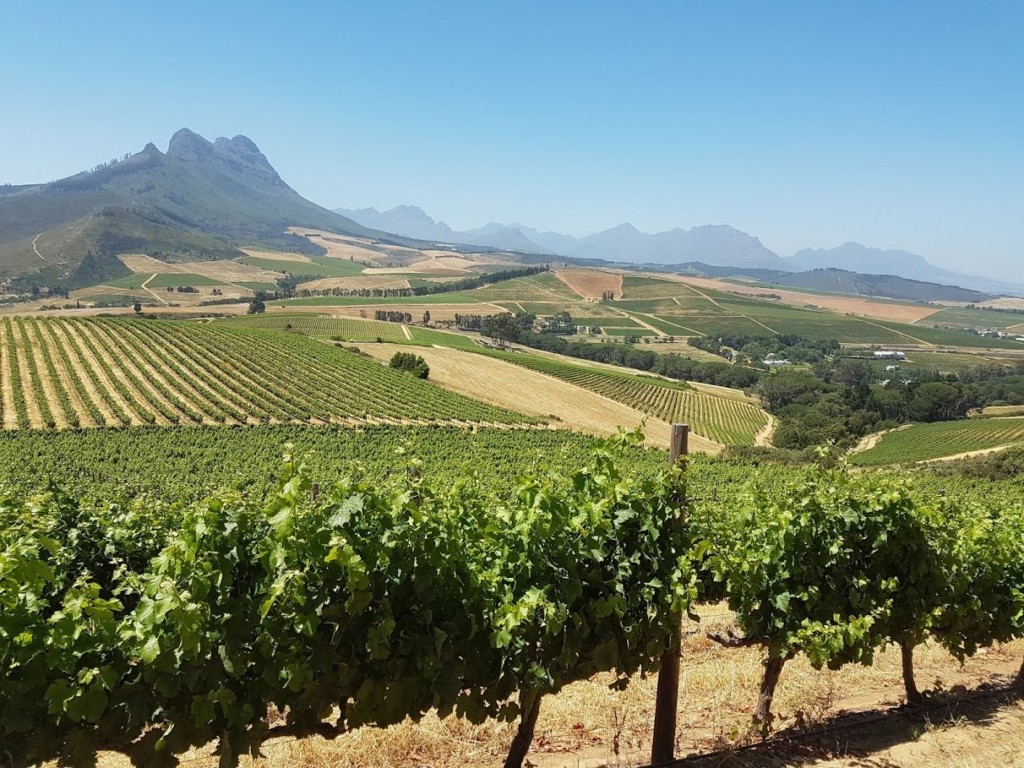 Geology and biodiversity
South Africa has some of the most ancient viticultural soils in the world, the oldest of these being shale and schist deposited some 1 000 million to 550 million years ago in a marine basin. Subsequently, intrusions of granite domes occurred (around 600 million years ago) followed by intensive folding and uplifting (about 250 million years ago) that created the distinctive sandstone mountain ranges and valleys of the Cape.
Diverse soils, along with the interplay of topology and climate, have resulted in an extraordinary biodiversity. The Cape Floral Kingdom (CFK), which stretches in a narrow band from the Cederberg on the west coast to Port Elizabeth on the south-east coast, is the smallest and richest of the six on earth. Precisely how small? It's 90 000km² in size, the equivalent of just 0.02% of the earth's total surface area, and yet it contains over 10 000 plant species, 70% of which occur nowhere else in the world. There are, for instance, more species on Table Mountain than in the whole of the United Kingdom!
With nearly 95% of South Africa's vine cultivation taking place in the exceptionally biodiverse CFK, it's not far-fetched for South African producers to be able to produce a wide range of wines. On individual properties, soil types can vary dramatically over just a few hectares. Although specialisation is increasingly taking place, as producers slowly but surely confirm or discover which varieties and farming methods work best for them, South Africa's potential to make authentic and distinctive wine is clear.
SA's most important wine categories
Méthode Cap Classique
Méthode Cap Classique (MCC) is the South African term used since 1992 to describe sparkling wines made by means of a secondary fermentation in bottle, the technique traditionally associated with the Champagne region in France.
All sorts of grape varieties are used in the production of MCC, but the most successful examples are typically made from the traditional Champagne varieties of Chardonnay and Pinot Noir. While local producers don't struggle to achieve ripeness thanks to generally warm growing conditions, retaining freshness is more difficult. Those producers that attempt a livelier, more elegant style by picking earlier sometimes end up with wines that are a bit thin and weak; those that go for a riper, richer style occasionally produce wines that are overdone and prone to developing too quickly.
Generally speaking, MCCs display pure, clean fruit and they are becoming finer and more intricate, complex, as producers gain experience in bubbly production (only very recently a major category).
Category leaders include Cederberg; Graham Beck and Silverthorn (both from Robertson); Colmant and Le Lude (Franschhoek); Simonsig and Villiera (both Stellenbosch); and Pongrácz (owned by producer-wholesaler Distell).
Sauvignon Blanc
Total plantings at the end of 2019: 9 654ha (10.5% of the national vineyard).
Sauvignon Blanc has become one of South Africa's strongest categories over the past ten years, having benefited in particular from the modern quest to identify more cool-climate vineyard sites.
Where South African Sauvignons previously tended to be excessively methoxypyrazine driven (displaying too much of the compound responsible for a grassy or herbaceous character), they increasingly show good fruit expression and are well balanced thanks to vineyards being located in areas that allow optimal ripeness.
For Sauvignon Blanc that displays pure fruit and fresh acidity, the production areas of Constantia, Darling, Durbanville and Elim lead the way, along with the as-yet-unclassified Schapenberg in Stellenbosch. The stylistic spectrum is getting broader all the time, however, and a sub-group of wines has sprung up that shows clever use of oak, these wines typically having less overt aromatics but greater palate weight.
The category now has such great depth that singling out particular producers is unfair.
Chardonnay
Total plantings at the end of 2019: 6 685ha (7.3% of the national vineyard).
Wines in this category come in a wide range of styles, quality being quite variable, as producers attempt to meet a wide range of price points. While most wines are at least technically correct, the best have both substance and nuance.
This is thanks to more careful site selection but also a growing maturity among South Africa's winemakers who are increasingly unlikely to undertake major intervention in the cellar: there's more astute oak judgment as well as less inclination to apply the second, softening malolactic fermentation and stirring of the lees willy-nilly.
Perhaps most exciting of all is the emergence of what might be termed a uniquely South African take on the variety. It is a cliché to refer to local wine as sitting stylistically somewhere between the Old and the New World, but increasingly we are seeing examples that simultaneously offer the complexity of the former and the fruit expression of the latter.
Top producers include Crystallum (négociant); Bouchard Finlayson, Hamilton Russell Vineyards and Restless River (all of Walker Bay); Delaire Graff, DeMorgenzon, Eikendal, Hartenberg, Rustenberg, Tokara and Uva Mira (all of Stellenbosch); and Paul Cluver and Richard Kershaw (both of Elgin).
Chenin Blanc
Total plantings at the end of 2019: 17 103ha (18.6% of the national vineyard).
Since the mid-1990s, there have been concerted efforts to see Cape Chenin Blanc considered among the world's greatest wines, and a huge advantage for winemakers in pursuit of complexity is access to old vines: the majority of South Africa's 4 000ha that are 35 years or older, and fall under the custodianship of the Old Vine Project, are planted to Chenin.
Chenin Blanc is nothing if not versatile and there are myriad expressions to be had from 'fresh and fruity' to 'rich and ripe' and everything in between. This is a category of extraordinary depth, making it difficult to provide a meaningful short-list of producers.
White blends
White blends currently offer some of the most exciting wines to be had out of South Africa, the two basic sub-categories being Bordeaux-style blends (Sauvignon Blanc-Semillon) and Mediterranean-style blends (typically Chenin Blanc-driven and made in an oxidative manner).
The best Bordeaux-style wines typically come from maritime locations and offer poise and focus; the so-called Mediterranean-style are strongly but not exclusively associated with the Swartland and offer richness and complexity.
Top producers of Bordeaux-style white blends include Cape Point Vineyards (Cape Point); Nitida (Durbanville); Highlands Road (Elgin); Strandveld (Elim); and Tokara and Vergelegen (both of Stellenbosch).
Top producers of Mediterranean-style white blends include AA Badenhorst Family Wines, David & Nadia, Mullineux & Leeu Family Wines, Rall and Sadie Family Wines (all of Swartland); and Thorne & Daughters (négociant).
Semillon
Total plantings at the end of 2019: 1 023ha (1.1% of the national vineyard).
This category may be small but tends to produce wines of very high quality. There are two basic styles when it comes to table wine. Firstly, there are wines with high methoxypyrazine counts, typically from cooler climate areas, and secondly, there are those from old vines that have had some oak treatment, these tending to take on a waxy character with time in bottle.
Top producers include Cederberg Ghost Corner (Elim) as well as Alheit Vineyards and Boekenhoutskloof (Franschhoek).
Cabernet Sauvignon
Total plantings at the end of 2019: 10 087ha (11% of the national vineyard).
Cabernet Sauvignon is South Africa's most widely planted red grape on account of how adaptable it is, retaining a recognisable character even when planted in less suitable locations. Local examples used to be criticised for being green, which many winemakers responded to by gunning for concentration at all costs. Now they seem to be finding a happy middle ground: achieving balance in their wines, with plenty of pure, clean fruit on display.
Although frequently blended with Merlot and/or other Bordeaux varieties in South Africa (see below), there are many single-varietal expressions that count among South Africa's very best wines. Top producers include Kanonkop, Kleine Zalze, Le Riche, Neil Ellis, Rustenberg, Rust en Vrede, Stark-Condé, Strydom, Thelema and Waterford (all of Stellenbosch); and Plaisir de Merle (of Paarl).
Merlot
Total plantings at the end of 2019: 5 371ha (5.8% of the national vineyard).
Generally successful in Bordeaux-style blends, single-variety examples tend to disappoint, at best amounting to light and fruity generic dry red, and at worst being green and astringent. A possible explanation for this is that Merlot is something of a brand in its own right, the red answer to Chardonnay, and consumers tend to buy it, regardless of its shortcomings.
Although there are relatively few producers attempting to make high-quality, ultra-premium wines, these should not be overlooked. The best include Laibach and Thelema (of Stellenbosch); and Shannon Vineyards (Elgin).
Cinsault
Total plantings at the end of 2019: 1 659ha (1.8% of the national vineyard).
Cinsault is of great historical significance in the Cape. It has been grown here since the middle of the 19th century and was at one point the country's most planted variety occupying nearly a third of the national vineyard until it was surpassed by Chenin Blanc. Official records are scarce but is thought to have featured in some of the best examples of "Cabernet Sauvignon" and blends of the mid 20th century. Currently, many of the new-wave winemakers are inclined to work with it.
Pinotage
Total plantings at the end of 2019: 6 662ha (7.2% of the national vineyard).
Pinotage came into being in 1925 when Pinot Noir was crossed with Cinsaut (then known as Hermitage, hence the contraction) with the aim of creating a wine with the nobility of the former and the profligacy of the latter. The first Pinotage to be marketed was in 1961 – a 1959 vintage under the Lanzerac label.
Without question, Pinotage is South Africa's most controversial wine. Those lucky enough to have tasted wines from the 1970s will know that the variety is capable of very good, even great wine. Unfortunately, during the mid-1990s (the period which saw South Africa re-enter international markets), it did not enjoy its finest hour: at entry level, greedy producers flooded the market with very dull stuff, while at premium level, the variety proved difficult to work with, the resulting wines prone to acetone aromas, bitterness, bacterial spoilage and oxidation.
Since then, there has been considerable research done into how to overcome these problems, and the best examples are no longer quirky oddities but can hold their own in any company. In terms of flavour profile, Stellenbosch Pinotage typically displays black cherry, plum and black currant fruit with firm tannins, more inland areas such as Tulbagh produce wines of even more pronounced dark fruit flavour and are typically very rich and full, while maritime areas such as Walker Bay give wines that are more red-fruited, medium bodied and reminiscent of Pinot Noir. In addition, there are a number of 'new wave' producers who are attempting to make Pinotage in a lighter style that might roughly be compared to Beaujolais.
Top producers include Beeslaar, Beyerskloof, Kaapzicht, Kanonkop and Simonsig (all of Stellenbosch); Diemersdal (of Durbanville); Flagstone (from Breedekloof fruit); Rijk's Private Cellar (Tulbagh); and Southern Right (Walker Bay).
Pinot Noir
Total plantings at the end of 2019: 1 201ha (1.3% of the national vineyard).
The first Pinot Noir vines were planted in Stellenbosch in 1927 while one of the leading producers of the modern era, namely Walker Bay property Hamilton Russell Vineyards, will celebrate 40 consecutive vintages in 2020.
Plantings remain small, as South Africa is not generally suited to cool-climate Pinot Noir, but it seems there's a growing realisation among those brave enough to tackle this fickle grape that if they are to have even the vaguest hope of success, then site selection must be astute and viticulture and winemaking meticulous. As a result, significant quality improvements have been noted in recent years.
Top producers include Bouchard Finlayson, Creation, Hamilton Russell Vineyards and Newton Johnson (all of Walker Bay); and Richard Kershaw and Paul Cluver (of Elgin).
Shiraz
Total plantings at the end of 2019: 9 178ha (10% of the national vineyard).
After political transformation, Shiraz plantings were not extensive but there was a general sense that the variety might do well here. It went from 4% of the national vineyard in 1999 to just over 10% in 2014 where it has just about stabilised. It has proved extremely adaptable – in the Swartland, where it tends to be picked early on account of the hot growing conditions, it makes wines of finesse, whereas those that originate from Stellenbosch often have a bit more power (and plantings are hardly limited to just these two districts).
Top producers include Boekenhoutskloof, Leeuwenkuil, Mullineux, Porseleinberg, Rall (all from Swartland); and Boschkloof and Hartenberg (both Stellenbosch).
Bordeaux-style red blends
The first ever Bordeaux-style red blend to be made in South Africa came from Paarl property Welgemeend's 1979 vintage, to be followed by Rubicon from Meerlust in Stellenbosch the following year. Today, it is one of South Africa's most prestigious wine categories, and there are many very accomplished examples.
Top producers include Kanonkop, Meerlust, Morgenster, MR De Compostella and Tokara (all of Stellenbosch); and Vilafonté (of Paarl).
Other red blends
A decade ago, a movement sprung up among South African producers to establish a 'Cape Blend' category, the thinking being that wines ought to contain a minimum of 30% Pinotage and a maximum of 70% to qualify as such.
There have been some quite accomplished wines made according to this template. The Steytler Vision from Kaapzicht in Stellenbosch is arguably the most decorated, featuring Cabernet Sauvignon and Merlot in addition to Pinotage, while Synergy Reserve from another Stellenbosch farm, Beyerskloof, also has well established credentials.
Even so, the sub-category has to date failed to generate much excitement among critics and consumers alike. The best examples are intriguing, on account of their unusual flavour profiles and tannin structures, but somehow seem less than fully formed. The lesser wines appear hotchpotch.
Wines incorporating varieties associated with the Rhône are also increasingly to the fore, typically with Shiraz in a prominent role combined with the likes of Grenache, Mourvèdre and/or Viognier. The most celebrated example of a wine in this idiom is Columella from acclaimed Swartland producer Eben Sadie, who is convinced that he gets far greater complexity through blending than he ever would with a single-variety Shiraz.
Perhaps most exciting of all is that South Africa is starting to see its winemakers trust their intuition as to what combination of varieties work best in a blend, in South Africa, rather than using templates inherited from Europe or blindly adhering to predetermined parameters, and so we have wines such as The Jem from Stellenbosch property Waterford, whose 2014 vintage comprises 45% Cabernet Sauvignon, 20% Shiraz, 14% Cabernet Franc, 6% Merlot, 6% Petit Verdot, 4% Mourvèdre, 3% Sangiovese and 2% Barbera.
Sweet wine
South Africa's sweet wines tend to be of a very high standard, the most famous being Vin de Constance, made since 1986 from raisined Muscat de Frontignan grapes and recalling the great Constantia wines of the 18th and 19th century.
The wine which gave birth to South Africa's Noble Late Harvest category in 1969 was Nederburg Edelkeur, made from Chenin Blanc grapes infected with noble rot (botrytis).
The more adventurous wine enthusiast should also seek out Muscadel. These wines are made either from Muscat Blanc à Petit Grains or Muscat de Frontignan, and are fortified, which is to say that they consist of grape juice to which grape spirit has been added. Worcester winery Nuy is a master practitioner whose wines take decades before drinking at their best.
Port-style wines
South Africa makes excellent Tawny (smooth and nutty thanks to extended maturation time) but this is a declining resource as it is expensive to make yet does not demand a premium. When it comes to Vintage Port-style wines, producers are 'chasing the holy grail' in the sense of trying to emulate the best of Portugal and the likes of Calitzdorp producers Boplaas and De Krans come close. While Port can be made from any variety, these top producers use Touriga Naçional, Tinta Barocca and Souzâo, as grown in the Douro region of Portugal where Port originated.
Like our content?
Show your support.
Subscribe