Coronavirus and SA wine: Gerard Holden of Holden Manz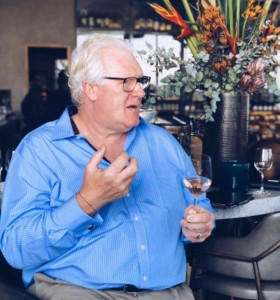 The current conversation around Coronavirus and its effect on the South African wine industry is perhaps inevitably very emotionally charged.
We put the same set of questions to a variety of industry stakeholders with a view to obtaining a better understanding of what's happening on the ground and also plotting a way forward. Here is how Gerard Holden of Holden Manz in Franschhoek replied:
How badly has Coronavirus crisis impacted your business?
It has had a catastrophic impact on us. We are a wine tourism business – guest house closed with re-opening due only some time before Christmas, weddings cancelled, tasting room and hence cellar door sales closed, the restaurant closed and until the start of this week a ban on export wine sales. Additionally, we have around R1m owed to us by SA restaurants, hotels and wine shops who are refusing to pay their bills. We have had to lay off 30 employees. Despite weeks of trying we only have UIF support for one of them.
How many wineries do you foresee closing as a result of the pandemic?
I believe we will see 20 – 30 wineries succumb over the next few months with more falling over the longer term if we are unable to sell domestically and resume operation of integrated wine tourism business – with local and international travels. I could see 60 – 80 falling over during the next 12 months as a result of this pandemic.
What plans do you have in place to get going again once restrictions are eased? How will doing business be different?
We have a full business re-start plan in place. We have strengthened our focus on-line for both lockdown sales with delayed delivery/special offers and virtual wine tastings. We will reorganize the physical siting of the tasting room to ensure distancing is practised.
What will the South African wine landscape look like after the pandemic? Will the industry recover quickly or will it be changed forever?
We don't expect to see any international tourists during the rest of 2020. We will need to communicate with our international customers more to maintain their Holden Manz/Franschhoek connection.