Greg Sherwood MW: Is top-end SA Sauvignon Blanc getting the recognition it should in the UK?
11
A few years ago, I decided to make an impromptu visit to the Cape winelands from London and visit a few friends, suppliers and wine producers. It was probably through the process of asking my good friend Dr Winnie Bowman CWM if I could bunk at her house for a few days that led to her pointing out that my trip would narrowly overlap with the second day of the FNB Sauvignon Blanc SA Top 10 competition judging. As a senior judge, she decided to ask me if I would consider joining the panel of esteemed judges for a day of tasting and assessment. My payment would be a free apron and lunch… and of course plenty of good banter with the fellow judges, who in this particular year, included Winemag's very own editor, Christian Eedes, as well as such an illustrious winemaking legend as Neil Ellis.
I of course accepted the kind invitation, but then some time later, started to worry that I had committed most of a whole precious day to tasting endless amounts of young, tart Cape Sauvignon Blanc. All of a sudden, the prospect started to appear more like hard work than a day of relaxed, informative tasting. In the end, it turned out to be more fun than expected as I engaged with the group on day two of judging, after a lot of the heavy lifting and sorting the wheat from the chaff had already been carried out by the judges on the first day, and we were already in a process of rating the best wines from an already much reduced, pre-selected group.
Merely getting to taste and discuss wine styles in depth alongside great winemaking minds like Neil Ellis, made the experience very much worthwhile for me. I was recently reminded of this brief flirtation with Cape Sauvignon Blanc when I saw the dates for the 2023 FNB Sauvignon Blanc SA Top 10 judging announced on social media last week, to take place from the 29 until the 31 of August at Uitkyk in Stellenbosch.
Sauvignon Blanc is most definitely a real favourite amongst South African wine consumers, especially in the hot summers when outdoor living is in full swing. By current figures, Sauvignon Blanc is the second most planted cultivar (white or red) in South Africa, and like Chardonnay, can be found in almost every wine growing region in the Cape despite clearly being thought of as a variety more suited to cooler climates. And boy, can we make some incredible Sauvignon Blanc in the Cape… a phenomenon that has confounded the French and the New Zealand proponents endlessly over the years. But it is at this point, when I start to reflect on the positioning and penetration of South Africa's best Sauvignon Blancs in the UK market, that I quickly draw a bit of a blank.
Undoubtedly, the South African industry marching band has been playing the tune of Chenin Blanc and Chardonnay so loudly and for so long, that I and many others have almost forgotten the lyrics to the Sauvignon Blanc anthem. Personally, I do have to admit to drinking a fair bit of Sauvignon Blanc, primarily because it's one of my wife's favourite grape cultivars. But having said that, chances are most bottles we order in restaurants or wine bars will tend to be from New Zealand or France (Sancerre or Pouilly Fumé). I can't honestly remember the last time I ordered a South African Sauvignon Blanc at a social occasion here in the UK… and I can't say I feel particularly proud of that fact.
As a variety, Sauvignon Blanc still carries massive mainstream consumer loyalty in the UK, probably only challenged on the supermarket shelves by Pinot Grigio. Which is probably why when you look at South Africa's value offerings, Sauvignon Blanc, as a commodity wine, is fairly well represented among the "value segment" of brands in the multiple grocers. A much more interesting question is what kind of traction and penetration do South Africa's more premium wineries and brands currently possess in the UK market?
The recent successful Wines of South Africa "Between the Bridges" tasting in July, which I discussed in my last column, was perhaps a more accurate portrayal of the broader UK wine market with plenty of bigger Sauvignon Blanc brands from Distell, Accolade Wines, DGB and KWV presented to the wider wine trade. But what of the more premium expressions on show? A quick flick though my handy tasting booklet did reveal some top producers indeed, with names like Paul Wallace Wines from Elgin, Beau Constantia, Agulhas Wine Triangle, Painted Wolf, La Motte, Iona, Jordan, Zevenwacht, Cronier Wines, Groote Post, Warwick Estate, Kleine Zalze, Spier, Journey's End, Thelema Sutherland, Bouchard Finlayson, Diemersdal, Groot Constantia, Mulderbosch, Lismore Estate, Lomond, Waterkloof, and Strandveld Vineyards all pouring wines classified in the tasting guide as "High Priced" to "Premium".
I think we can all agree that South Africa makes some incredibly diverse, high-quality expressions of Sauvignon Blanc. But whether these wines have captured the imagination of the connoisseurs, collectors and more sophisticated consumers in the UK, that's more open for debate. I'd argue, from my own experience, that South African producers have long since realised that Sauvignon Blanc in the UK is primarily a commodity cultivar for the consumer and if, on the odd occasion, consumers look to trade up from day-to-day expressions, the power and brand equity of New Zealand, Sancerre and Pouilly Fumé are very hard to beat. Yes, if Eben Sadie made an old vine Sauvignon Blanc, I am sure it would be as tightly allocated as Skurfberg or Rotsbank Chenin Blanc, or if Chris Alheit made an old vine Sauvignon Blanc, it too would be eminently sought after. In these instances, cult of personality trumps cultivar and wine style.
Among the congestion of the market, there are however small islands of notable success, and these can be seen with the popularity of premium Sauvignon Blanc wines from the likes of Paul Cluver and Iona in Elgin, Southern Right from the Hemel-en-Aarde, and of course the most powerful South African Sauvignon Blanc brands in the UK, from the Constantia Valley, with the likes of Groot and Klein Constantia, Buitenverwachting, Steenberg and Constantia Glen. These are producers whose reputations precede them and who have carved out revered niches of respect over many years of hard work and focused messaging to consumers.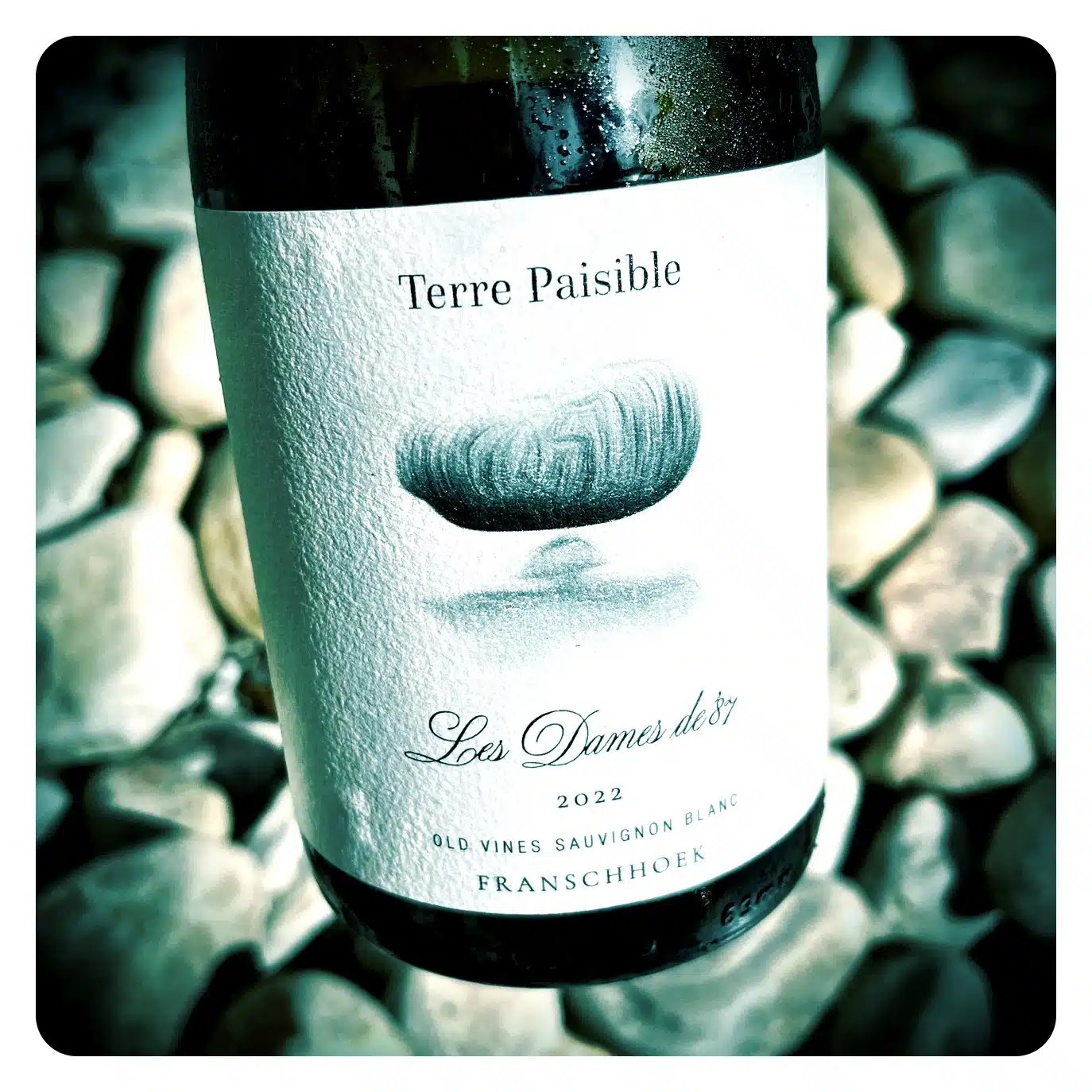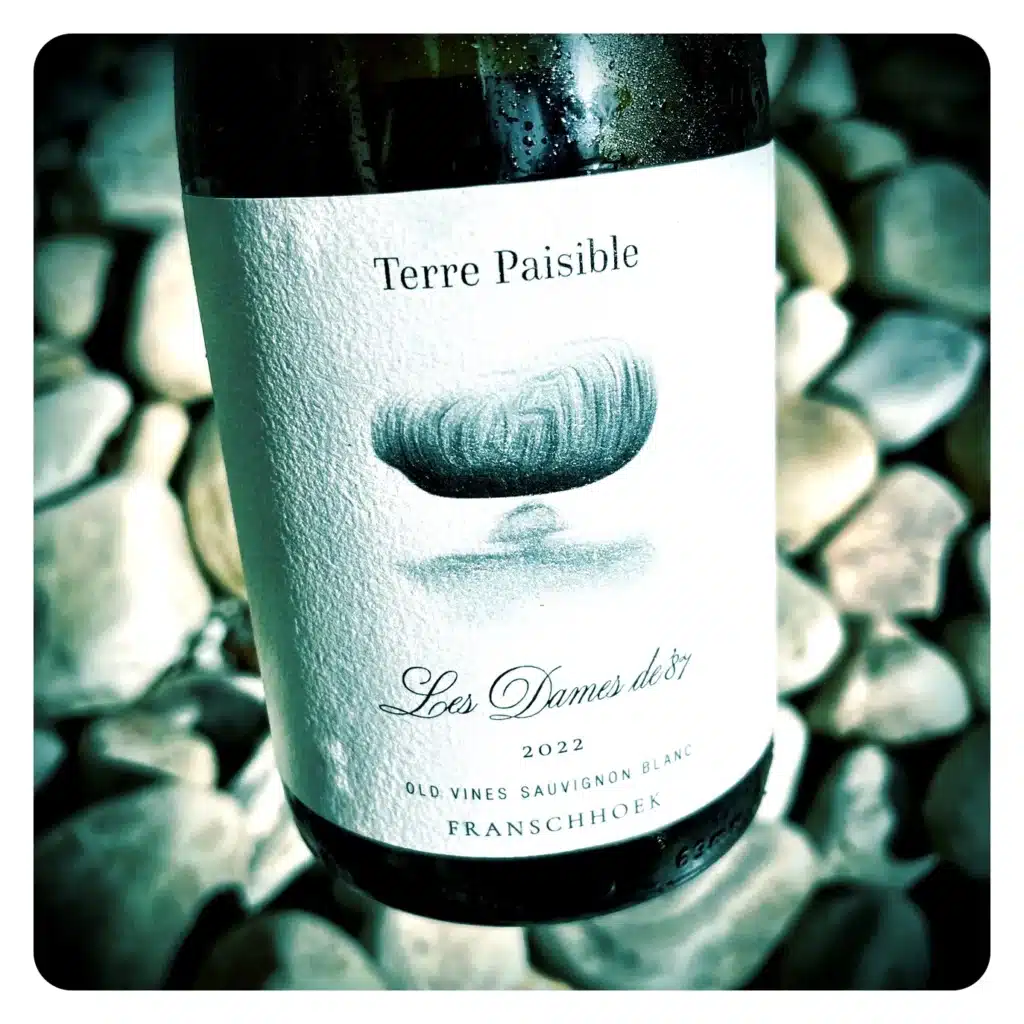 So play to your target market and produce products that will resonate with your target consumers seems to be the message being distilled out of the variable success of premium South African Sauvignon Blancs in the UK. I for one am eagerly awaiting the arrival of the fantastic Terre Paisible Old Vine Sauvignon Blanc in the UK produced in Franschhoek by Adam Mason. This, in my mind, is a perfectly serious style of Sauvignon Blanc that could have the ability to crack into merchants and indie wine markets in a similar way that Cape White Blends and Old Vine Chenin Blancs did in the early noughties.
Harvested from 35-year-old vines, the 2022 Les Dames de 1987 Sauvignon Blanc expresses the more tropical and exotic fruit spectrum of the variety showcasing deliciously complex pineapple and nectarine aromas. After whole-bunch pressing and minimal settling the wine was fermented in stainless steel before racking to a 4000 litre foudre for maturation. Ripe but incredibly sophisticated, there is also great precision and textural delicacy in evidence. Nine months maturation on its fine lees in a 4000 litre foudre provided the wine with a classical French Bordeaux meets Loire Valley character and the wine is undoubtedly made in a style that will reward further ageing in the cellar. Priced at circa £36 per bottle, it will also be interesting to see if this wine with its old vine credentials can tap into a market very receptive to premium offerings if packaged correctly and made in a suitable old-world style.
South African Sauvignon Blanc needs more premium brand champions to come forward and push the quality narrative to the next serious level. Producers who will champion the variety first and foremost, with the appellation and regionality an integral but secondary part of the story. The cult of personality reins supreme at the moment. If we can't persuade Eben Sadie to make an Old Vine Sauvignon Blanc full of interest, then we need to seek out other brand champions. Duncan Savage was undoubtedly the heir apparent, but then he discovered Cinsault and Chenin Blanc. Who is going to step forward and lead the fight back? Adam Mason? John Seccombe? Matt Day? André van Rensberg? Answers on a postcard.
Entries for the Prescient Sauvignon Blanc Report (includuing Sauv-Sem blends) are now open – see here.
Greg Sherwood was born in Pretoria, South Africa, and as the son of a career diplomat, spent his first 21 years traveling the globe with his parents. With a Business Management and Marketing degree from Webster University, St. Louis, Missouri, USA, Sherwood began his working career as a commodity trader. In 2000, he decided to make more of a long-held interest in wine taking a position at Handford Wines in South Kensington, London, working his way up to the position of Senior Wine Buyer. Earlier this year, he moved across to South African specialist merchant Museum Wines to become the Fine Wine Director. He qualified as a Master of Wine in 2007.
Like our content?
Show your support.
Subscribe