Melvyn Minnaar: The fight for wine's cultural survival
5
The Landbouweekblad online meeting 'Can the Cape wine industry survive another alcohol ban?' of a few weeks ago was very clear: these are critical times. Without over-dramatising the myriad of domino-effect problems of the wine sales ban, and sidestepping noisy conspiracy theories and sloganeering, one can and should read this moment in South African wine history as one for reflection.
What is worrying about the response by those defending the wine side, is an underplay of the cultural importance that is under threat. Perhaps it makes strategic sense for wine producers to line up with shebeen owners to compound industry clout, but I'm not sure this is the right defence. Wine is so much more than a diluted tot of 40% alcohol spirits in a bar (or at home).
Only Jean Engelbrecht of Rust en Vrede put out more of a wine-culture-focused argument during that web discussion, pointing out the tourism aspect of the alcohol ban's devastation down the line. Scary images of good wine and nowhere to go and vineyards withering without harvest vividly enhance the human distress on very real farms with communities, families and talented people for which wine is a way of a meaningful life. It's a scenario and culture that no other alcohol production system can claim to own.
Dr. Nkosazana Dlamini-Zuma, however, stated in her replying submissions to the court challenge that a few interested parties have launched against the ban, that no difference should be made for "the rich people who drink wine" – or words to that effect. So, unless someone is going to stand up strongly for wine, that fight may go down with vodka and gin.
Wine is not simply a commodity – even though it is nowadays traded as a deluxe one on par with art at auctions for wealthy collectors, or carefully packaged and taste-crafted to sell as 'lifestyle product'. (Wine in awful little cans, next to toothpaste – and isn't the rush in recent weeks to market 'non-alcohol wines' sadly symptomatic of commodification?)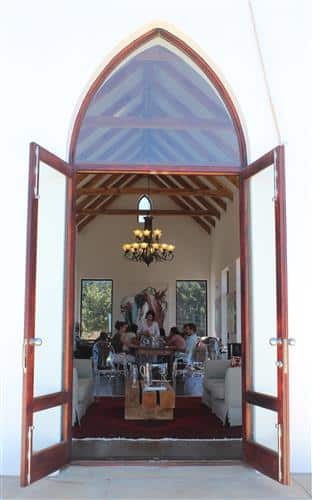 Wine is culture. A remarkable beverage of history, linked to human social endeavour and what the soils and climate can yield, it has for centuries carried and hosted the rituals of human life, thinking and living. At the same time there has always been a curious mystery about wine: how it is made in the vineyard, cellar, and how it is tasted and experienced. (When a judge scores a wine 95 and not 96 out of 100, that judge is not in a laboratory but in a church or at a séance.)
No wonder the link and parallel with the arts come into play so often.
Wine engages with the accoutrements of culture. From bottle shapes to labels to food to those rituals of existence. And the historic narrative is the ambience for the pleasures it delivers in the glass when we taste, toast and celebrate.
When that well-known Stellenbosch trio of Spatz Sperling, Neil Joubert and Frans Malan founded the first wine route fifty years ago next April, they charted a centuries-old history to map a modern experience – and lay the foundation of the tourism that is now at the heartbeat of authentic wine production. A vastly successful economy, tourism signifies wine culture's interpersonal power.
It is this that needs to be argued for. And this has to be done with honesty and clarity.
Writing on Jancis Robinson's website last December, Richard Hemming MW – somewhat of a fundi on these things – argued that wine gets its meaning in a cultural context. "When divorced from the human references that define the origin, style and quality of wine – the elements that underwrite its fundamental appeal – wine becomes entirely functional, a mere intoxicant, just as it was when spontaneously fermented grapes were first discovered by our ancient ancestors."
Wine, it can be argued then, should be classified as a 'cultural industry'. UNESCO defines this as one "that combine the creation, production and commercialisation of contents that are intangible and cultural in nature".
With South African wine facing a nebulous future in an existential crisis, real and strong arguments should be made for its cultural survival.
Melvyn Minnaar has written about art and wine for various local and international publications over the years. The creativity that underpins these subjects is an enduring personal passion. He has served on a few "cultural committees".
Attention: Articles like this take time and effort to create. We need your support to make our work possible. To make a financial contribution, click here. Invoice available upon request – contact info@winemag.co.za
Like our content?
Show your support.
Subscribe