SA needs more "icon wines" but Dr Charles Niehaus probably isn't one of them
2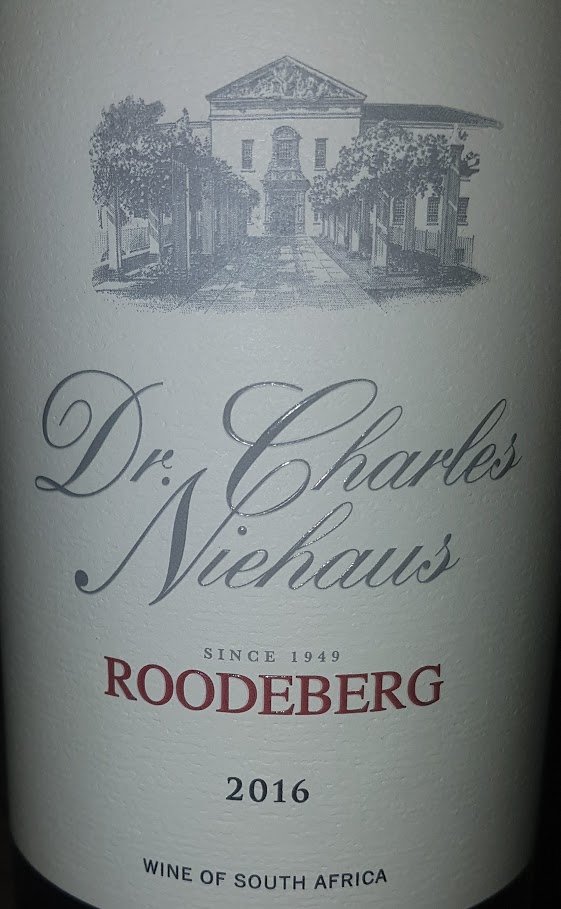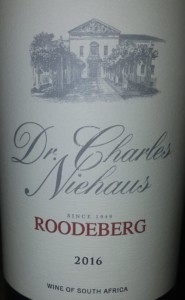 The red blend that is Dr Charles Niehaus from KWV is positioned as a kind of "super Roodeberg", a signature blend made as a tribute to Roodeberg's founder, Niehaus being the successor of Dr Abraham Izak Perold, the KWV's chief wine scientist and father of Pinotage.
Roodeberg itself dates from 1949 when a wine from the 1946 harvest was released, total production today a little under three million litres, retail price starting at R89 a bottle. Maiden vintage of Dr Charles Niehaus was 2010 and currently on the market is the 2016, production very much smaller than its subordinate at 7 200 litres, price now being R320 a bottle but the KWV brains trust keen to elevate this significantly, the idea being that it comes to be seen as a South African icon wine according to winemaker Louwritz Louw at a tasting of some of the vintages to date. In addition, a pyramid of brands is envisaged underpinned by Roodeberg, Dr Charles Niehaus at the pinnacle and various not-yet-released labels in between.
The KWV website gives the blend components of current-release Roodeberg 2017 as 47% Cabernet Sauvignon, 25% Shiraz, 9% Petit Verdot, 9% Tannat and 10% "other" (although you imagine that varies a little from batch to batch) and the majority of the wine is matured on staves in tank to keep costs down…
Dr Charles Niehaus 2016, meanwhile, consists of 38% Shiraz, 32% Cabernet Sauvignon, 20% Merlot and 10% Malbec sourced variously from Stellenbosch, Paarl and Darling, winemaking involving maturation in 85% French and 15% American oak barrels, 100% new. Clearly, a much more ambitious undertaking.
Will Project Roodeberg succeed? Focusing on Dr Charles Niehaus specifically, the wine seems stylistically misguided. At the tasting mentioned above, the 2010, 2012 and the 2013 vintages were shown next to the 2016 (no library stock of the 2011, 2014 or 2015 existing) and they all came across as big and booming.
I note that I wrote of the 2010 on release in 2011 had "great appeal" and scored it 16.5/20 (see here) but it has not aged that well and it now comes across as rich and broad with a malty overtone. 2012 and 2013 were sound enough but uninspiring while the 2016 was also no great shakes, my tasting note as follows: Plenty of oak-derived notes including vanilla, incense and spice to go with red and black fruit on the nose. The palate, meanwhile, is full and seemingly sweet with soft tannins (alcohol: 14.29%). Rating: 89/100.
At the launch of the 2010 nearly eight years ago, I surmised that "Dr Charles will keep most wine geeks happy with a positive spill-over effect on how the standard label is perceived" but I'm not sure that this label has moved sufficiently with the times. It seems to be intended as a "crowd pleaser" over-delivering in terms of plushness and flavour but is this really what top-end consumers want?
South African fine wine continues to increase exponentially in terms of sophistication, one of the major improvements we have seen in the last decade is greater clarity of fruit expression, this being one of the key criteria that separates the good from the great and that's what Dr Charles Niehaus misses (ironically, I was inclined to score the 2010 now much the same as I did on release but 16.5/20 (sub-90 on the 100-point quality scale) doesn't cut it anymore, especially not for a wine selling at over R300 a bottle). To be clear, whole-bunch fermented, low alcohol, no new oak would surely be too far the other way for the market segment that the wine is aimed at but the very oak-driven style that this wine represents increasingly seems like an anachronism.
Like our content?
Show your support.
Subscribe