SA wine history: A curious case of Colijn confusion
1
In my last column, I expressed frustration that Constantia producers – so proud of their heritage – still neglect to tell the story of Johannes Colijn, the man who started building the international reputation of legendary sweet Constantia wine in the 1720s. It's a uniquely and I would think proudly African story because he (along with his sister Johanna Colijn, who lived next door at Groot Constantia) had a black mother born into slavery, Swarte Maria Everts.
I've now come across another instance of Colijn being written out of history (or at least confused with someone else), this time at the Stellenbosch farm he bought in 1740: Vergenoegd.
In 2015, Vergenoegd was sold by the sixth-generation Faure family to German lawyer and entrepreneur Peter Löw, chief curator of The European Heritage Project, which acquires, restores and then preserves 'historically unique monuments that have shaped their region for centuries, but which have been neglected over time and are often exposed to the danger of complete decay'.
Dating back to 1696, Vergenoegd Löw (as it is now known) seems to be in good hands – and in good company, alongside various palaces, castles and monastery complexes in Europe – so I'm a little surprised to read the following on The European Heritage Project website:
'Vergenoegd was owned by Pieter de Vos for only a year before he transferred the lands to Ferdinant Appels (1655-1717)… After the death of Ferdinant Appels, the estate passed to his widow, who later remarried. Her husband Johannes Colijn, also called Johannes Oberholzer, was a Swiss emigrant and was listed as the subsequent owner of the estate… With the widow's marriage to Johannes Colijn (1710-1767), Vergenoegd remained in the family until 1782.'
I gather historian and archivist Dr Hans Heese has since researched the early history of Vergenoegd properly, so I'm confident this will all be corrected in due course, but at this stage, for the record, they've got the wrong man.
Ferdinand Appel's widow was Levina Cloete, baptised on 12 September 1777, making her 33 years older than her supposed new Colijn/Oberholzer husband – not an impossible match but certainly a most unlikely one. In any case, records clearly show that her new husband was Claas Jansz Hofland from Reeuwijk. The date of their marriage was 31 January 1717 and it came not a moment too soon because their only child, Johannes Hofland, was baptised only three months later, on 2 May 1717.
On 27 January 1740, the plaas & hofstede Vergenoegd was transferred from Claas Jansz Hofland to Johannes Colijn. And how can we be sure that this was 'our' Johannes Colijn of Constantia fame and not Johannes Oberholzer? Because 'our' Johannes Colijn was married to Johanna Appel, the daughter of Ferdinand Appel and Levina Cloete, and in 1772 she (Johanna Appel, Colijn's widow, now also the Widow Lambert Myburgh) transferred Vergenoegd to her son, Johannes Nicolaas Colijn, for exactly the same price that had been paid in 1740.
It was Johannes Nicolaas Colijn who transformed the Vergenoegd homestead from a 'T' shape to an incomplete 'H', embellishing it with a holbol gable dated 1773. He sold the farm in 1782 for more than five times the price he'd paid his mother a decade previously, no doubt to give his full attention and a cash injection to his Constantia vineyards.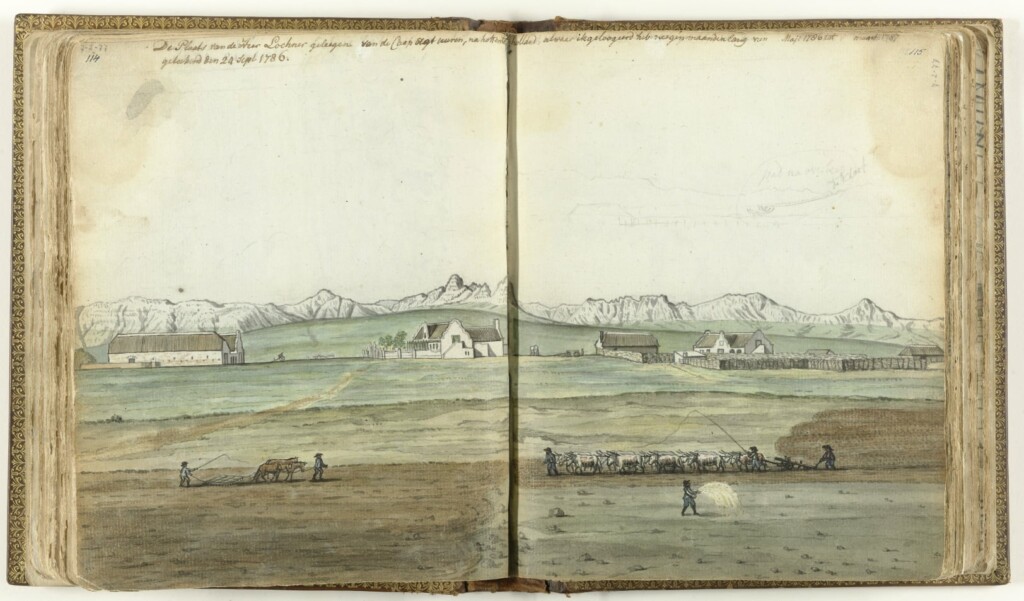 Who, then, was the Johannes Oberholzer born in 1710? It seems he was in fact the son of a Swiss immigrant, also named Johannes Oberholster. According to Richard Warren Davis in Emigrants, Refugees, and Prisoners: An Aid to Mennonite Family Research (1995), Oberholster senior was baptised into the Lutheran Church at Elsenz in Baden-Württemberg, Germany, in 1696, as a 16-year-old, when he reportedly received the baptismal name of Kilian Casper (would Kilian somehow explain the confusion with Colijn, I wonder?).
Having arrived at the Cape as a soldier, Oberholster became a vrijburgher in 1701, working as a licensed butcher. He married Helena du Toit on 5 July 1706, and they baptised their first son on 4 December 1707 (Guilliam, in due course married to Johanna Margaretha Bergman), their second son on 24 August 1710 (Johannes, who didn't marry the Widow Appel as a precocious seven-year-old but waited until he was 18 to marry Elisabeth Prevot), and their only daughter on 18 June 1713 (Johanna Barbara, stammoeder of the Pentz family in South Africa through her marriage to Michiel Pentz from Lübeck).
Did any of them ever have any connection with Vergenoegd? No.
Prior to his marriage, however, it turns out that Oberholster senior did have a Colijn connection. On 24 October 1702, Jacob Pietersz Bodestijn witnessed the baptism of a child, named Johannes, 'van Jan Oveholster en Agnita Colijn'. And who was Agnita Colijn? Baptised as 'Agnitie' on 5 March 1684, she was the daughter of Bastiaen Jansen Colijn and 'Maria een swarte vrije meit' (possibly but not definitely Swarte Maria Everts, who was usually clearly identified as Evert van Guinea's daughter). In other words, Agnita Colijn was the sister (or at least half-sister) of Johannes Colijn.
Not that Oberholster acknowledged his blood ties with the Colijns. In August 1707, newly arrived from Batavia, the Reverend Engelbertus Franciscus le Boucq objected to Oberholster's election as deacon of the Drakenstein church on the basis that he'd only recently renounced his Catholic faith (proving that he was not the 'Kilian Caspar' baptised as a Lutheran in 1696) and also because he'd 'for so long kept house with a black meijd, or whore, and had procreated her children'. Although Oberholster admitted that he had kept house with such a meijd, he insisted that her children were not christened in his name (a lie, given that one of her two sons most certainly was).
Having been born in freedom, Agnita Colijn was no meijd (a term used for slave women) and she was definitely no whore. When summoned before the church elders and asked to confirm the paternity of her children, she maintained a dignified silence. Later that same month, on 21 August 1707, she married Jan Jansz van der Heijden from Delft, and if they left the Cape in 1711 (as their disappearance from the records suggests), well, who could blame them?
If nothing else, the racial prejudice shown towards Agnita Colijn in the church row with Johannes Oberholster seems to underscore how remarkable the success of Johannes Colijn really was. I'll say it again: he deserves proper acknowledgement, and not only in Constantia but also at Vergenoegd.
BIBLIOGRAPHY
eGGSA: South African Records Transcribed
Newton-King, Susan: 'Sodomy, Race and Respectability in Stellenbosch and Drakenstein, 1689-1762: The Story of a Family, Loosely Defined', first published in Worden, N (ed): Contingent Lives: Social Identity and Material Culture in the VOC World, University of Cape Town, 2007
Upham, Mansell: The elusive – and not so 'chaste' – Agnietie Colijn, Muatze, 2021
Joanne Gibson has been a journalist, specialising in wine, for over two decades. She holds a Level 4 Diploma from the Wine & Spirit Education Trust and has won both the Du Toitskloof and Franschhoek Literary Festival Wine Writer of the Year awards, not to mention being shortlisted four times in the Louis Roederer International Wine Writers' Awards. As a sought-after freelance writer and copy editor, her passion is digging up nuggets of SA wine history.
Help us out. If you'd like to show a little love for independent media, we'd greatly appreciate it. To make a financial contribution, click here. Invoice available upon request – contact info@winemag.co.za