2020 CWG Auction wines rated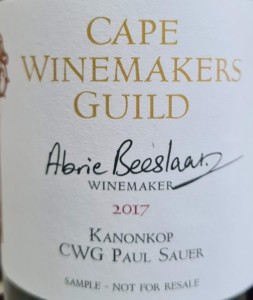 The 2020 Nedbank CWG Auction hosted by Bonhams will be held online on Saturday, 3 October 2020, from 12h00 (London time). Due to Coronavirus, there will be no public tastings prior to sale.
The line-up comprises 28 wines, total cases on offer amounting to 564 cases (6 x 750ml) compared to 45 wines and 1 932 cases last year.
In support of one of the Guild members, buyers will have the opportunity to bid on smaller lots – the funds raised by the first case of six bottles of every wine will be given as financial assistance to Samantha O'Keefe, whose Lismore property in Greyton was devastated by fire in December last year.
The CWG will also be hosting a 50-item Vinotheque Auction, made up of older wines donated by members, the objective being to raise funds to assist employees within their businesses whose livelihoods have been affected by the Coronavirus pandemic.
Media and trade were invited to a blind tasting of the line-up, my scores as follows:
95
Ataraxia Under The Gavel Chardonnay 2019
Fermented and matured for nine months in French oak. Aromatics of blossom, pear, citrus and white peach plus some flinty reduction. The palate is pure, fresh and pithy. Intense but not weighty, this possesses plenty of detail. Focussed and precise.
95
Kanonkop CWG Paul Sauer 2017
Matured for 24 months in French oak, 100% new. A complex nose with some reduction before red and blackberries, rose-like perfume, earth and pencil shavings. The palate is dense and smooth textured although not short of freshness and the finish is very dry. Succulent and seamless, this is dialled up to the max as now seems to be the way at this cellar.
95
Leeu Passant Radicales Libres 2015
Grapes from Barrydale, maturation lasted 60 months. Deep straw yellow in colour, the nose shows citrus, oatmeal and some attractive developed character while the palate shows good depth of fruit, coated acidity and a savoury finish. Properly complex with layers of flavour and a super-long finish. That much less weird than 2014!
94
Boschkloof Epilogue Syrah 2018
Newton Johnson Family Vineyards Windansea Pinot Noir 2017
Paul Cluver The Wagon Trail Chardonnay 2018
93
Bartho Eksteen Vloekskoot 2019
Boplaas Cape Vintage CWG Reserve 2015
Cederberg Teen Die Hoog Shiraz 2018
Ernie Els CWG 2017
Groot Constantia CWG Gouverneur's Reserve 2018
Luddite The Lone Stranger Mark ll 2018
Miles Mossop Wines Saskia-Jo 2018
Rijk's CWG Chenin Blanc 2018
Rust en Vrede CWG Auction Estate 2017
92
Delaire Graff Estate Banghoek Cabernet Franc Cabernet Sauvignon 2016
Edgebaston Cabernet Sauvignon Reserve 2017
Graham Beck Cuvée 129 Extra Brut 2009
Hartenberg CWG Auction Cabernet Sauvignon 2018
Raats Family Wines The Fountain Terroir Specific Chenin Blanc 2019
Saronsberg Die Erf Shiraz 2017
Simonsig Mediterraneo 2015
Villiera Drip Barrel Cabernet Franc 2018
91
De Grendel Wooded Sauvignon Blanc 2019
Neil Ellis Wines Amper Bo Tempranillo 2015
90
Silverthorn Big Dog VI Méthode Cap Classique 2015
Strydom Family Wines The Game Changer 2017
89
Spier Frans K Smit Auction Selection 2017
For more information, visit Capewinemakersguild.com