Damascene new releases
4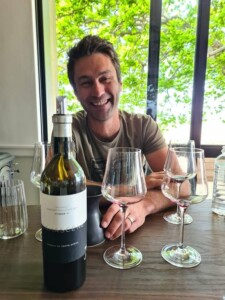 Damascene, the partnership between Jean Smit, previously winemaker at Boekenhoutskloof, and David Curl, former owner of Bordeaux's Chateau Gaby, is only recently established (first bottling was 2017) but is already making some of the best wines to be had in the country.
The idea is to represent the different regional identities of the South African Winelands and towards this end, grapes are widely sourced. The wines are made in a well-equipped cellar on Curl's Elgin apple farm, this property also supplying Pinot Noir and, in due course, Chardonnay for the related Moya Meaker label. Tasting notes and ratings for the new releases are as follows:
Damascene Semillon 2020
Price: R435
From two Franschhoek vineyards, one planted in 1942 and the other in 1962. Matured in older oak for 11 months. Citrus and peach to the fore on the nose but also hints of blackcurrant, hay and wax. The palate is superbly refined and harmonious – great fruit definition and soft but sufficient acidity before a gently saline finish. So very multi-faceted.
CE's rating: 96/100.


Damascene Chenin Blanc 2020
Price: R435
Grapes from three sites in Bottelary ranging in age from 1972 to 1982. 5% fermented on the skins for one week. Matured in older oak for 11 months. The nose is somewhat shy – hints of citrus blossom, white peach, earth and almond while the palate is medium-bodied and comes across somewhat neutral in flavour – acidity is moderate and the texture slightly grippy. It's nevertheless intriguing perhaps precisely because it's so reticent.
CE's rating: 92/100.


Damascene Cabernet Franc 2020
Price: R435
Grapes from a Bottelary vineyard planted in 2004. Matured for 11 months in 1000-litre foudre. Appealing aromatics of red and black berries plus subtle notes of dried herbs, potpourri and violets. The palate is super-elegant – delicate and yet vivid. Pure fruit, snappy acidity and fine tannins gives this a real lip-smacking quality.
CE's rating: 92/100.


Damascene W.O. Stellenbosch Syrah 2020
Price: R435
Grapes from Bottelary, Devon Valley and Polkadraai Hills. Whole-bunch fermentation ranging from 50 – 100% depending on the batch. The nose is very expressive with notes of red and blackberries, orange peel, some floral perfume, fynbos, charcuterie and white pepper. The palate has a dense core of fruit, bright acidity and powdery tannins before a finish that's long and dry. Mouth-filling and chewy, this will have a lot of fans.
CE's rating: 96/100.

Damascene W.O. Swartland Syrah 2020
Price: R435
Grapes from three disparate Swartland vineyards. Between 50 and 75% of the fruit was fermented as whole clusters, depending on the parcel. Haunting aromatics with just the right amount of smoky reduction preceding red and blackberries, fynbos and pepper. The palate is exceptionally intense with great purity and drive – excellent fruit definition, a striking line of acidity and tannins that are firm in the best sense. Beautifully realized.
CE's rating: 98/100.


Damascene W.O. Cederberg Syrah 2020
Price: R435
30 – 60% whole-bunch fermentation, depending on the parcel. Matured in foudre for 11 months. Black and blueberries, lavender and black pepper on the nose while the palate is rich, full and smooth textured – massive fruit concentration, bright acidity and fine tannins. This has a plushness about it without being overdone.
CE's rating: 95/100.


Damascene Cabernet Sauvignon 2019
Price: R435
Grapes sourced from Bottelary, Vlottenburg and Helderberg. Matured for 12 months in French oak, 80% new before a further 12 months in foudre. Heady aromatics of red and blackberries, old rose, tobacco, turned earth, vanilla and pencil shavings. The palate possesses extraordinary fruit depth and a creamy texture but equally there's no shortage of freshness and the finish is gently savoury. Power packed (alcohol is 14.62%) but also complex and balanced.
CE's rating: 96/100.

Moya Meaker Pinot Noir 2020
Price: R275
Grapes from Curl's own Elgin property, 3.12ha densely planted to clones 667 and 777. Matured for eight months in 300-lite barrels, 25% new. Black cherry, rose, herbs, earth and a hint of spice on the nose while the palate displays impressive density of fruit, bright acidity and firm but fine tannins, the finish long and dry. This has great structure, being full but not imposing, and you have to admire how balanced and proportionate it is. A return to form after the slightly awkward 2019.
CE's rating: 94/100.

Check out our South African wine ratings database.
Help us out. If you'd like to show a little love for independent media, we'd greatly appreciate it. To make a financial contribution, click here. Invoice available upon request – contact info@winemag.co.za
Like our content?
Show your support.
Subscribe