Felicité by Newton Johnson Pinot Noir 2019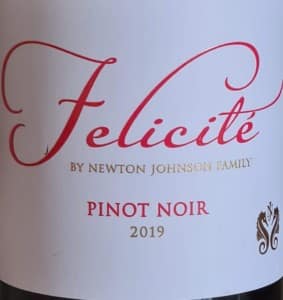 Does local Pinot Noir demand a premium due to its fashionability and relative scarcity? The answer has to be "Yes"". Are there bargains to be had? I was impressed with the 2018 vintage of Felicité by Newton Johnson, a wine made from grapes sourced from across the Cape South Coast but the 2019 underwhelms.
The nose shows red cherry plus a slight meaty quality while the palate is medium bodied with moderate acidity and no tannins to speak of. It's not vile but at R120 a bottle, the quality relative to price is an issue – if you're looking for a light red to serve chilled for this kind of money, then Cinsault is probably a better an option while if you're Pinot obsessed then you're going to need to spend quite a bit more.
CE's rating: 86/100.
Check out our South African wine ratings database.
Attention: Reviews like this take time and effort to create. We need your support to make our work possible. To make a financial contribution, click here. Invoice available upon request – contact info@winemag.co.za