Imvini Wethu 2019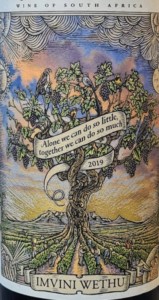 Imvini Wethu means "our vines" in Zulu, the 2019 vintage being the maiden release of a wine conceived by the German trade with the intention of empowering future winemakers and protecting South African wine heritage, the Cape Winemakers Guild's Protégé Programme and the Old Vine Project being the specific beneficiaries.
It's a blend of 70% Cinsault and 30% Pinotage, the former variety from a 1932 Franschhoek vineyard and the latter mainly from a 1973 Stellenbosch vineyard, and was made in association with Protégé Programme under supervision of Andrea Mullineux, CWG Chair.
The nose shows cherry, plums and rose while the palate has plenty of sweet, juicy fruit to go with bright acidity and soft tannins. True to its constituent varieties, it's none too austere and immediately likeable. It has a recommended retail price of €16.95 a bottle (the equivalent of R300) and there are tentative plans to make future vintages available locally.
CE's rating: 90/100.
Check out our South African wine ratings database.
Attention: Reviews like this take time and effort to create. We need your support to make our work possible. To make a financial contribution, click here. Invoice available upon request – contact info@winemag.co.za