Miles Mossop new releases
Miles Mossop, the former Tokara winemaker, dedicates his top-end wines to his family, these being his wife Sam, children Saskia, Max and Kika and late father Tony. Tasting notes and ratings for the current releases as follows:
Miles Mossop Saskia 2019
Price: R295
68% Chenin Blanc, 15% Viognier, 9% Verdelho and 8% Clairette Blanche, all grapes from the Paardeberg. Fermented and matured in a combination in largely old oak barrels and concrete egg. A hint of flinty reduction before pear, peach, citrus, herbs and talcum powder on the nose while the palate is relatively light-bodied and nervy – pure fruit and driving acidity before a pithy finish. A return to form after the rather more chunky 2018 (91 points).
CE's rating: 94/100.

Miles Mossop Max 2018
Price: R395
47% Cabernet Sauvignon, 26% Merlot, 21% Petit Verdot and 6% Cabernet Franc from various vineyards in Stellenbosch. Matured for 20 months in French oak, 41% new. Red and black berries, rose and fresh herbs on the nose while the palate is medium bodied with fresh acidity and fine tannins, a slightly saline quality to the finish. Nicely assembled and more immediately accessible than the outstanding 2017 vintage.
CE's rating: 91/100.
Miles Mossop Sam 2017
Sold out.
Reviewed on account of its much-hyped status. 85% Cabernet Sauvignon and 15% Merlot from two vineyards in Bottelary. Maturation lasted 22 months in French oak, 43% new. Red and black berries, rose, herbs and a hint of earth on the nose while the palate comes across medium bodied and supremely elegant – lovely fruit clarity, bright acidity and fine tannins, leaving a chalky sensation in the mouth.
CE's rating: 95/100.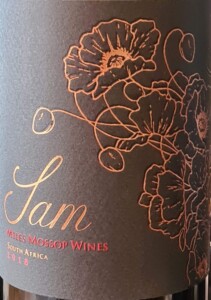 Miles Mossop Sam 2018
Price: R950
93% Cabernet Sauvignon, 5% Merlot and 3% Cabernet Franc – the former two varieties from Bottelary and the latter from Polkadraai. Earlier pick due to the extremely hot conditions during the growing season – this has an alcohol of 13.5% compared to 14.5% in the case of the previous vintage. Matured for 22 months in French oak, 51% new.
Compelling aromatics of red and black berries, fresh herbs, incense, and pencil shavings while the palate has super-concentrated fruit, bright acidity and powdery tannins. This has plenty of reined-in power to go with a wonderful suppleness and, for me, surpasses the much-celebrated 2017. Total production: 1 170 bottles.
CE's rating: 96/100.

Miles Mossop Kika 2020
Price: R315 per 375ml bottle
A Noble Late Harvest from Stellenbosch Chenin Blanc – grapes picked in four tranches combining both raisin and a 30% portion infected wit botrytis. Fermented and matured for five months in old oak oak. Aromatics to luxuriate in – yellow peach, spice, honeycomb, ginger and lanolin. The palate is super-rich but also balanced. Great depth of fruit plays off against driving acidity. Lots of weight on entry but this segues into a super-dry finish. Really something special as sweet wines go!
CE's rating: 95/100.

Miles Mossop Tony's Cape Vintage Reserve 2019
Price: R295 per 375ml bottle
From 100% Touriga Nacional. Matured in an old 500-litre barrel for 20 months. Inviting aromatics of red and black, a pronounced but not unpleasant herbal note and spice. The palate is relatively light for a Cape Vintage Reserve with fresh acidity and a nicely tannic finish. Alcohol: 19%.
CE's rating: 92/100.
Check out our South African wine ratings database.
Help us out. If you'd like to show a little love for independent media, we'd greatly appreciate it. To make a financial contribution, click here. Invoice available upon request – contact info@winemag.co.za