Mulderbosch Single Vineyard Block S2 Chenin Blanc 2014
4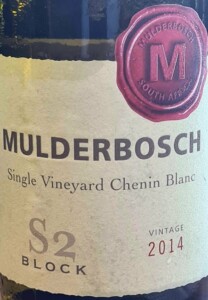 The Single Vineyard range of Chenin Blanc from Mulderbosch as conceived by winemaking team Adam Mason (now consulting) and Mick Craven (now of Craven Wines) was a trio of wines, grapes drawn from Bottelary, Faure and Polkadraai respectively, intended to give insight into both site and each unfolding vintage, the maiden release being 2013. It was perhaps ahead of its time, never really gaining any traction but a recent bottle of Single Vineyard Block S2 Chenin Blanc 2014 suggests this range should've been more celebrated.
While many modern-era South African wines don't seem to age as well as they could, this 2014 is in great shape. Grapes from a north-east facing Bottelary Hills vineyard planted in 1982 on shale soils situated 245 – 260m above sea level, it was apparently matured for 11 months in older oak.
The nose is complex and intriguing with traces of citrus, peach, straw and wet wool while the palate has great fruit concentration, lively acidity and a lightly grippy finish. Whereas so many wines quickly become dissipated with time in bottle, this has only gained, the tertiary characteristics that it has taken on making it immensely rewarding to drink.
CE's rating: 95/100.
Check out our South African wine ratings database.   
How did I come across it?  Hoghouse Brewing Co (including BBQ restaurant) in N'dabeni, Cape Town has a wine library started by sommelier Kimi Blackadder but which subsequently fell into abeyance – they aren't sure how to dispose of their stock but there are some real gems to be had. Other available wines that have aged well include B Vintners Haarlem to Hope 2014, Lanner Hill CWG Double Barrel White 2014, Vergelegen Reserve Semillon 2015, Glenelly Grand Vin 2009, Radford Dale Black Rock 2014 and Waterford Cabernet Sauvignon 2012. Any interest parties are invited to give them a call as they are open to discussion…
Like our content?
Show your support.
Subscribe