Radford Dale Renaissance Chenin Blanc 2019
There are some compelling examples of Chenin Blanc among the new releases from Radford Dale, tasting notes and ratings as follows:
Radford Dale Vinum Chenin Blanc 2019
Price: R160
Picked early, this has a very low alcohol of 11.5%. A small portion undergoing skin contact and lightly oaked. Subtle notes of pear, peach, citrus, apple and hay on the nose while the palate is lean and zippy with a very savoury finish. Not overly severe, this is super-refreshing to drink.
CE's rating: 91/100.

Radford Dale The Revelation Chenin Blanc 2019
Price: R310
Winemaker Jacques de Klerk admits that the vineyard near the Overberg town of Stanford ripened unevenly this vintage making his picking decision more difficult. A herbal top note before lime and lemon, peach and sea breeze on the nose. The palate has lovely succulent fruit, bright acidity and a salty finish. Light-bodied yet still remarkably vivid.
CE's rating: 93/100.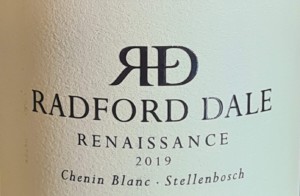 Radford Dale Renaissance Chenin Blanc 2019
Price: R415
From a 1969 Stellenbosch vineyard, grapes were picked on 17 January, the earliest ever – alcohol is 11.5%. Aromatics of flowers, dried herbs, citrus and peach. The palate has good fruit expression, nicely integrated acidity and ever so slight phenolic grip to the finish. This has plenty of verve while simultaneously having layers of flavour and is certainly not underdone.
CE's rating: 94/100.

Find our South African wine ratings database here.
Attention: Reviews like this take time and effort to create. We need your support to make our work possible. To make a financial contribution, click here. Invoice available upon request – contact info@winemag.co.za