Restless River new releases
Upper Hemel-en-Aarde property Restless River where the individualistic Craig Wessels holds sway is developing a cult following and the new releases are sure to cause a stir. Tasting notes and ratings as follows: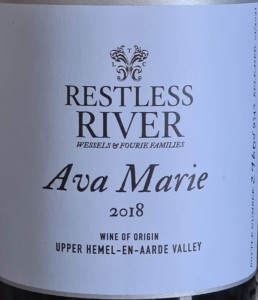 Restless River Ava Marie Chardonnay 2018
Price: R405
Matured for 11 months, 90% in French oak (of which 7% was new) and 10% in clay amphorae. A shy nose with hints of lemon and oatmeal while the palate is lean, fresh and pithy. Currently extraordinarily tightly wound to the point of severe – no fat, all persistence.
CE's rating: 93/100.

Restless River Wanderlust 2019
Price: R405
A 50:50 blend of Pinotage and Pinot Noir. A fynbos top note before macerated cherries and an earthy note. The palate has a sweet 'n sour quality while the tannins are particularly grippy. Intriguing if a bit rustic.
CE's rating: 90/100.

Restless River Le Luc Pinot Noir 2019 (R425 a bottle) rated 95/100 on earlier review – see here.
Restless River Main Road & Dignity Cabernet Sauvignon 2017
Price: R590
Matured for 21 months in French oak, 20% new. The nose shows black and blue fruit, a leafy note and tilled earth. The palate is rich, full and relatively smooth in texture – plenty of dense, seemingly sweet fruit upfront (although technically dry with a residual sugar of 1.93g/l) before a finish that is long and savoury. At 14.5% alcohol, this is the showiest of recent vintages.
CE's rating: 93/100.

Find our South African wine ratings database here.
Attention: Reviews like this take time and effort to create. We need your support to make our work possible. To make a financial contribution, click here. Invoice available upon request – contact info@winemag.co.za