Sadie Family Wines The Old Vine Series 2020
3
The high regard rightfully accorded to Sadie Family Wines from just about all quarters makes any kind of even-handed review of this cellar's wines difficult but a nice problem to have, even so. The 2020 vintage of the Old Vine Series has been available for some time now and it's been a particular pleasure looking at each wine in detail over the past few weeks. Tasting notes and ratings as follows:
Skerpioen 2020
From a Swartland field blend of Chenin Blanc and Palamino, the vineyard located two kilometres from the ocean and hence one of the coolest sites in the district. Enticing aromatics of lime, lemon, green apple, peach and herbs while the palate shows good fruit concentration, crisp acidity and an intensely saline finish. Perhaps a little more weight than some recent vintages but hardly a plush wine.
CE's rating: 94/100.
Kokerboom 2020
From Olifants River Semillon. Arresting aromatics of lemon, grapefruit, something approaching blackcurrant, fynbos and a slight waxy note. The palate makes a big impact – super-dense fruit matched by driving acidity, the finish long and savoury. It's a rich, weighty wine (alcohol is 14%) that's also got detail. Plenty of wow-factor.
CE's rating: 95/100.
'T Voetpad 2020
A Swartland field blend. Exotic aromatics of stone fruit, tropical fruit and a little waxy character. The palate has tremendous presence – rich, weighty and smooth in texture although there's tangy acidity and some grip to the finish as well. Certainly not short of complexity but a wine of heft rather than energy.
CE's rating: 94/100.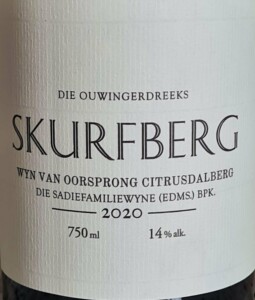 Skurfberg 2020
From Citrusdal Mountain Chenin Blanc. A hugely expressive nose showing struck match, guava, citrus, peach and pineapple, floral perfume, dried herbs and talcum powder as well as some leesy complexity. The palate possesses both power and poise – rich but also wonderfully zesty. A seamless wine, wave after wave of flavour, the finish long and savoury.
CE's rating: 97/100.
Mev. Kirsten 2020
From Stellenbosch Chenin Blanc. Pear, citrus, peach, dried herbs and a touch of earthiness on the nose while the palate has a sense of reined-in power about it – excellent fruit concentration, driving acidity and savoury, slightly bitter finish. Full but equally tightly wound, this comes across as a very direct wine.
CE's rating: 96/100.
Pofadder 2020
From Swartland Cinsault. 50% whole-bunch fermentation. The nose shows some flinty reduction before red cherry, pomegranate, strawberry, a hint of rose and white pepper while the palate is medium bodied with good fruit definition, snappy acidity and powdery tannins. Pure and precise.
CE's rating: 93/100.
Treinspoor 2020
From Swartland Tinta Barocca. Rather heady aromatics of dark berries, liquorice, lavender, fresh herbs, earth and spice. The palate is light in body yet deep in flavour with bright acidity and quite firm tannins making for a nicely dry finish. Has a rustic charm about it.
CE's rating: 92/100.
Soldaat 2020
From Piekenierskloof Grenache. 60% whole-bunch fermentation. Again some reduction on the nose before cherry, strawberry, fynbos, earth and spice. The palate is medium bodied with good fruit density, lemon-like acidity and fine tannins. Layers of flavour and a little more weight and structure than 2019.
CE's rating: 94/100.
Check out our South African wine ratings database.
Help us out. If you'd like to show a little love for independent media, we'd greatly appreciate it. To make a financial contribution, click here. Invoice available upon request – contact info@winemag.co.za