Spioenkop new releases
Koen Roose, who has had previous careers as both an engineer and a sommelier, continues his quixotic activities on his Elgin property, his wines never pandering to mainstream tastes. Tasting notes and ratings for the new releases as follows:
Spioenkop 1900 Sauvignon Blanc 2017
Price: R170
Roose insists on holding his Sauvignon Blanc back and this certainly does not trade off obvious primary character. A complex and subtle nose – hints of floral perfume, citrus, peach, blackcurrant and just a little leesy complexity while the palate shows dense fruit and racy acidity before a savoury finish.
CE's rating: 93/100.
Spioenkop Riesling 2017
Price: R270
Aromatics of pear, peach, lime, green apple and some flinty reduction. The palate is tightly wound with punchy acidity and a very dry finish. As arresting as ever.
CE's rating: 93/100.

Spioenkop Queen Manthathisi 2016
Price: R170
Predominantly Sauvignon Blanc but includes a small portion of Sarah Raal Chenin Blanc. Peach, a definite herbal quality plus a slight smoky note. The palate is flavourful with tangy acidity and a savoury finish – a rather curious wine overall.
CE's rating: 89/100.
Spioenkop Sarah Raal Chenin Blanc 2019
Price: R305
From a vineyard on ferricrete. Hay, honeysuckle, peach and citrus on the nose while the palate shows pure fruit, bright acidity and a savoury finish. Well balanced and not too lean – alcohol is 13%.
CE's rating: 93/100.
Spioenkop Johanna Brandt Chenin Blanc 2018
Price: R265
From a vineyard on shale. Aromatics of peach, melon and a hint of honey. The palate is rich, full and creamy in texture, while tangy acidity provides verve, the finish suitably savoury (alcohol: 13.5%).
CE's rating: 92/100.
Spioenkop 1900 M. Gandhi Pinot Noir 2017
Price: R215
Dark berries, fresh herbs, earth and slightly wild, meaty note on the nose. The palate is lean and a bit angular – hardy acidity and very grippy tannins.
CE's rating: 89/100.
Spioenkop 1900 Pinotage 2018 (R265) rated 91 in the Prescient Pinotage Report 2020 – see here. By the winemaker's own admission, however, it shows some "farmyard" character which will concern some…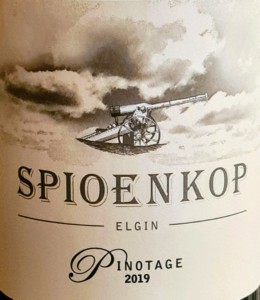 Spioenkop Pinotage 2019
Price: R450
From own fruit, this is 20% whole-bunch fermented. Red and black cherries, floral perfume and some earthiness. The palate, meanwhile, has impressive structure coming across as intense but not weighty – dense fruit, bright acidity and fine tannins. Seamless but perhaps a little difficult to access right now and will benefit from a year or three in bottle.
CE's rating: 95/100.
Check out our South African wine ratings database.
Attention: Reviews like this take time and effort to create. We need your support to make our work possible. To make a financial contribution, click here. Invoice available upon request – contact info@winemag.co.za