The Ahrens Family new releases
At one point, Albert Ahrens was winemaker at Swartland property Lammershoek but has made wines under his own The Ahrens Family label for some time and is now looking to gain a higher profile. He sources grapes from across the winelands in an effort to make "address specific" wines and these come packaged with a wrap-around paper cuff that when removed, reveals the true label with featuring work by the renowned local artist Lionel Smit. Tasting notes and ratings for the new releases as follows:
WhiteBlack 2018
Price: R245
W.O. Voor-Paardeberg. Roughly equal parts Grenache Blanc, Marsanne and Roussanne. Compelling aromatics of pear, peach, apple and citrus with subtle notes of herbs and flowers plus some yeasty complexity. The palate, meanwhile, has lovely fruit purity, vibrant acidity and a saline finish. It's light-bodied yet vivid and intricate.
CE's rating: 94/100.
Paarl OVC 2018
Price: R265
From a 1977 Chenin Blanc vineyard. Peach, apple and green melon on the nose. The palate is rich and round but not heavy or listless. Lovely mouthfeel, gentle acidity, the finish not without grip. It's flavourful, comforting wine to drink.
CE's rating: 92/100.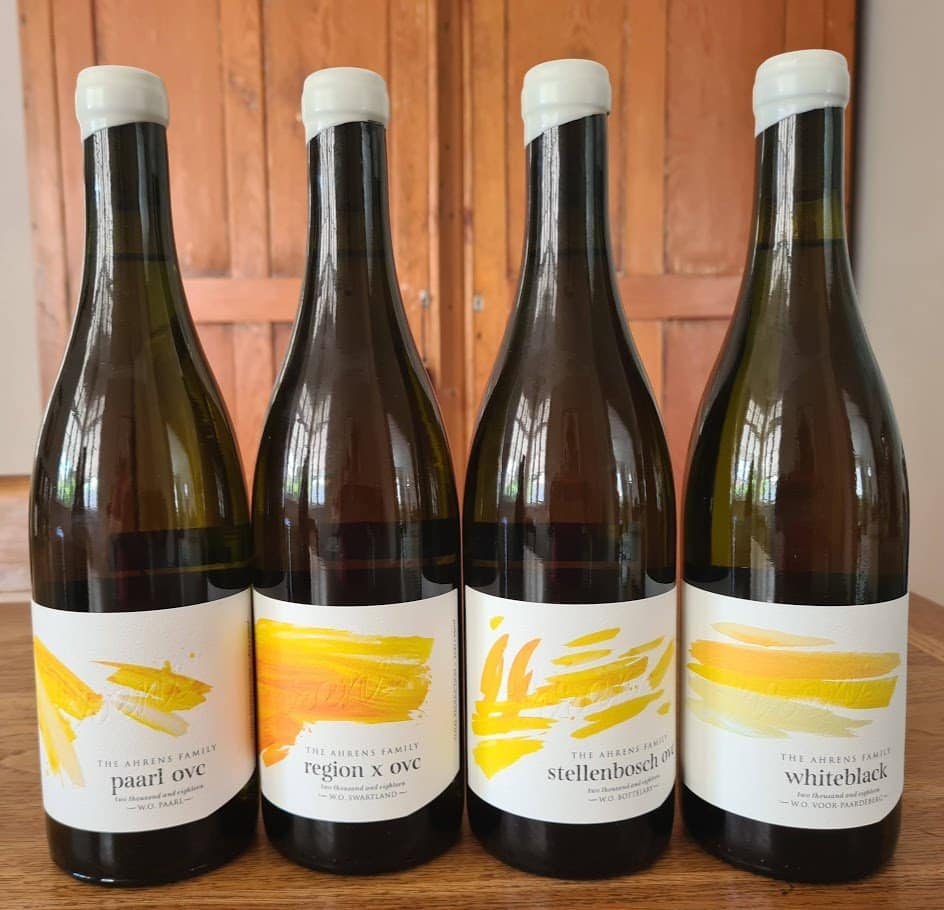 Stellenbosch OVC 2018
Price: R265
From a 1982 Chenin Blanc vineyard. Haunting aromatics of pear, white peach, lime plus notes of hay and flowers as well as a little flinty reduction. The palate has a coiled tension to it, coming across as lean and pithy. With wonderful clarity of fruit, this is both delicate and detailed.
CE's rating: 96/100.
Swartland OVC 2018
Price: R265
From a 1984 Chenin Blanc vineyard. Waxy, wet wool notes before stone fruit, yellow apple, earth and dried herbs on the nose. The palate is relatively rich with seemingly moderate acidity but the overall impression is still savoury. Dense and very flavourful.
CE's rating: 93/100.
Paarl Rooiwijn 2018
Price: R295
75% Syrah and 25% Cinsault. Plumy fruit on nose and palate – sweet and full with soft tannins. Not unpleasant but a bit simple.
CE's rating: 87/100.
Black 2018
Price: R305
W.O. Swartland. 75% Syrah and 25% Carignan. Red and black berries, fynbos, olive, earth and spice on the nose and palate. The palate is generous, even hearty – plenty of ripe fruit to go with fresh acidity and fine tannins, the finish suitably savoury.
CE's rating: 91/100.
Seventy 2018
Price: R305
W.O. Bottleray. 75% Cabernet Sauvignon and 25% Cinsault. Plums and cherries to go with hints of herbs and earth on the nose. While the palate's juicy fruit and soft tannins make for easy drinking.
CE's rating: 89/100.
Check out our South African wine ratings database.
Attention: Reviews like this take time and effort to create. We need your support to make our work possible. To make a financial contribution, click here. Invoice available upon request – contact info@winemag.co.za