The Chocolate Block 2020
1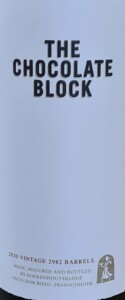 Even more of the Swartland blend that is The Chocolate Block in 2020, production equivalent to 2 982 barrels up from 2 414 in 2019 and it's the same crowd-pleasing stuff.
Consisting of 73% Syrah, 11% Grenache, 8% Cinsault, 7% Cabernet Sauvignon and 1% Viognier, it has exotic aromatics of red and black berries through floral perfume and peach to spice while the palate is rich, broad and smooth textured – there's a slight impression of sweetness but seductively so. Convert barrels into bottles and you're looking at a total production of nearly 900 000 while selling price is R245. Brand owner Boekenhoutskloof must be laughing all the way to the bank.
CE's rating: 91/100.
Check out our South African wine ratings database.
Help us out. If you'd like to show a little love for independent media, we'd greatly appreciate it. To make a financial contribution, click here. Invoice available upon request – contact info@winemag.co.za