Tim James: Does wine feature in the perfect mustard?
2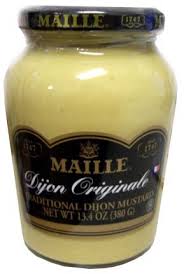 I can't be alone in never having (till recently, that is) wondered about the etymological and historical connection between "mustard" and "must": on the one hand the condiment that comes in a variety of guises, and on the other the freshly pressed juice, skins, stalks etc produced in the first stage of vinification. I discovered the link while trying to find out specifically about so-called Dijon mustard, and its possible connection with wine.
The English word comes via old French from Latin mustum, meaning young wine; apparently the condiment was first made using grape must. Who'd have guessed?
As for Dijon mustard, I was expecting a close connection to burgundy wine, but not so (and the distance widens increasingly, it would seem). According to Wikipedia, the name dates back only to 1856, when Jean Naigeon of Dijon "substituted verjuice, the acidic 'green' juice of unripe grapes, for vinegar in the traditional mustard recipe. Most mustards from Dijon today contain white wine rather than verjuice."
Well, I rather wonder about that last claim, in fact, having looked at the lists of ingredients of as many bottles of Dijon mustard I could easily find in Cape Town, even if precious few came from Burgundy. The most widely available here is made by Maille – and pretty delicious it is, as is their whole range of different mustards, including one with horseradish ('Au Raifort') that I particularly enjoy. Incidentally, Maille is thoroughly big business (a subsidiary of the Unilever behemoth) and made all over the world.
The ingredients of Maille Dijon Originale mustard are "Water, Mustard Seeds, Spirit Vinegar, Salt, Acid (Citric Acid), Preservative (Potassium Metabisulphite)". Pretty agricultural stuff, eh? No wine vinegar, or verjuice – nothing at all to do with grape juice in any form. Yet, says the Maille website, lying through its multinational teeth, "This classic blend dates back to 1747". They were really adding potassium metabisulphite as a preservative back then, we're supposed to believe.
I found very few mentions of wine in my perusals of mustard back-labels, including the "Dijon mustard" ones – it's not a protected name, by the way, any more than it's a meaningful guide to ingredients. For example, the Colman's bottle just mentions "vinegar" – so it's almost certain to be the vastly cheaper spirit vinegar involved rather than wine vinegar. The expensive and delicious Pommery mustard from France also just indicates vinegar, while the even pricier Pommery Moutarde Royale declares the use of a bit of cognac.
The only mustardy mention of wine that I could find was, perhaps surprisingly, on Spar's own-label Dijon Mustard, made locally, and including both white wine vinegar and white wine (also with spices and herbs, which give it a rather distinctive and slightly bitter quality; it's more characterful and interesting, but sadly not as winning, as the Maille, though I've used it happily in salad dressings.
So, rather disillusioned and depressed (as one generally is after studying the ingredients lists of processed foodstuffs), I've decided to take the etymology seriously and to try making my own mustard – mustards in the plural, if it works nicely. I now have on the sideboard a covered dish of red and white mustard grains starting their two-day soak in a mix of white wine (sauvignon blanc, seeing you ask, as I had a little sample bottle of rather nice Vierlanden, left over from Platter last year) and white wine vinegar (Italian – the local stuff remains irritatingly and shockingly much more expensive); plus salt.
Apart from anything else, making mustard at home does prove how overpriced the industrial versions are. But I should see what my stuff tastes like first, I suppose, before crowing too loudly.
Tim James is founder of Grape.co.za and contributes to various local and international wine publications. He is a taster (and associate editor) for Platter's. His book Wines of South Africa – Tradition and Revolution appeared in 2013.
Like our content?
Show your support.
Subscribe
Related articles
Opinion & Analysis
Tim James: Why do winemakers move?
11 August 2022
The decisions of other people – especially those we scarcely know – are always pretty strange, I suppose, by definition. Because they're made according to principles and personal histories that...
2
Opinion & Analysis
Tim James: Sadie goes hipster
25 July 2022
Well, no, the winery hasn't exactly gone hipster – but the word was Eben's, when I mentioned to him that I'd found 2021 Soldaat, the Piekenierskloof granache, rather too light...
6