Recipe: Biscotti with chocolate & almonds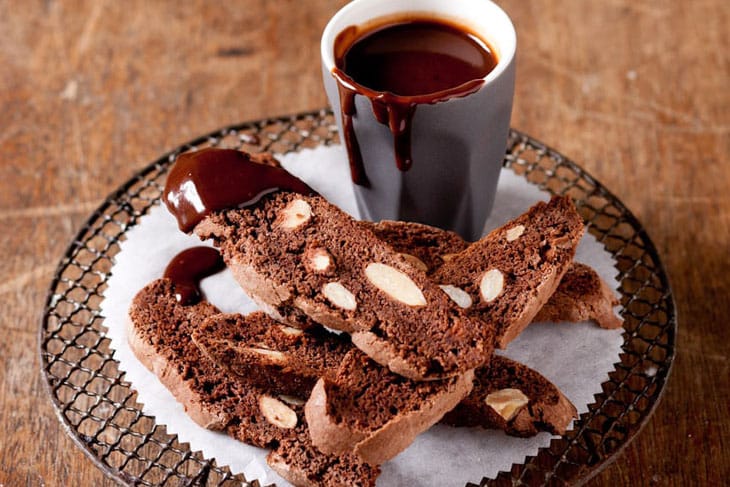 After-dinner treat.
Yield
This recipe makes 30 – 35 biscuits.
Biscotti recipe ingredients
1 cup (200g) caster sugar
2 large free range eggs
½ tsp (2.5ml) vanilla extract
1½ cups (200g) self raising flour, sifted
½ cup (50g) cocoa powder, sifted
150g whole raw almonds
100g dark chocolate, chopped
100ml cream
Baking method
Preheat the oven to 170°C. Line a baking sheet with baking paper. Beat the sugar, eggs and vanilla extract together in a large bowl until pale and thick. Fold in the sifted flour, cocoa powder and almonds. Knead the dough lightly on a floured work surface until smooth. Divide the mixture in half and form two logs about 25cm x 5cm. Place onto the baking sheet leaving space between the logs. Bake for 20-25 minutes until firm.
Remove from the oven and set aside to cool completely, about an hour. Reduce oven to 140°C. Cut each log on the diagonal in half cm slices using a serrated knife. Lay the slices flat on a baking tray and return to the oven for 15 minutes, turning once half way through. Remove from the oven and cool.
Melt the chocolate and cream in a bowl over a pot of simmering water. (Don't let the bowl touch the water). Dip each biscotti into melted chocolate and leave to cool on a wire rack.
Wine pairing
In Italy, biscotti are typically served as an after-dinner dessert with a sweet wine called vin santo. However, given that this recipe has the biscotti dipped in chocolate, you might want to pair them with a brandy.
Like our content?
Show your support.
Subscribe