Recipe: Chilli con carne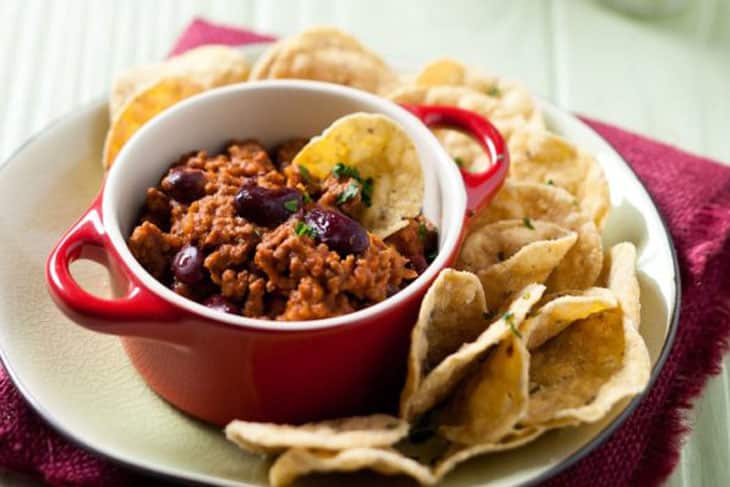 A Tex-Mex classic that's great for winter entertaining.
Yield
This recipe serves 4 people.
Chilli con carne recipe ingredients
400g red kidney beans, soaked in cold water overnight
2 tbsp (30ml) olive oil
1 onion, finely chopped
1 clove of garlic, crushed
1 stick celery, finely chopped
2 carrots, peeled and finely chopped
1 leek, finely sliced
1 tsp (5ml) ground cumin
1 tsp (5ml) ground coriander
2 tsp (10ml) cayenne pepper
500g lean beef mince
1 ½ cups (375ml) tomato passata
2 tbsp (30ml) milk
salt and pepper
Cooking method
How to cook dried red kidney beans
Drain the red kidney beans and rinse well under cold running water.
Place beans in a pot and cover with double the amount of water.
Bring beans to a simmer and allow to cook for 1-1 ½ hours or until soft (but not mushy).
Remove from heat, strain and set aside.
To save time you can use tinned red kidney beans. Rinse the beans before use.
For the chilli con carne
Heat olive oil in a heavy based saucepan and gently fry onions, garlic, celery, carrots and leeks for a few minutes or until soft.
Add ground cumin, coriander and cayenne pepper and continue to fry for a few more minutes or until fragrant.
Add mince and brown well.
Add tomato passata and milk and season with salt and pepper.
Stir in red kidney beans, cover and allow to cook on a low heat for 1 ½ hours or until meat is tender.
Serve with tacos or nachos and guacamole.
Wine pairing
The chilli in this dish will increase the perception of fruit but also the perception of alcohol. You also want to avoid a wine with too much tannin as this will conflict with the assertiveness of the dish. Go for a fruity, fleshy red like a Cinsault or lighter Pinotage.
Like our content?
Show your support.
Subscribe