Recipe: Pork chops in an Asian-inspired sweet marinade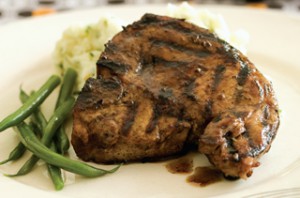 Someone who knows about these things once dissed a recipe book (which shall remain nameless) for being crammed with "great recipes, each with about five extraneous ingredients". It's been my mission to pare things down wherever possible ever since then.
Here's one of my all-time favourite lickety-split dishes that packs a flavour wallop, pleases even the pickiest eaters, looks great and goes perfectly with a carefully chosen Shiraz. I dreamed it up for pork chops, which are happy as Larry simply grilled after being glossed up with something sweet and sticky to cut through the richness. Like this perky mix of olive oil, ketjap manis (Indonesian soy sauce), honey and ginger. Heat-seekers are welcome to add some chopped chillies to the mix as well, though this might prove more of a challenge to the wine.
If you're not mad about pork, substitute lamb chops, boneless chicken breasts or salmon steaks (Norwegian or Scottish); all are equally good done this way. And, if you prefer – and the weather's fine – take everything outdoors and do the cooking over the coals rather than on the stove-top.
The hero ingredient of the marinade is ketjap manis (sometimes called sweet soy sauce), fabulous stuff found in pantries of everyone who knows a thing or two about Asian flavouring.
In Indonesia, soy sauce is known as kecap (also ketjap or kicap; a term for fermented sauces) from which the English word 'ketchup' is derived. There are two main varieties: kecap asin, similar to Chinese soy sauce, but thicker, saltier and more strongly flavoured and Ketjap manis with a pronounced sweetness due to generous addition of palm sugar.
RECIPE
Ginger-Soy Pork Chops
Serves 4
4 plump pork chops (more if your guests are really hungry)
sea salt and milled black pepper
4T olive oil, plus extra for cooking
2T light soy sauce
1T ketjap manis (sweet soy sauce)
1T runny honey
small knob green (fresh) ginger (about 20g), peeled and grated
Herbed mashed potato
Peel and dice four large, floury potatoes and cook in a covered saucepan of salted boiling water. Drain off most of the water and mash the potatoes. Beat in a large spoonful of butter and some warmed milk, then season with milled black pepper. Lastly, mix in plenty of chopped parsley and mint.
Trim the chops of excess fat and place in a flat dish. Season with a little salt and pepper.
Mix together the olive oil, soy sauce, ketjap manis, honey and ginger, pour over the chops and turn them to coat well with the marinade. Cover and place in the fridge for a couple of hours to allow the meat to languish luxuriously and gain flavour (the marinating time isn't critical).
When everyone's ready to eat, heat a ridged grill-pan and drizzle with a little olive oil. Grill the chops until seared and well-marked on each side, then – to prevent the marinade from scorching – continue cooking over very low heat until done; 7 to 8 minutes should be plenty for chubby chops. Watch your cooking heat; honey, soy sauce and ketjap manis burn in a flash.
Serve the chops straight from the pan with lightly cooked green beans and herb-mashed potato. To finish things off with a spot of panache, drizzle the pan juice over the meat.
WINE PAIRING
This dish has both sweet AND savoury elements presenting a particular challenge when it comes to coming up with a suitable wine. We suggest a full-bodied Shiraz which will be suitably robust without being too tannic – the dish will only increase the perception of fruit in the wine.   
This recipe was originally developed by the late Lannice Snyman, one of South Africa's most experienced and well- respected food personalities.
Like our content?
Show your support.
Subscribe