La Colombe Dine-In Experience
2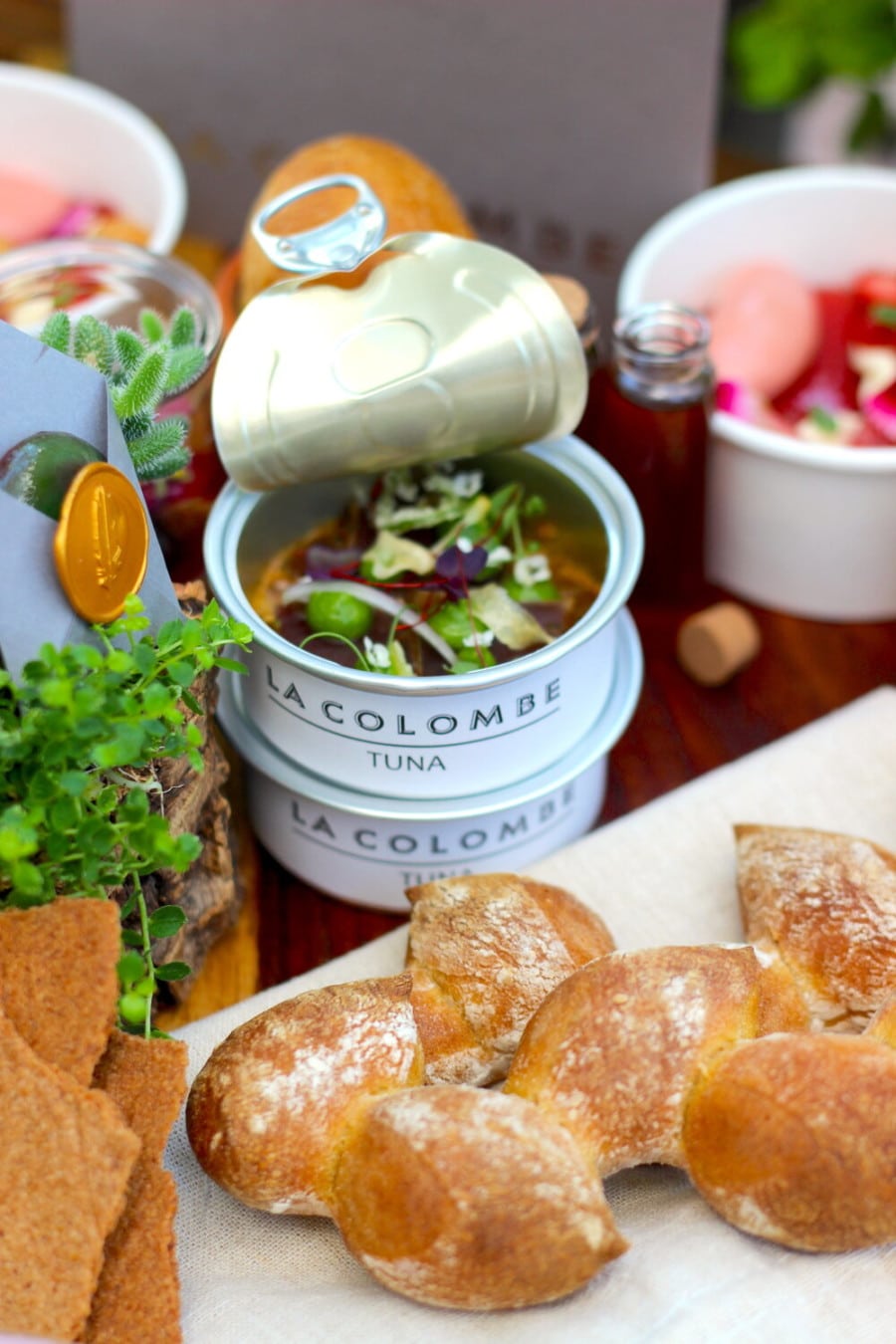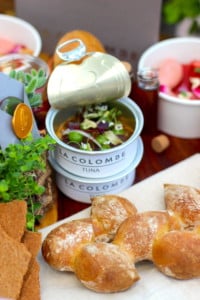 If this is the future of take-aways, I'm in.
Last night my family and I ate a nine-course dinner prepared by the acclaimed Constantia Nek restaurant La Colombe. It cost R1500.
Highlights of the dinner were the crunchy-topped pork butter, warm sweet potato bread, creamy salsa verde and a glossy rib jus, the dreamiest strawberry and bergamot posset and a crumbly coffee macaron.
The macaron, along with an emerald and black after eight, was "planted" in a miniature garden. The sweet potato pan d'epi came in its own cloth drawstring bag. The Tuna La Colombe, the foie gras and rhubard, the yellowtail, quince preserve and dessert were all "plated" in aesthetically pleasing containers – micro herbs, flowers, piped elements and all.
It can't have been easy for Executive Chef James Gaag and Chef Proprietor Scot Kirton to release a nine-course fine-dining menu with just one hot course. Temperature is an essential part of any restaurant experience: think of that cold glass of white wine, the warm bread, the cool, raw fish and the steaming hot gravy. The meal might end with a frozen dessert, a flaming cake or a scalding espresso. If most of the meal is room temperature, and every course is packaged, how is this different from a picnic?
The quality of the food is what tells you that this is a La Colombe meal and not a winelands hamper. It was genuinely heartening to eat a meal at home – insight of my own kitchen and couch (not to mention my damp dogs) – that tasted exquisite. It's true that excellent service, beautiful furnishings and a dramatic view add to the experience of eating fine food. In fact, the sight of chefs' whites, the smells of their cooking, well-turned-out fellow patrons, heavy cutlery, crystal stemware… all these things contribute to the joy of dining out. Last night, in jeans and without a restauranty thing to influence us – and even without hot and cold – we were transported.
The sweet potato bread emerged from its pouch like a rhizome from a French farmers market bag. It also resembled a plait. The entire experience of the first course was reminiscent of an idealized Mediterranean evening: the pork butter was silky and rich, with hints of pizza flavour: reduced tomatoes, olive oil and salt. The olives were plump and meaty; the green olive as big as a plum, with a complimentary lemon tang. The butter's crunchy topping was midway between croutons and pork crackling. The slow-roasted garlic cloves were fat with oil and flavour, like an oyster or mussel. With a glass of cold Chenin Blanc – our first wine purchase in over two months – this was exactly the first course we wanted.
The Tuna "La Colombe" was served in a sealed tin. The evening's theatre was provided by opening the tin of tuna to discover not a spiral of pink skipjack in brine but instead a mini dish: several pretty squares of wine-red, seared fresh tuna decorated with herbs and pipings of creamy wasabi. A glass vial of umami broth was what we added to complete the dish.
The Japanese influence here was subtle. The wasabi heat was an aftertaste. The emphasis was on the flavour and texture of the tuna: meaty, soft, with a taste and fragrance of the sea. The green elements added freshness, lifting the natural gameyness of the flesh. The cooked tuna at the base of the dish added depth and heartiness.
For the third course, we heated the bread. The individual brioches came in little ceramic plant pots. The foie gras topped with rhubard was sweet, tart and silky. The foie gras didn't shout "liver" – probably a good thing, as many are squeamish about the ethics of harvesting this product. Rather, the foie gras tasted like an exceptionally fine, delicately meaty pate. The rhubard gel was a tad too sweet for my taste, but I adored the rhubard cubes. The brioche was sweetish, open-textured, with an impressive flakiness.
There was much about this meal that made me think of toadstools, and mini woodland tableau, and medieval French princesses. It's the vials, the petals, the silky textures and the ruby tones. I doubt it was Gaag or Kirton's intention to transport me into a dappled fairytale. I'm quite certain the intention was to celebrate luxury – French-style, Mediterranean-style and Japanese-style. I got that. The Brothers Grimm dreamscapes were a bonus for me.
Fourth course: The raw, lemony yellowtail with crispy "slangetjies" was punchy. Yellowtail is a beautiful local fish – taste-wise it falls between tuna and a classic white linefish. Here, served in raw strips with a lemony dressing and a Thai coconut broth (added by us), it spoke louder than the other dishes in terms of flavour depth and contrast.
Here we paused for a Kalamansi palate cleanser – a naartjie-coloured liquid that tasted like naartjie, but also lime, and also ice.
We opened a bottle of Cabernet Sauvignon, and we popped the Karoo lamb dish in the preheated oven. As previously stated, this was the only dish that required attention: just 11 minutes in the oven and three minutes to rest. The rib jus, Jerusalem artichoke puree and salsa verde were warmed in the microwave, in their plastic squirty bottles.
It was left up to me to plate the dish – the gravy, meat, sides and sauces. I butchered it. What a shame, as I've heard James Gaag say he puts a great deal of effort into plating. I would not have been insulted by a diagram.
I liked the Smoked Stanford cheese, quince preserve and oat crackers course more than my husband did. He likes his crackers Salticrax-crisp and he likes his cheese cheddar-hard. The oat crackers are softish, and the colour of brown mushrooms. The cheese is oozier than a ball of mozzarella; it yields lazily to the knife in its ladybird-red wax. The quince preserve brought out all the best flavours of pear and peach, backgrounding the texture and fragrance of guava.
The eighth course was my favourite: the strawberry and bergamot posset. My husband found it too sweet. I don't like sugary desserts either; this was fruity-sweet: berry cream; strawberry gel; fresh, ripe strawberries and a smooth, lovely posset flavoured with orange zest. I felt like I was eating a grown-up Raspberry Ripple. What made it grown-up? The roasted hazlenuts, biscuit balls, herbs and edible flowers.
The final course is the mini garden ripe with coffee macarons and handmade mint chocolates in gold-sealed envelopes. The garden is a decorative flourish at the end of a long meal, but the chocolates and macarons rise above the theatre of the dish. The chocolate has an admirable snap and the macaron, though melt-in-the-mouth, smells and tastes strongly of coffee.
Denuded of sweets, the garden, in its biodegradable "pot", may be planted in soil. We are keeping the lidded glass pots and corked vials too. Even the packing box was aesthetic.
According to La Colombe, the proceeds from their take-aways goes "directly towards ensuring that staff members are taken care of during this challenging time". I hope this means that La Colombe staffers are still being paid basic salaries and we make up for what they are losing in tips.
Unlike most restaurants, La Colombe offers its "Dine-In Experience" seven days a week. It also delivers unusual distances: from its base in Constantia to Blouberg, Bellville, Green Point and beyond. Delivery costs R75, a tip is added to the R750 cost per person, and there is an option of a R100 contribution to the staff. Bookings are through Dineplan and must be made before lunchtime on the day of delivery.
At the end 2019 La Colombe at Silvermist was named Eat Out Restaurant of the Year. It was closed for two months, from Friday 27 March. La Colombe made its first delivery a week ago last Tuesday, 26 May. It sold out last Friday and Saturday.
It's surprising how much of the brand identity of La Colombe is evident in its take-away process. There was a real sense of service. I was called throughout the day. Conversation was friendly. Wine pairing was discussed. Permission was requested to deliver early. It was an entirely new experience to have a restaurant meal at home. The La Colombe brand, which is strongly felt throughout the meal, distinguishes it from a catered meal.
During lockdown, Gaag revealed on radio that La Colombe relies on foreign guests for 90% of its income during "season". At the time I thought how bizarre it was that SA's top restaurant was unknown to so many South Africans. With nine courses now being offered at a fraction of the normal price, this may be an unforeseen benefit of lockdown.
Who knows, when La Colombe starts seating guests again, perhaps it will keep its take-away service going and we'll be able to invite our friends to La Colombe – at ours.
Order your La Colombe Dine-In Experience now.
Daisy Jones has been writing reviews of Cape Town restaurants for ten years. She won The Sunday Times Cookbook of the Year for Starfish in 2014. She was shortlisted for the same prize in 2015 for Real Food, Healthy, Happy Children. Daisy has been a professional writer since 1995 when she started work at The Star newspaper as a court reporter. She is currently completing a novel.
Attention: Articles like this take time and effort to create. We need your support to make our work possible. To make a financial contribution, click here. Invoice available upon request – contact info@winemag.co.za
Like our content?
Show your support.
Subscribe