Leafy Greens Café, Muldersdrift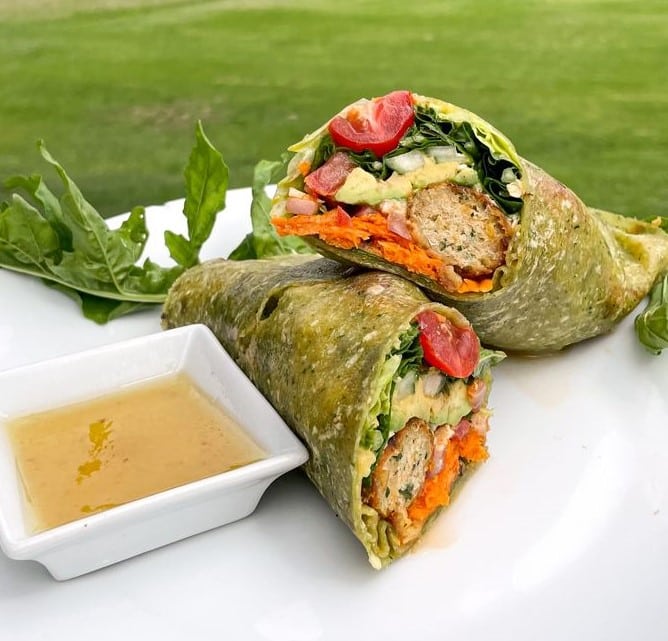 I am not a natural vegan. It's not so much the meat that I would miss but rather the dairy. I struggle to imagine a life worth living that doesn't involve butter, cheese and yoghurt. I am, however, very fond of my vegan friend and neurotic about the risk of infection that comes with indoor dining – which is why the outside tables at Leafy Greens Café on the Casalinga Organic Farm in Muldersdrift has become our meeting place of choice.
In the past few weeks, I have had several pleasant meals at Leafy Greens and it is undoubtedly an idyllic spot to sit. There are fruit trees and vegetable gardens and families of happy chickens pecking about on the pathways. On my first visit, I enjoyed a bold spicy breakfast ginger shot and a plate of perfect pancakes. Vegan pancakes are often stodgy and second rate but these were not only light and fluffy but also blessed with a superb, boisterously sweet-sour berry compote filling (R89). Good crema on the accompanying espresso too. The vegan 'Hollandaise' sauce on a subsequent order of mushroom Benedict (R108) was not great but it wasn't terrible either. It was simultaneously about as good and about as disappointing as one would expect of a sauce that requires eggs and butter to make an emulsion but contains neither. It was smooth and lemony and had it not been erroneously labelled as Hollandaise I wouldn't have objected to its presence as it enrobed an umami-rich, firm and flavoursome mushroom. There were slivers of avocado and a generous scattering of rocket creating a sweet, savoury, smooth, peppery balance.
On another occasion I ordered the Thai style green curry (R100) which might kindly be described as lacklustre. The problem I think was that Thai green curry paste almost always contains dried shrimp which provides a flavour depth and richness which was entirely absent. My friend fared better with her falafel filled cauliflower kale wrap (R89). I mocked her mercilessly when she said 'kale and cauliflower wrap' – the phrase just sounds ridiculously Gwyneth Paltrow – but it was actually utterly inoffensive in both form and flavour. The falafel within the aforementioned wrap was wonderful – deliciously crisp outside, creamy and flecked with coriander on the inside. There was also a generous splodge of tahini-laden hummus, a strong, satisfying salsa and piquant pickled cabbage. All the right compare and contrast, crunch and give, spice and smooth stuff happened.
The well-priced wine list technically belongs to the adjoining Italian restaurant but both eateries are owned by the same family and the waiters are relaxed about ordering across the menus. It includes a fair variety of good local and Italian wines as well as Champagne and five organic wines. Whether or not they are suitable for vegans is not listed.
My main complaint is not with the food but rather with the menu planning. My friend says I am nit-picking but I find the bill of fare oddly scattered and without a coherent culinary vision. To my mind, no animal products is not a vision for a vegan eatery – that is the non-negotiable starting point upon which the chef must then build a vision. The menu at Leafy Greens runs the gamut of England, Italy, America, India, Israel, Thailand and beyond which leaves me feeling slightly travel sick. I like all of the above food genres but not one on top of the other. It is the sort of place where one of you can be tucking into a Thai curry while the other is eating falafel. And the afternoon ends up with chocolate brownies. Which is what happened.
Leafy Greens Café: 010 595 4563; Plot 328 Rocky Ridge Road, Muldersdrift, Gauteng; Leafygreens.co.za
Dr Anna Trapido was trained as an anthropologist at King's College Cambridge and a chef at the Prue Leith College of Food and Wine. She has twice won the World Gourmand Cookbook Award. She has made a birthday cake for Will Smith, a Christmas cake for Nelson Mandela and cranberry scones for Michelle Obama. She is in favour of Champagne socialism and once swallowed a digital watch by mistake.
Attention: Articles like this take time and effort to create. We need your support to make our work possible. To make a financial contribution, click here. Invoice available upon request – contact info@winemag.co.za
Like our content?
Show your support.
Subscribe