10 (or so) of the best Valentine's Day restaurants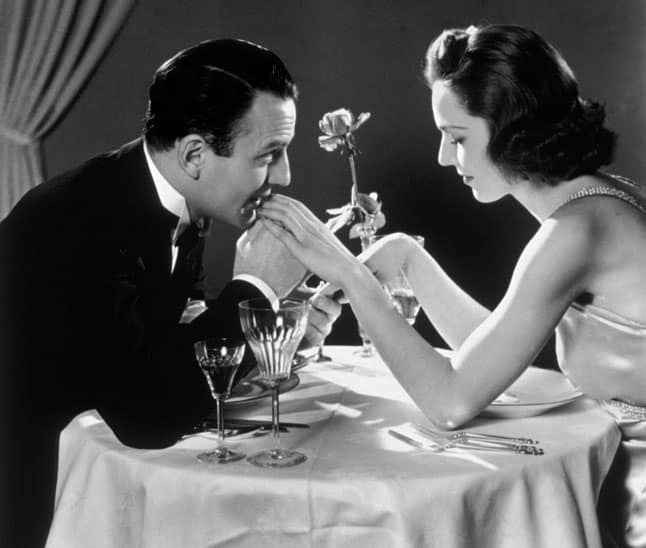 Saint Valentine (if he existed at all) was a 4th century celibate who was clubbed to death and then also beheaded. Many of those seeking a restaurant reservation for February 14th know just how he felt. It's a lose-lose social situation – worse even than Mother's Day – very few people want to be there but failure to participate is grounds for weapons-grade relationship recrimination. Demand exceeds supply at all the obviously romantic rendezvous so price hikes and last-minute frantic phone calls are always the order of the day.
Once a Valentine's Day restaurant table has been secured (almost invariably at an inconvenient time, unappetizingly close to the lavatories, for a limited and policed period in order to allow for table turning) the food and service are seldom good.
Many chefs and waiters charmingly refer to Valentine's Day as 'amateur night' because diners who generally venture no further than Mugg & Bean suddenly get it into their heads to dress up and purchase posh nosh.
Upmarket establishments aren't dealing with their normal clientele and the epicurean ennui engendered by repeated requests for well-done steak and semi-sweet wine is far greater than the sum of its parts. Long before anyone sits down on February 14th the negative attitude that chefs have towards these 'amateurs' has altered their menu planning to such an extent that dated culinary clichés abound. Expect hear- shaped dessert molds and wilted rose petal garnishes galore.
Valentine's Day dinners don't reflect well on any of the participants and yet, almost all of us are going to do it anyway – so what follows is an alternative gourmet guide to February 14th food.
1. Best Beheaded
Those wishing to follow a beheading theme in honour of St Valentine have several options. Most obviously a head on a platter is the inhloko (cow's head stew) sold under the sky walk at the Chris Hani/ Baragwanath taxi rank in Soweto (no telephone). Knysna's Ile de Pain (044 3025707) are offering beautifully buttery breakfast brioche à tête [a brioche with a ball of dough placed on top to form the 'head']. Bread and Wine in Franschhoek (021 8763692) is open for lunch on February 14th 2015 and will be serving a starter of poached salmon cheeks (yes, they have cheeks) in an oyster shell with a Champagne vinegar jelly.
2. Best for Lovely Lighting
Bright lights make even the prettiest of people and almost all meat look grey – which is off putting for both love and lunch. Valentine's Day should always be celebrated in soothing spaces where swoonsome twosomes can bask in the glow of each other's (softly lit) splendour.
At Firefly Eating House, Knysna (044 3821490) whimsical, largely Asian-inspired eats are served at tables set with vintage silver candle sticks. The menu is yet to be determined but the lighting is good to go. On February 14th there will be tables in the garden enhanced by twinkly fairy lights strung from the surrounding trees. The effect of the elegant illumination will be augmented by the glorious gin bar where three shots of artisanal spirit are lined up for comparative tasting.
3. Best Darkly Decadent Dining
Generally Valentine's Day is associated with the gentle grace of courtly love but there are those who want to dine somewhere dark and decadent on February 14th. At Harvey's in Umhlanga (031 561 4977) Chef-patron Andrew Draper has created a pleasantly dissolute epicurean atmosphere. Décor is high-end bondage with black walls, gold convex mirrors and a giant bling chandelier. Wait staff (both male and female) wear waist coats which lace up at the back like Rocky Horror corsets. The glass walled wine room is stacked with deliciously ostentatious local and international liquid treasures and the Caesar salad is the best in South Africa. The Marquis de Sade requested only two items during his stay in the dungeons of the Bastille; a replacement for his broken mahogany dildo and "chocolate, black like the devil's ass." At Harvey's the chocolate fondant is superbly satanic. Be warned, Harvey's is not a consistent restaurant. There are flashes of brilliance followed by inexplicable epicurean errors but somehow this fits the pleasure meets pain profile.
4. Best for Low-key Lovers
Bling burns itself out and long-term lovers generally prefer low-key, stable and soothing suppers. La Sosta in Swellendam serves traditional but not stuffy Italian home cooking (028 514 1470). Milanese husband and wife team Gianni Minori and Christiana Ariotto set only eight well-spaced tables. Service is attentive yet unobtrusive. Pace is gratifyingly leisurely with antipasti, primo, secondo and dolce coming to a glorious conclusion in a perfect espresso. The Tortelli di Porcini is worthy of sonnets. The small local and international wine list is similarly understated but thoughtful with great grappa and digestif for those wanting to linger in their love.
5. Best Valentine's View
At Bel Punto, Umdloti (031 568 2407) Natal North Coast waves crash and splash as a backdrop to superb seafood. Terrace tables are the ideal for lovingly lingering Valentine's Day lunches with pouring Prosecco and savouring Padella sauce-laden langoustines.
In Johannesburg, The Great Eastern Food Bar (011 482 2910) is the ideal Valentine sundowner spot. Love is sitting on the beautiful balcony tables looking out over the Melville Koppies with a sake spritzer or a ginger and lemon grass martini in hand.
6. Best No View
No external view is required for those gazing into a lover's eyes. Chef-patron Michael Broughton's excellent bistronomy-style restaurant, Terroir (021 880 8167) is ideal in such circumstances. Located in one of the very few spots in the winelands without a view, Broughton's robust modern French flavours and deliciously deep wine list make for magical moments. Only for lovers who are past the initial politeness stage – the chef is a superb sauce maker – from intense celery reductions served with sweetbreads to luxuriant pistachio crème anglaise you will want to be using a finger to mop up the last sip of sauce. From the first bite of smoked salmon with bacon foam and apple vinaigrette to the last scraping of tart tatin, flavours are clear and true – like love ought to be.
In Johannesburg lovers who don't need a view should sit at Kismayo Somali restaurant inside the windowless Amal Centre (aka Little Mogadishu) in Albertina Sisulu street, Mayfair (no telephone). The small, dark dining room is at the end of a rabbit warren of tiny shops selling bangles and burqas. The lack of view is more than made up for by the superb biranyi-like, lamb-laden Zurbian aromatic with cardamom, cinnamon, cumin, cloves and turmeric.
7. Best for Canine Companionship
Dogs never lie about love. They fill our lives with love and our hearts with devotion – which is more than can be said for many of our two legged acquaintances. Those who prefer to spend Valentine's Day with a canine companion should head for The Foodbarn, Noordhoek (021 789 1390) where Chef Franck Dangereux has a pleasantly Gallic approach to dining with dogs. Humans savour reasonably priced, French country-chic with occasional Asian undertones. Dogs rate the steak tartare especially highly.
8. Best for Impressing a Date
Securing a table at an impossible-to-get-into restaurant is always impressive. The Test Kitchen (021 447 2337) is consistently booked out for weeks (if not months) in advance. It is often difficult to make contact via phone or email. Then there is the ignominy of being made to feel ridiculous for even asking about availability when the call is eventually answered. Trying for a table reflects a deep desire to impress. Getting one is the equivalent of slaying a dragon and bringing back the Holy Grail. Getting in is three quarters of the thrill but once inside, there are superb à la carte and tasting menus (including a vegetarian tasting menu) with plenty of sparkling wine to wash it all down with.
Gautengers wanting to impress a date with their entrée into high society should try Priva in Pretoria (012 346 4849). Aimed at diplomatic, political and business superstars there is a secret entrance for the elite (only those issued with a key know where it is) and no one under 25 is allowed through the main doorway. Try for a key and see if you are special. Even if you have to come through the regular entrance the Champagne and oyster bar is jolly nice.
9. Best for Credit-Crunch Valentines
Given the ongoing financial down-turn, now is not an ideal time to be buying over-priced candle lit dinners for two. The good news is that even the brokest of boyfriends can afford a love sandwich from Karen Dudley's The Kitchen (021 462 2201) in Woodstock, Cape Town. Sincere eco-epicurean generosity (and the chef's secret dressing) are marinated into every mouthful.
At King Arabic in Mayfair, Johannesburg (074 292 6191) Palestinian bakers Hanan Ahmed and her husband Mohammad Sultan serve date stuffed Mamool biscuits, orange blossom and cream cheese-filled Katayef and Hareesah semolina cake. King Arabic Sandwiches is strictly Halaal and no alcohol is served but fragrant hibiscus juice more than makes up for the lack of liquor. Hanan and Mohammad are refugees with grim stories of escape and exile to tell. The couple's devotion to each other and their dedication to carving out a better life in a strange land is inspiring. It's all as cheap as chips but so much more romantic.
10. Best for Celibate Celebrations
Saint Valentine didn't ever have a date on February 14th. There is an upside to a celibate celebration. Many of the foods we love most are not suitable for a date where kissing may occur. Garlic on the breath and chicken fibres between the teeth do not an amorous ambiance make. Cape gooseberries should head for the Central African stall holders on the roof of the Cape Town Train station. Mama Veronique (no telephone) is the fish grill hot spot. She has two plastic tables and an assortment of wobbly garden chairs. "Thompson" fish (apparently named after a British importer who used to bring these sea fish into the Congo in the 1970s) is smoked before it is grilled. It is a meaty fish with a satisfyingly salty taste. Everyone eats with their hands. A plastic squeezy bottle filled with hyacinth-smelling hand lotion is passed around in a futile attempt to mask the fishy smell. No one will want to kiss you or handle anything you have touched for weeks to come.
Dr Anna Trapido was trained as an anthropologist at King's College Cambridge and a chef at the Prue Leith College of Food and Wine. She has twice won the World Gourmand Cookbook Award. She has made a birthday cake for Will Smith, a Christmas cake for Nelson Mandela and cranberry scones for Michelle Obama. She is in favour of Champagne socialism and once swallowed a digital watch by mistake.
Like our content?
Show your support.
Subscribe