Cameron Ewart-Smith: In search of the Ultimate Chardonnay
Chardonnay has always been divisive. In a recent article published by business magazine Forbes entitled "Most wine drinkers don't really understand Chardonnay', Courtney Schiessl points out that its a love it or hate it variety. And frankly, I'm not sure I understand it but I do love it all the same, a little like my children! My wife, on the other hand, is one of those who do not care for it. That works perfectly – open bottles are all mine for the drinking. Also, it made her a good chauffeur for the ultimate chardonnay quest. And so it was, that we set off into the Cape Winelands with the results of the recent Prescient Chardonnay Report close to hand. Five chardonnays scored highest with 94 points and we were in search of these five ultimate chardonnays.
The tree-lined drive up to the white gables of Meerlust our first stop, was quiet and peaceful ­– only the distant sounds of a horse shouting at the wind and the hum of a tractor as it turned over the soil between the brilliant green spring vines disturbed the morning. To one side, as we headed for the tasting room, the winery staff were steaming the inside of newly drained barrels filling the air with a heady aroma of French oak.
"home to the famous rubicon"
Meerlust, of course, is home to the famous Rubicon, and I swear that open bottle on the tasting room table flinched as I asked after the chardonnay (a little like a child when its sibling gets too much attention). It positively jumped out the rack – when I admitted I wasn't interested in tasting it … only the chardonnay.
Now I'm not a wine writer – I'm a travel writer. How's that different? Well, where wine writers tell you about noses and palates and stuff, I tend to point you at an open bottle and say … go ahead make your day! Capeesh? And so it was that under the wonderful care of Carol Agus I was swirling my first chardonnay of the day a little before ten. Delicious. There was a long way to travel, unfortunately, or I may never have left.
The road to Riches
Just off the R44 there's a small road that splits into an even smaller road before winding past the large tree nursery and small patches of vineyard before depositing you at the unassuming door of Le Riche Wines.
Aside from some farm hands busying themselves in the nearby vineyard, only the winery dog dragging itself to its feet in welcome, seemed to acknowledge our arrival. Otherwise, the place seemed deserted – as if everyone had something better to do than hang around waiting for tourists. I rang the bell and an unassuming character appeared from the shadows and introduced himself as Etienne. Etienne Le Riche formerly of Rustenburg Estate – has previously been described as the Cabernet Wizard. His son Christo, who is the winemaker at Le Riche, seems to have fallen into the magic cauldron when he was younger because he too is making awesome wines.
"described as the Cabernet Wizard"
Etienne guided us through their philosophy of chardonnay admitting they genuinely had been surprised to have done so well. The whole winery (which for some reason reminded me of a cottage out of Hansel and Gretel) has an authentic air about it; you can't help but leave feeling like you've just stumbled onto something special. It's the kind of place I hate writing about for fear of changing it.
Viva Italia
From the modesty of Le Riche, we headed for the complex that is Delaire Graaf Estate. It's hard to fault them, the drive up is immaculate. The restaurants are immaculate. The statues are immaculate. The wines are immaculate … even the Italian tourists noisily slurping down their glasses in the booth next door were immaculate (as far as Italian tourists go). No doubt even the fabulous rooms on the estate (come to think of it, I think you'd actually have to call them suites) are immaculate. Alas, at the price, I fear I may never see the inside of one of those but if I ever do you'll be the first to know…
To be brutally honest, I gulped down my three chardonnays (the estate makes two other versions that also did well in the tasting) and made my getaway in case somebody noticed my mother's patchwork sewing job on the pair of shorts I was wearing – and tossed me out.
Bienvenue Franschhoek
From Stellenbosch the ultimate chardonnay quest led us through Pniel, past Boschendal and up Franschhoek's main drag past the Huguenot Monument to a dusty farm road lined with olive trees. The parking area of La Bri Wines was deserted so I was surprised when the door opened to a boisterous welcome from Julia Johannes … a bottle in each of her hands and the hum of satisfied customers in the background. Apparently, apart from making kick-arse chardonnays (am I allowed to say that? What the hell I'm on my sixth chardonnay tasting of the day) La Bri in Franschhoek is famous for its eclectic range of wine pairings (cheese, biltong, lokum and chocolate are on offer). It's also on the Wine Tram route – hence the happy tourists mulling over their wines and biltong without any cars.
Julian soon had us sorted, glasses in hand, and a head full of stories and laughter (she's really great at making you feel like you're completely and utterly welcome). And the wines are downright down-to-earth special too…
Good old Salt
The final leg of our chardonnay quest led up Helshoogte Pass towards Elgin and Paul Cluver Wines. It's a large wonderful estate and time mysteriously slows down as you wind your way past orchards heavy with spring blossoms and fields of wheat hung with ripening ears. We bypassed the tasting room and headed straight for Salt at Paul Cluver the estate restaurant (this has recently revamped its menu).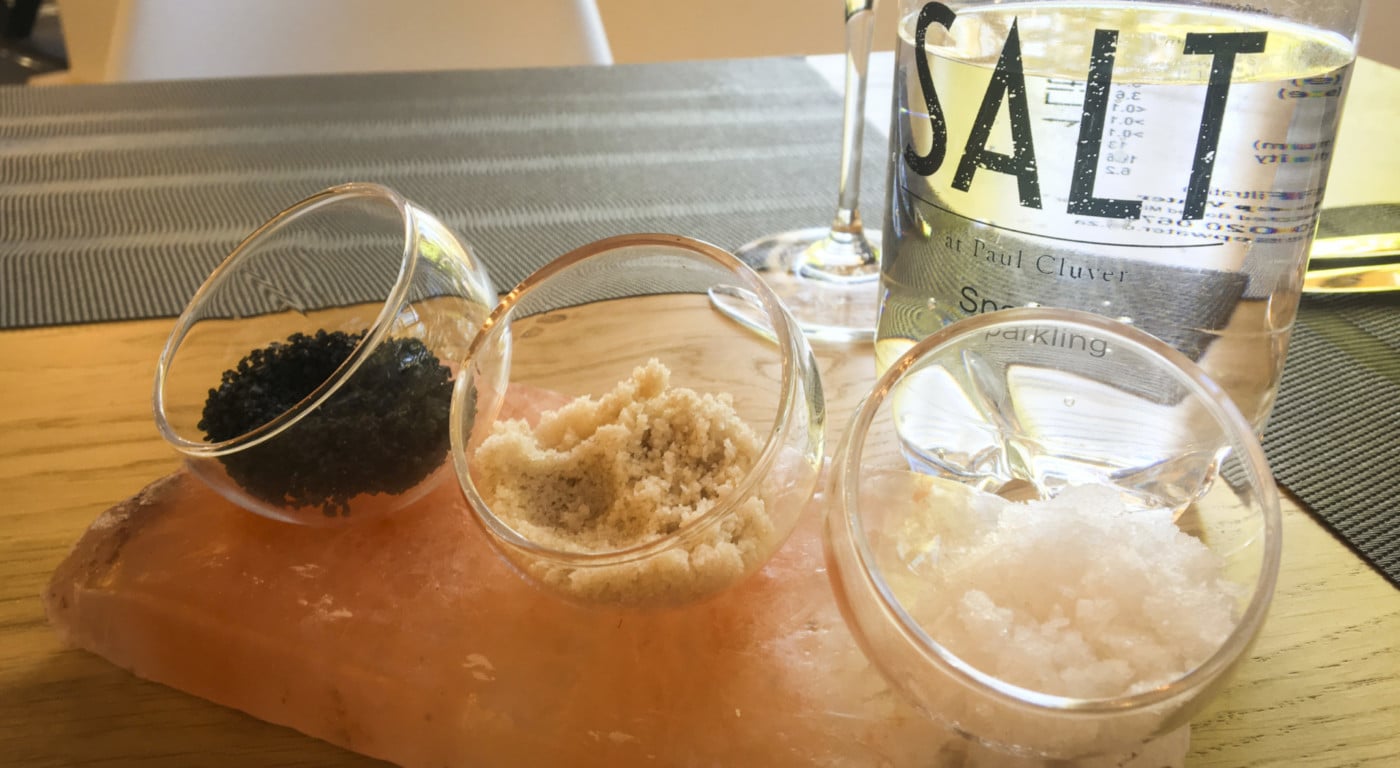 By three o'clock on a Wednesday, we had the place to ourselves (except for a large outside table who looked suspiciously as if they'd actually earned their meal hiking and biking on the estate) so we paid them no heed.
After the brief history of Salt courtesy of the waitron and the three-salt-tasting which was interesting in that quaint gimmicky way some stories are, our starters arrived. And not a moment too soon (Damnit we'd also earned our meal 'expeditioning' across the Winelands). The food was wonderful. The chardonnay outstanding. And for the briefest moment, all seemed right in the world. Then again I have a thing for Paul Cluver Chardonnay. In my world, it's the chardonnay of chardonnays and there can be only one…
"it's the chardonnay of chardonnays and there can be only one…"
Cameron Ewart-Smith is a freelance film and television producer/director, writer and photographer and describes himself as "platform agnostic". A conservationist, he is a former editor of Getaway magazine. He loves good food and wine that doesn't cost the earth.