A beginner's guide to South African wine
1
Part 1: The economics of South African wine
Introduction
Out of all the world's wine-producing nations, South Africa is unique in knowing the exact date on which its wine industry began, thanks to the 2 February 1659 diary entry of Jan van Riebeeck, official of the Dutch East India Company and First Commander of the Cape: 'Today, praise be to God, wine was made for the first time from Cape grapes.'
In one sense, then, the South African wine industry is very well established. During the 1700s and 1800s, the Cape even produced one of the world's most highly sought-after wines in history – Constantia – cellared by the likes of Frederick the Great of Prussia and Louis XVI of France, sent to American founding father George Washington and exiled French emperor Napoleon Bonaparte, immortalised in the writing of poets including Friedrich Gottlieb Klopstock and Charles Baudelaire, as well as novelists including Jane Austen and Charles Dickens.
In another sense, however, it can be said that the South Africa wine industry dates back less than 30 years to the end of Apartheid – 11 February 1990 being the date that Nelson Mandela walked free from Victor Verster Prison in Paarl, a watershed moment in the political and social transformation of the country.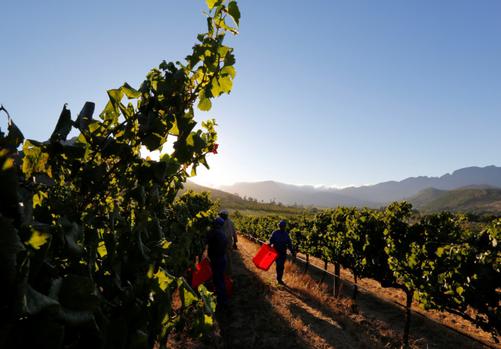 While South Africa's transition to a democracy in the mid-1990s surprised the doomsayers in terms of the relative lack of upheaval which accompanied it, it certainly precipitated some major changes in the wine industry, the old regulated regime giving way to a few mass-market players and a multitude of niche producers. A potted history of the late 19th and early 20th centuries shows just how rigid and unable to adapt the industry was, and how dramatic the emergence of Wine SA in the modern era has been.
Over-supply and over-regulation: The establishment and reign of the KWV
As was the case in the rest of the wine-producing world, the dreaded root louse phylloxera devastated South Africa's vineyards during the 1880s. Once the remedy was found (grafting Vitis vinifera onto phylloxera-resistant American rootstock), the Cape's vineyards were replanted – and hugely so, in response to anticipated demand from a large influx of immigrants attracted to the sub-continent by the discovery of gold and diamonds.
However, the second Anglo-Boer War between the British Empire and the Afrikaans-speaking Boers (1899–1902) caused wine sales to decrease both at home and abroad, leaving wine farmers who had geared up for mass production making wine they could not sell. Large surpluses and low prices became the order of the day, and the result was the Ko-operatiewe Wijnbouwers Vereniging van Zuid-Afrika (KWV) – a 'super co-operative' formed with full government backing in 1918.
The KWV would rule on every aspect of the wine industry until the mid-1990s. Its masterstroke was to make superfluous wine grapes disappear into brandy spirit and grape juice concentrate, and one specific power it had was fixing minimum prices paid to producers, with the result that focus soon shifted to quantity rather than quality. In terms of a quota system introduced in 1957, the KWV also came to decide where and whether wine grapes could be grown (again generally with quantity rather than quality in mind).
Nonetheless, by the 1950s South Africa was ahead of other New World wine countries in terms of wine technology, for example pioneering the use of cold fermentation techniques which allowed for lighter, drier, fresher, more aromatic white wines. A particular success came in 1959 when Stellenbosch Famers' Winery (SFW), an important producer-wholesaler, launched a low-cost, semi-sweet white wine named Lieberstein. Consumers who had never previously considered drinking wine developed the habit and Lieberstein became the world's largest-selling branded wine of its era, with sales topping 31-million litres by 1964.
Unfortunately, the momentum created by Lieberstein ran out. South African Breweries, the country's powerful beer producer, stepped in to ensure that wine didn't steal any more domestic market share, while KWV bureaucracy blocked the cultivation of fashionable grape varieties. The result was that South Africa's wine offering was out of tune with international demand. For instance, there was no Chardonnay plant material whatsoever until the early 1980s, when a few forward-thinking producers decided they had no option but to smuggle it into the country illegally. (An official inquiry followed with a very positive outcome in the end: the establishment of South Africa's Vine Improvement Association.)
The emergence of a sense of place: Terroir and tourism
Although the beautiful Cape Winelands with their distinctively gabled homesteads set against mountainous backdrops have been visited and described in glowing terms by travellers since the 1700s, efforts to unlock the potential of wine tourism only truly began with the establishment of the Stellenbosch wine route in 1971. Founded by the owners of some of the more prominent individual properties of the time, it was the first organised network of wineries that allowed visitors to experience the product of the vine onsite.
Today there are over 20 regional routes, and the wine tastings, vineyard and cellar tours, winery restaurants and myriad activities on offer contribute in no small way to overall brand-building, truly making the Cape one of the world's premier wine destinations.
Another important development was the launch of the Wine of Origin (WO) classification scheme in 1973, as a result of which South Africa now boasts some of the most intricate and well-established legislation of any of the New World wine-producing countries when it comes to defining appellations. These range from large 'geographical units' down to smaller 'regions', 'districts', 'wards' and 'single vineyards'.
In terms of geographical units, there are currently six demarcated, namely Western Cape, Northern Cape, Eastern Cape, KwaZulu-Natal, Limpopo and Free State. This is why it is more appropriate to think of 'South African wine' rather than 'Cape wine' when referring to the industry as a whole.
That said, most of South Africa's winegrowing takes place in the Western Cape province, between roughly 31.6 degrees south (Vredendal, Olifants River), and 34.5 degrees south (Elim, Cape Agulhas). Plantings in the arid Northern Cape are spread out over some 300km and depend on flood irrigation from the Orange River, South Africa's largest inland waterway, while plantings elsewhere in the country are recent and remain small.
Structural change since the 1990s
In the aftermath of the South Africa's first democratic elections, which saw the African National Congress (ANC) take government under Nelson Mandela, the KWV relinquished its statutory powers, converted from a co-operative into a company and sought to enter the domestic market (from which it had previously been excluded).
Suddenly the wine industry found itself without statutory surplus removal and minimum wine price support, which proved traumatic for many farmers whose existence had depended on these safety nets provided by the KWV. The number of primary grape growers has dropped from 4 786 in 1991 to 2 873 in 2018, and this exodus from the wine industry does not appear to have ended yet.
On the plus side, international trade sanctions that had been in place since the 1980s were lifted and the industry again had access to international markets. The decline in growers was therefore matched by a dramatic increase in the number of wine cellars crushing grapes – from 212 in 1991 to 582 in 2011. However, this trend is now seemingly in reverse, the total number having dropped to 564 in 2018.
Somewhat curiously, the number of commercially available labels has not decreased, perhaps because producers are increasingly inclined to share winemaking facilities to keep production costs down. Micro-cellars (vinifying fewer than 100 tons) makeup approximately 43% of all producers and have become a powerful force in the industry. They are often the most cutting-edge producers in terms of both production techniques and marketing.
At the opposite end of the industry (with a number of mid-sized operators in between), a few corporations account for the vast majority of the branded wholesale wine business. By far the largest is Distell, which arose out of a merger between Distillers Corporation and Stellenbosch Farmers' Winery in 2000 and now controls some 70% of the domestic wine and spirits market, with annual revenue in excess of R20 billion (about $1.4 billion).
Other significant players (some for export only) are Accolade Wines South Africa (which owns the Kumala brand), DGB, FirstCape Vineyards, Stellenbosch Vineyards, Namaqua, Spier and, of course, the KWV (currently owned by the London-based Vasari Group, headed up by South African-born drinks industry veteran Vivian Imerman).
The national vineyard
The national vineyard is currently planted to 55% white varieties and 45% red, compared to 84% white and 16% red in 1990. Post transformation, it quickly became apparent that the composition of the South African national vineyard was ill-equipped to meet the needs of the international market, with plantings hugely skewed towards high-bearing white varieties suitable either for low-cost, easy-drinking wines or distillation.
The industry undertook some radical restructuring that saw plantings of white varieties fall every year throughout the 1990s and early 2000s, eventually levelling out in 2004.
In 2019, the total area under vineyard amounted to 92 067ha, down from an all-time high of 101 259ha in 2009. This means the national vineyard has shrunk by 8.2% over the past ten years, a trend that shows no immediate signs of abating.
In recent years, however, there has also been a growing appreciation for older vines. An Old Vine Project is underway with a Certified Heritage Vineyards seal being fixed to bottles of wine originating from vineyards that are more than 35 years old.
Chenin Blanc is the most widely planted variety, accounting for 18.5% of the national vineyard (down from 27% in 1999 and 32% in 1990). It was originally planted because of its versatility, disease resistance and propensity to yield big volumes, making it very much the workhorse of the industry. A decrease in plantings was inevitable but the rate of this decrease has now levelled out, thanks in part to an informal initiative known as the 'Chenin Renaissance' that first arose in the mid-1990s when a number of adventurous producers sought to elevate the reputation of the variety above simply being a source of anodyne, overly commercial table wine. While the premium wines that emerged still only account for a tiny percentage of total production, some have become South African flagships, and Chenin has become the Cape's 'calling card' as far as white wine is concerned.
In terms of the world's most fashionable varieties – Chardonnay, Sauvignon Blanc, Cabernet Sauvignon, Merlot and Shiraz – it's again indicative of the huge leap taken by the modern South African wine industry that the collective area planted to these has increased from 27% in 1999 to 44.5% in 2019. Currently, Cabernet Sauvignon is the third most planted variety overall, making up 11% of the national vineyard.
How Wine SA stacks up globally
According to 2018 data, South Africa is the ninth largest wine producer in the world, producing 9.5 million hectolitres a year, which puts it behind Germany in eighth place with 9.8 million hectolitres and ahead of China in tenth place with 9.4 million hectolitres. Of the country's total production of 960.2 million litres in 2018, 85.8% was devoted to the making of wine (3.8% went to brandy, 8.7% to distilling wine and 1.6% to grape juice or grape juice concentrate).
In the domestic market, annual per capita consumption of wine is relatively low – 11.2 litres in 2018 compared to 50.7 litres per capita in France and 12.4 litres in the USA. South Africa remains very much a beer-drinking nation, with international brewing companies boasting a value share of more than 50% of the alcoholic beverages market compared to a mere 10% for wine. The spirit and cider sectors are also significant.
Wine exports grew significantly in the two decades following political transformation in the early 1990s. The United Kingdom quickly became (and remains) South Africa's most important export market, accounting for 24% of volume in 2019, followed by Germany with 20.6%. The USA has a 3.2% volume share and (significantly) a 6% value share.
That South Africa has a weak currency relative to the US dollar, the British pound and the euro has allowed for competitive pricing of its wines internationally – bargain-basement pricing for much of the 60% of wine still shipped in bulk. For this reason, a 40% decline in export volumes between 2013 and 2019 is not necessarily a bad thing. Although only 320 million litres left the country in 2019 (representing a 24% decline compared to the year before), the decrease in value was just 7% in value.
The pressure is on to increase the price of South African wine in general and of South Africa's best wines in particular, not only in the interests of the producers and landowners (some of whom are switching from grapes to more profitable alternatives or even selling up, especially after recent years of drought) but also in the interests of farm labourers. All too many communities that depend on wine farms remain impoverished and disadvantaged, which should not be the case nearly three decades since the end of Apartheid.
Of course, it's not just about minimum wages and making ends meet. At the top end, in terms of the country's very best wines – whose producers can stand shoulder to shoulder with the best of Europe, America and elsewhere – it's unreasonable to argue that Wine SA should continue to sell for a whole lot less than its competitors, and without the state subsidies and benefits that some of them enjoy.
The way forward
The South African political situation remains turbulent, the economy is in recession and unemployment is high. And yet, against this somewhat disheartening backdrop, the wine industry still manages to employ almost 300 000 people (including those involved in tourism-related activities). It contributes about R36 billion (about 1%) to the GDP, and cautious foreign investment in the South African Winelands continues.
Today South African winemakers are among the world's most widely travelled with many working harvests elsewhere as part of their apprenticeships, then continuing to visit their international counterparts as often as they can throughout their careers – just as often as they host visiting winemakers wanting to learn how things are done in the Cape.
The number of boutique, artisanal and négociant outfits has increased dramatically in recent years, especially among younger winemakers wanting to do things differently, to push the envelope, to come up with something unusually special…
The country's leading winemakers are on top of their game, from high-tech support and control systems to non-interventionist and 'natural' winemaking – the organic wine movement is alive and well, albeit with a large number of winemakers who adhere to organic or biodynamic methods and techniques but opt not to certify their products as such.
This is in keeping with the realisation that if quality standards and commercial successes are to be maintained over time, then all farming practices need to be environmentally sustainable. Wine businesses also need to be socially responsible – and here, too, South Africa is leading the way. Some 61% of total production was ethically certified in 2018 with a goal of 100% by 2025. South Africa is also the largest Fairtrade wine supplier in the world.
Clearly, the manifestation of Covid-19 at the beginning of 2020 is set to have a massive impact on the South African wine industry but precisely how this plays itself out, remains to be seen.
Like our content?
Show your support.
Subscribe