Burgundy, other Chardonnay and score inflation
6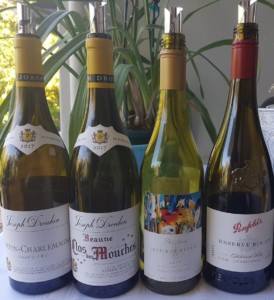 Earlier this week, Garry King of Tonnellerie Saint Martin hosted a tasting for existing and prospective clients of wines from leading producers elsewhere in the world who use the cooperage's products. One flight consisted of four examples of Chardonnay, specifically Drouhin Corton-Charlemagne Grand Cru 2017, Drouhin Clos des Mouches 1er Cru 2017, Leeuwin Art Series 2016 and Penfolds Reserve Bin A 2017.
How did each of them rate? Well, to a great extent, something of an academic question. An exceptional flight of wines, as I'm sure most serious wine enthusiasts will agree. I thought the Corton-Charlemagne was sublime, as much as anybody could possibly want from the variety, but when the gathered assembly of some 15 people (who were mostly winemakers) was asked to vote by a show of hands for a favourite between that and the Clos des Mouches, it was approximately a 60:40 split in favour of the Corton so no outright favourite.
In the case of the two Australian wines, my sense was that they were very good but certainly not streets ahead of the best that South Africa is capable of. Interestingly, though, if you visit the Leeuwin website, ratings for this vintage start at 94 on the 100-point quality scale from American critic James Suckling and go all the way up to 99+ plus from Australian wine journalist Ray Jordan. I was inclined to score it 93.
The Penfolds, meanwhile, had a definite and hence generally controversial reductive character on the nose. From Adelaide Hills, South Australia, the wine spent eight months in French, oak 40% new. Alcohol: 12.5%, acidity: 7.0g/l, pH 3.2 and 100% malolactic fermentation. I noted pronounced "flinty, struck match" notes while the official website suggests "latent wafts of sulphide/struck match (almost) bring closure". 98 points from that doyen of Australian wine writers, James Halliday and 19.5+ out of 20 from UK wine writer Matthew Jukes, to quote just two very high scores given to this wine… Though I was concerned about the level of the reduction, I did appreciate its intensity of flavour and arresting acidity and rated it 92.
This inevitably brings us to the important, if increasingly tedious, topic of score inflation. Local wine commentators are often accused of being unnecessarily stingy when it comes to rating South African wines but I think that all those with a stake in the industry should be cautious of over-estimating how good our kit is to avoid the risk of failure at the hands of hubris.
It is curious that when the 20-point rating system held sway, no critic, whether local or international, was much inclined to dish out scores over 18 but now that the 100-point system is de rigeur, anything under 95 is in many instances, unremarkable. This is simply ridiculous and makes a mockery of the human endeavour that is involved in making wine – the quality that a 95+ score implies is just not that easy to achieve.
Then, there is the issue of false praise provided by onlookers from abroad, designed to secure allocations of wines which are no doubt competitive in terms of quality and yet are perennially under-priced – big scores a neat way to justify a healthy margin come the moment of sales. The open market is ultimately the best way of determining the worth of a product – expect to pay the equivalent of R2 600 a bottle for the Corton-Charlemagne compared to around R1 000 for the Leeuwin or Penfolds.
Like our content?
Show your support.
Subscribe