Dan Nicholl: New dawn for Tesselaarsdal
1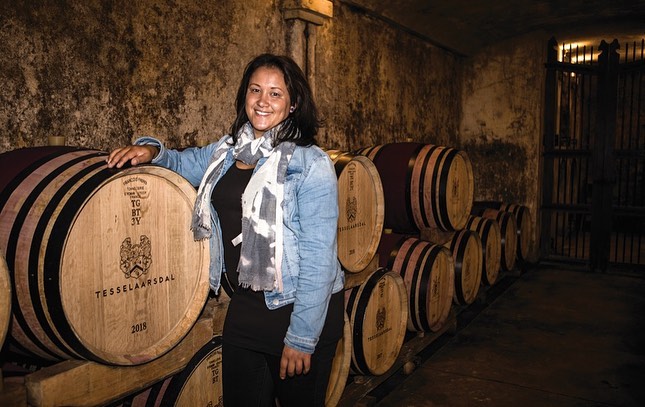 Berene Sauls had an assortment of reasons to smile at Cape Wine last year. Her Tesselaarsdal stand was an scrum of global wine buyers seeking an audience with her. The latest vintages had sparked whispered excitement across the sprawling exhibition floor. Trips to exotic corners of the world were being lined up to showcase her wine, and the compelling story that skips alongside them. But the real reason for the sparkle in Berene's eyes was the news she thrust upon me with a hug of sheer joy: she'd bought a farm.
A quick recap for those unfamiliar with South African wine's most enchanting modern fairytale. At 19, Berene's mother (more on her later) takes her daughter for an interview with Oliver and Anthony Hamilton Russell, for a position as an au pair. She gets the job, but it doesn't quite work out; however, there's clearly something to the young woman from a tiny village over the hill from Stanford, and so Berene starts working in the cellar. It proves an inspired move: wine is a natural home, and along with a swift gathering of new responsibilities at Hamilton Russell, Berene goes on to make her own wine, with Tesselaarsdal the obvious choice of name.
That's the briefest of versions of a story that took years of work, industrial levels of self-belief, and the drive of a single mother of two sons determined to make good on her wine dream. But with the support of the Hemel-en-Aarde in general, and the Hamilton Russell team in particular (led by winemaker Emul Ross, a devoted lieutenant), Berene's throw of the dice grew into a small but exciting new wine brand. The combination of outstanding pinot noir and chardonnay, and a wonderfully authentic story, proved irresistible, and Tesselaarsdal took off.
You only need to spend a few minutes with Berene to realise that behind the infectious laugh and electric personality, is a fierce sense of ambition. My earliest recollections of conversations with her include references to a very personal vision: bringing the Berene Sauls winemaking story to the village she grew up in. That was always a case of when, not if – and the when kicked in last year, when an opportunity to purchase a 16-hectare farm in Tesselaarsdal arose. Despite some strongly worded opposition from her accountant, Berene bought the land, and that was what sparked the broadest of smiles at Cape Wine.
A couple of weeks ago, following a promise made last year (and a meandering drive to a quiet corner of the Overberg), I visited Berene's farm with her. That smile from Cape Wine was magnified immeasurably, as Tesselaarsdal's brightest light introduced the new home of her brand. To be frank, it's difficult to envisage as flowing vineyard at the moment: sloping fields of rocks and shrubs, no suitable water, and the presence of a giant hare causing comic chaos wherever possible.
It's equally difficult, however, to envisage the grandest chapter of Berene's story not playing out. Somehow she wills her visions into being, no matter how outrageous they may seem, and across the Hemel-en-Aarde, a small army of winemakers, viticulturists and cheering fans have bought into this most uplifting of stories. It's a welcome dose of good news in a world that's chronically short of cheering narrative, and the fan club is growing rapidly. The heart of that fan base, however, remains close to home – and serves as a final assurance that the new farm has a bright future.
The home that Berene grew up in is still home to her parents, and tour of the new land was a capped off with a visit to Mr. and Mrs. Sauls. We tasted the current Tesselaarsdal vintages with the family in the town that gives the wine its name, and the winemaker her back story. Berene's parents are charming hosts, immensely proud of their daughter, and part of a family team that gets happily roped in to helping out on the new project. Like Berene, they'll need to wait an agonising seven years until the first wine is made on home turf, the reminder of which elicits a theatrical groan from everyone. But that wine will eventually be made, just as the new farm will take shape, and the story of Tesselaarsdal will soar into new territory. Pencil in 2030 for the maiden vintage of a very special wine – and the broadest smile yet from Berene Sauls.
Dan Nicholl is the founder and host of Dan Really Likes Wine. Dan is a former PICA Magazine Columnist of the Year, and has worked on television, radio, and in print and online journalism.
Like our content?
Show your support.
Subscribe