Greg Sherwood MW: Are alternative varieties from South Africa gaining traction?
2
Let's not fool ourselves but modestly admit that the whole fine wine market can sometimes appear, to outsiders at least, to be engaged in a lot of navel-gazing. Of course, it may depend on what segment of the wine industry you work in, but the common criticism of the fine wine trade from others engaged in more commercial everday drinking wine sales is that fine wine merchants sometimes talk and write about top-end wines of the wine world as if they were readily accessible to all consumers. It is perhaps a valid criticism in some senses, but it all comes down to people being so used to communicating in their own bubble, to speaking to their own audience and segmenting the market which can result in some fine wine commentary coming across as quite detached and unrelatable to many.
Often, those operating at the top end of the market like to believe that somehow, consumers reading about vertical tastings of Bordeaux first growths back to 1929 or unobtainable vintage tastings of Musigny Grand Crus from Burgundy will act as a general siren call for all new wine lovers, resulting in a general trickle-down 'wine promotion' effect… all the way down to the high-street level. We all know this is not how it really works, especially nowadays with impossible fine wine allocation accessibility – not to mention crazy release prices – moving many wines completely out of the reach of even quite well-heeled fine wine lovers and collectors around the world.
But of course, the common analogy used is that when "petrol head" consumers go to a car trade show, they seek out the Porsches, the Ferraris and the Lamborghinis to salivate over in the same way that wine consumers hunt down the tables pouring Sadie, Alheit and Kanonkop at wine shows given half a chance. It's human nature to fawn over the fine, the rare, and the unobtainable. It is not normal practice for highly engaged consumers to pore over a new release Ford Escort or Toyota Corolla.
But perhaps the obsession in the fine wine market with such a narrow band of producers has seen its day? With a new generation of wine consumers starting to emerge and looking elsewhere to find their wine kicks, we may well be set to see the real rise of alternative grape varieties.
I certainly never underestimate the staying power of the classics… the great Bordeaux blends, boutique Burgundies and Rhône wines, but there is of course a much wider fine wine sub-culture out there that consumes wines that do not include Chardonnay, Cabernet Sauvignon, Merlot, Pinot Noir and Syrah. As it turns out, it was my good fortune to be asked recently by a financial law firm friend and client to present a tasting of "alternative variety wines" from South Africa to some of his top colleagues and clients as a fun distraction over the summer month of August.
The tasting line up came together quite organically and featured four white wines and four red wines. With no theme other than "alternative varieties", I presented a lineup of producers that I thought even seasoned wine afficionados would find slightly esoteric. In keeping with the general off-piste theme of the evening, guests at the 67 Pall Mall venue were received with not a glass of Champagne, but a delicious premium cuvée of Ca del Bosco Francia Corta from Italy made in the method traditional style. A perennial top performer, the fizz was undiscernible from top premium cuvée Champagne. In hindsight, I regret not pushing harder to showcase a top tier Cap Classique instead from Colmant or Graham Beck.
For the first wine of the white flight, what better way to kick off the evening than with a deliciously dry, maritime and salty Palomino in the form of Adi Badenhorst's Sout van die Aarde 2019 from a 60-year-old vineyard several hours up the west coast just north of Paternoster in Dwarskersbos. With no noticeable flor or sherry influence intruding, tasters were suitably impressed with the wine's creamy citric breadth and harmonious balance without ever erring on the side of flabby. A very strong starter.
Next up, an intentional curve ball for the tasters in the form of the Brookdale Field Blend 2022, as I wanted to highlight not only the ancient historical art of field blends that was so common in the 19th century and further back across Europe, but also to challenge the single variety paradigm. Only the second vintage produced from this Paarl estate by talented winemaker Kiara Scott, the 16-varietal wine shone very brightly, bristling with its telltale granitic minerality and its 'je ne sais quoi' kind of terroir feel.
The third white allowed me to return to the West Coast and talk about the stark, barren, wind-swept coastal vineyards four to five hours away from Cape Town in Vredendal. Almost forgotten and forsaken, a new generation of winemakers has led a rediscovery of the old vines of this region with producers like Ian Naudé breaking new ground with the first Old Vine Heritage Certified Colombard to be produced in South Africa in 2020. Each vintage gets better and better as Ian slowly masters this work-horse variety and the 2022 Langpad impressed the tasters, who were all in full summer drinking mode, with its freshness, minerality and salinity that is so reminiscent of European varieties like Assyrtiko. Incidentally, the client had hoped to show a South African Assyrtiko but there was simply nothing available in the UK… yet! (Think Jordan and Mullineux!)
To round off the white flight, it gave me great pleasure to present one of my favourite old vine Semillon whites from South Africa, the Dark Side of the Vine Semillon 2017 produced by Black Elephant Vintners. Made from grapes sourced from the Basil Landau 118-year-old Semillon vineyard in Franschhoek, this is certainly a profound wine that grows in stature every time I retaste it… and has done so much to help put Franschhoek on the global fine wine map. Unsurprisingly, a firm favourite with the 12 tasting guests.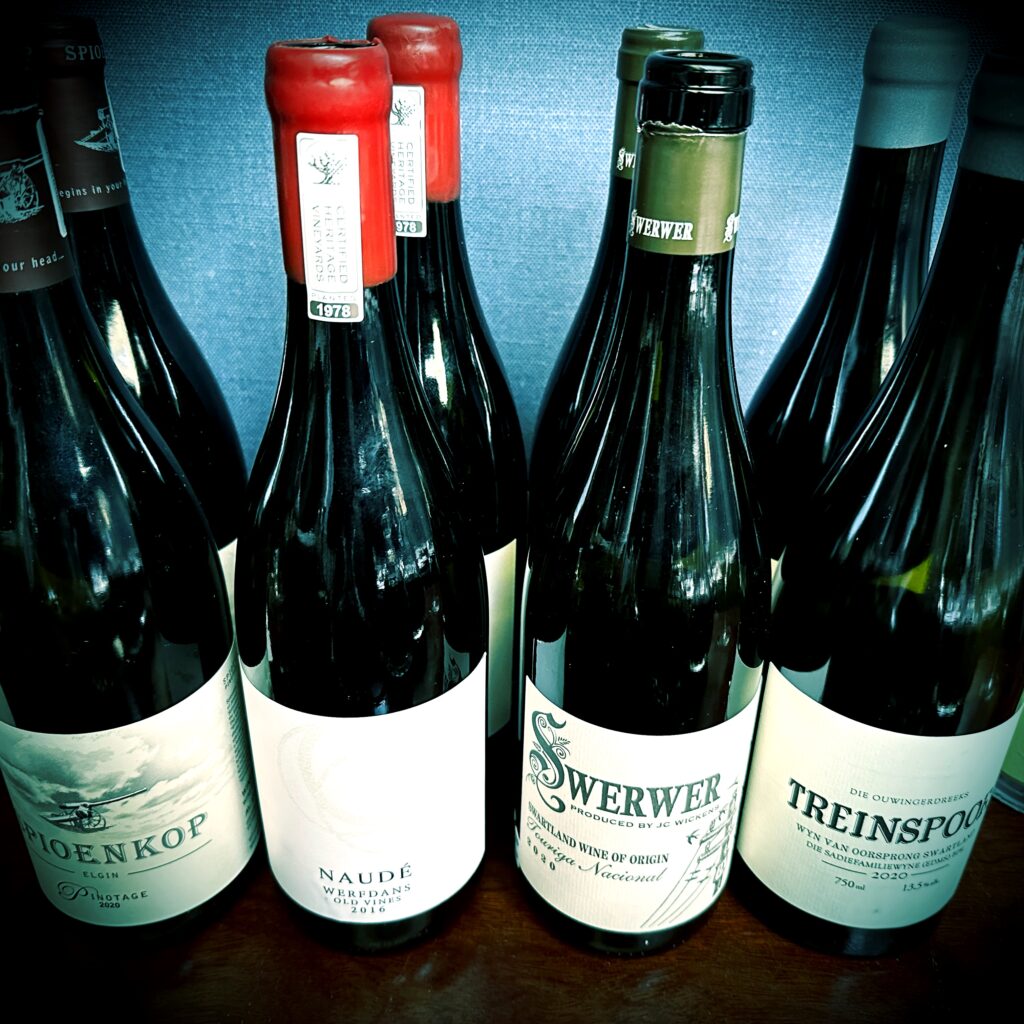 The last four reds were served in two paired flights with accompanying charcuterie to encourage tasters to compare and contrast the styles. The highly individual but equally highly rated Spioenkop 2020 Pinotage from Elgin's Koen Roose was paired with another Naudé old vine wine, this time his 2016 Werfdans Cinsault from the 1978 vineyard in Darling. The Pinotage confronted peoples' biases and preconceptions head on and in the process, earned a well-deserved title as one of the favourite red wines of the evening. But how often is that so true of our best home-grown grape Pinotage? The delicious Naudé Cinsault allowed me the perfect segue into explaining not only the parentage of Pinotage but also the ongoing and growing cult popularity of lighter red wine styles from producers like Naudé's Werfdans, Sadie's Pofadder, Savage's Follow the Line, Leeu Passant's Basson and Van Loggerenberg's Geronimo.
The final red pair of the evening featured two of my favourite Swartland producers, one younger and one slightly older… Jasper Wicken's Swerwer Touriga Nacional 2020 and Eben Sadie's Treinspoor Tinta Barroca 2020. Both reds were showing impressively well, with the Swerver a little broodier, darker fruited but tantalisingly seductive with its blue and purple Touriga fruits on the palate. As for the Treinspoor, this was an energetic, fragrant and lively glass of wine that did not need to try overly hard to win over the crowd. The tasters enjoyed me explaining how this Old Vine Series wine from our most sought-after producer was, only a few years back, regarded as one of the less desirable in the lauded Sadie Family Old Vine Series offering. Now of course, each and every bottle is a most sought-after gem. A very popular flight of wines once again and also a great opportunity for me to sing the praises of Portugal's noble varieties in the face of global warming.
As the evening drew to a close, I was left with the firm conclusion that all the tasters had been not only very impressed by the quality of the South African wines on show, but that the whole star performance had been pulled off without a single stalwart Cabernet Sauvignon or Syrah in sight! These latter two cultivars produce some of my favourite wines in South Africa but this was undoubtedly an evening for the lesser known wine cousins to shine.
Greg Sherwood was born in Pretoria, South Africa, and as the son of a career diplomat, spent his first 21 years traveling the globe with his parents. With a Business Management and Marketing degree from Webster University, St. Louis, Missouri, USA, Sherwood began his working career as a commodity trader. In 2000, he decided to make more of a long-held interest in wine taking a position at Handford Wines in South Kensington, London, working his way up to the position of Senior Wine Buyer. Earlier this year, he moved across to South African specialist merchant Museum Wines to become the Fine Wine Director. He qualified as a Master of Wine in 2007.
Like our content?
Show your support.
Subscribe