Greg Sherwood MW: Does part of the SA wine industry's future lie in the past?
1
If you are a budding scholar of fine wine, then the past few days surely seemed a momentous and instructive passage of time. After all, it's not every day that a bottle of Cape wine, the 1821 Grand Constance sweet wine from Constantia, probably destined for Napoleon's very own palate, is sold at auction for over £20 000 pounds or circa R420 000 rand. An incredible achievement at the Cape Fine & Rare Wine Auction that even had the eagle-eyed collectors of Europe watching and contemplating proceedings in awe. For all the nay-sayers and South African fine wine auction sceptics, I am pleased to see that some of them are finally starting to acknowledge the true auction potential of the old vintage Cape gems and are starting to eat a little bit of humble pie. For if there is one thing I have learnt over the past 20-plus years of buying and selling fine wine in the tumultuous UK market, it is that a truly special wine, that is generally acknowledged to be not only historically rare but also proven to be still eminently drinkable and ageable, will almost certainly attract a significant price tag at auction. This price tag is something we have long been looking to see hung around the neck of one of the Cape's most famous vinous creations.
In reality, everyone involved in the day-to-day South African fine wine trade has grown up coveting the old historical sweet wines of Vin de Constance and neighbour Grand Constance, and have known that these wines are internationally respected vinous treasures, liquid history books that mark the foundation and establishment of South Africa's great fine wine industry heritage. In London we are spoilt by the availability of fine wine and fine wine experiences that we can encounter on an almost daily basis. For, as I alluded to earlier, these past few days were not only a momentous moment for the Cape fine wine industry, here in London we too got to witness and taste one of the most highly anticipated new fine wine releases of the year for the whole of the Western European fine wine market – the new release of the Casa Ferreirinha Barca-Velha red wine from the Douro in Northern Portugal.
The creation of the Douro's first table wine was left to one of Casa Ferreirinha's true visionaries, Fernando Nicolau de Almeida, who met the famous oenologist Emile Peynaud when he visited Portugal in the late 1940s and showed him his experimental unfortified red wines. Impressed by the quality of these wines, Peynaud advised Nicolau de Almeida to pursue his dream of producing fine Douro reds and to embark on a tour of the wine regions of Bordeaux, Burgundy and Rioja to study their modern winemaking techniques. Nicolau de Almeida returned to the Douro determined to put into practice everything that he had learnt and in 1952, he produced the first ever vintage of Barca Velha. Though easier said than done in the hot Douro of the 1950s, temperature control proved to be key, along with sourcing grapes from a range of different high altitude vineyard sites (up to 600 metres) to achieve balance and freshness, something which is still a cornerstone of the Casa Ferreirinha winemaking philosophy today.
To this day, only three men have held the prestigious post of Casa Ferreirinha head winemaker and both of Nicolau de Almeida's successors learnt the ropes from him. Luis Sottomayor is now at the winemaking helm and restrains the Douro's natural exuberance to produce wines that have a vibrant freshness allied to a wonderful texture and depth. But there is also a more intellectual side to the production and selection of the Barca-Velha wines, one which has only resulted in 20 vintages being produced since the maiden vintage in 1952. Once the wines are vinified at the Quinta da Leda winery in the Douro Superior, they are then transported to the cellars in Vila Nova de Gaia where they are normally aged for 18 months in French oak barrels, 60% of which are new. The barrels are then carefully monitored and tasted regularly by Luis and his team before the final blend is assembled from a selection of the very best barrels. Aged for several years in bottle prior to release, the tasting and analysis continues and only after careful consideration, is the decision made by Luis to declare the wine a Barca-Velha or else "declassify" it to the Casa Ferreirinha Reserva Especial. A nerve-racking process when you have the weight of history on your shoulders, the expectation of supreme quality and the knowledge that the circa 25 000 to 30 000 bottles of wine will either be christened a £450 Barca-Velha collectable icon or a £150 pound unofficial second wine. I'll let all you amateur accountants out there do the maths!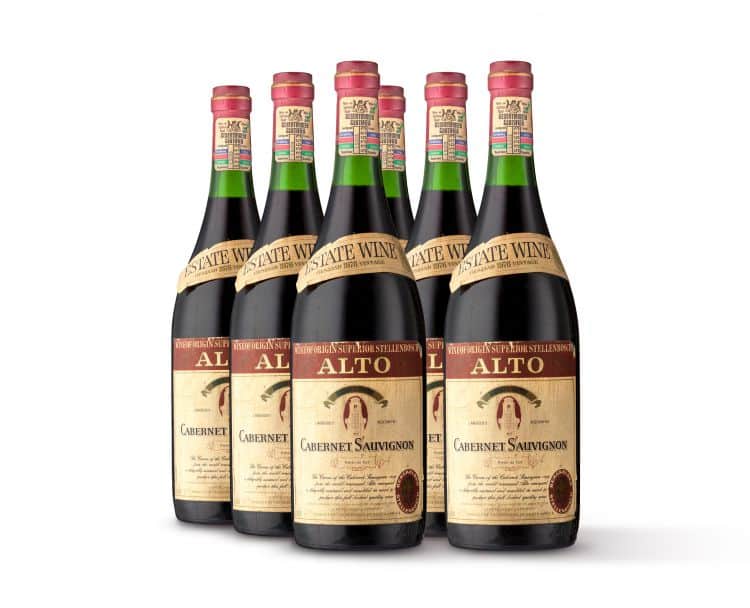 By the time Luis had made the decision to declare the 2011 vintage a hallowed Barca-Velha in December 2019, this wine had already spent over eight years in the cellars of Casa Ferreirinha under constant assessment. While it's not easy or even right to draw parallels, it did remind me in many ways of some of the late great vintage releases from South Africa, number one in my mind being the fabled Alto Cabernet Sauvignons from legendary winemaker Hempies du Toit. It wasn't until the commercial accountants ripped up the social contract in the late 1990s that vintages of Alto were never released to market before they had been aged at least six years in the Alto cellars in Stellenbosch. While not-too-distant neighbour Meerlust did not perhaps adhere to quite such a strict maturation roadmap, they too often only saw their flagship Rubicon red wines released from ageing in bottle in the Bergkelder cellars after five or six years, if not more. It is this ageing foresight, combined with traditional winemaking that almost certainly contributed to establishing many of these brands and others alike as some of the most iconic in the South African fine wine landscape.
While Casa Ferreirinha and the Barca-Velha brand is now owned but the Portuguese wine conglomerate Sogrape, it does seem as if the winemaking heritage and ageing principles of Barca-Velha are secure for the time being. Sadly, for us South Africans who long for a return to the old fine wine days of late-release Bordeaux blends and Cabernet Sauvignons, the Covid-19 epidemic and the resulting cashflow traumas inflicted have almost certainly put paid to any likelihood of any of South Africa's great icon estates contemplating returning to a classical late-release policy. For one thing, the accountants will simply not allow it. But it certainly charms me knowing that out there in the global cutthroat world of fine wine, there are still a few wine estates like Vega Sicilia and Barca-Velha that respect the value of tradition and the merit of late released, cellar-aged fine wines.
Greg Sherwood was born in Pretoria, South Africa, and as the son of a career diplomat, spent his first 21 years travelling the globe with his parents. With a Business Management and Marketing degree from Webster University, St. Louis, Missouri, USA, Sherwood began his working career as a commodity trader. In 2000, he decided to make more of a long-held interest in wine taking a position at Handford Wines in South Kensington, London and is today Senior Wine Buyer. He became a Master of Wine in 2007.
Help us out. If you'd like to show a little love for independent media, we'd greatly appreciate it. To make a financial contribution, click here. Invoice available upon request – contact info@winemag.co.za
Like our content?
Show your support.
Subscribe